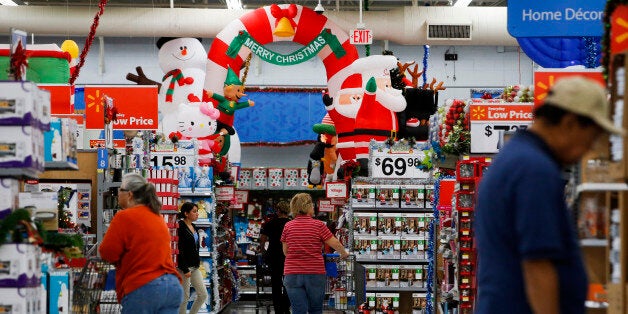 "You shall not abuse a needy and destitute laborer ... but you must pay him his wages on the same day ... for he is needy and urgently depends on it ..." -- Deuteronomy 24:14-15 (JPS translation)
As leaders and partners in a large, diverse community of religious organizations working to improve economic security for the vulnerable and end poverty in the United States, we write to respond to those members of the Senate who may be considering backing a minimum-wage proposal that is lower than $10.10. The Minimum Wage Fairness Act of 2013, introduced by Sen. Tom Harkin (D-Iowa) and Rep. George Miller (D-Calif.), proposed the $10.10 rate.
Our common scriptures present a vision of shared responsibility, commanding that we care for the vulnerable among us -- this includes endowing the notion of work with an inherent dignity. We appreciate efforts by Sen. Susan Collins (R-Maine) to reach across the aisle and push the minimum-wage conversation forward. But enshrining a poverty-level wage into law neither imbues work with the dignity that our scriptures demand, nor contributes to an economy that works for all.
Right now, it is imperative that our nation's leaders continue to move our economy toward a healthy recovery and support low-wage workers. Raising the federal minimum wage to $10.10 would allow a family of three to live above the poverty line. This raise would give low-income workers the opportunity to be economically independent, and will also help boost our economy. Low-income workers will spend their higher wages at local businesses -- on housing, food, education or child care, transportation, clothing, and other necessities.
The federal minimum wage, and the minimum wage for tipped workers, is currently at or near a historic low. If the minimum wage had kept pace with inflation since 1968, a minimum-wage worker would earn $10.71 per hour today. It is a moral imperative that we restore as much of that historic value as possible, and that we pass a minimum-wage increase that will allow tipped and non-tipped workers to lift themselves and their families out of poverty. Our nation's leaders can keep our economy on the path to a healthy recovery and support low-wage workers by supporting the Minimum Wage Fairness Act of 2013, not by undermining it with well-intentioned, but very misguided, compromises.
Rev. Dr. J. Herbert Nelson, II serves as the Director for Public Witness of the Presbyterian Church (U.S.A.).
Rev. David Beckmann is the President of the Bread for the World Institute.
Popular in the Community