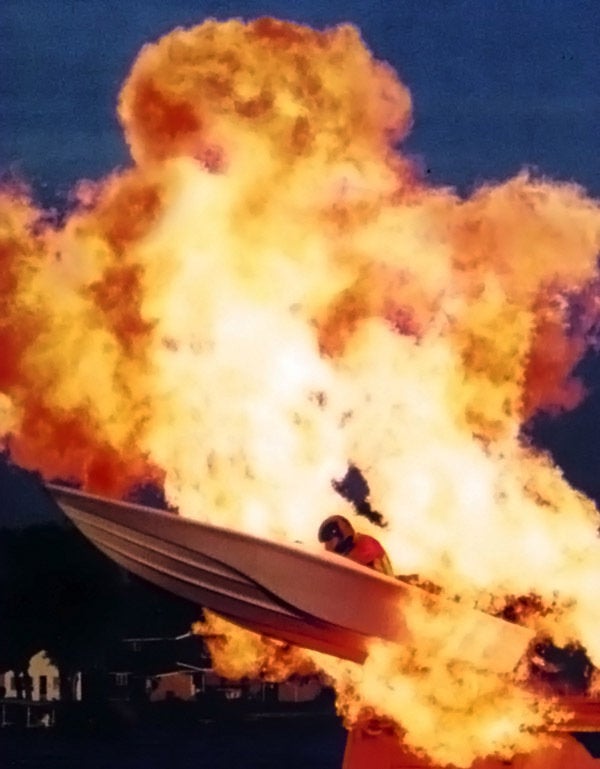 A television crew will create a special effects explosion on the Potomac River, near the Key Bridge, on Wednesday morning, according to city officials.

[...]
Please be advised CBS Paramount will be filming for a television pilot titled "Washington Field" in the District for one day on Wednesday, March 25, 2009. This is a new television series about the elite Washington field office of the FBI and a team of agents with exceptional and diverse skills who are called together for only the most critical cases.

The first shot they will be shooting in the District takes place on the Potomac River just north of the Key Bridge and Jack's Boathouse (K / Water Street, NW under the Whitehurst Freeway). In the scene, there will be six (6) sculling boats on the Potomac River and one of them blows up. The special effect simulating the explosion will occur on Wednesday March 25th between 9:30am and 12:00pm (noon).

NOTE: It will NOT blow the boat into a million little pieces. Instead there will be a 20′ to 30′ high fire ball that will last approximately two (2) seconds. All material will be vaporized and there may be a small plume of smoke. The sound will be a low thud; not a loud bang.
Now, we poke a lot of fun at people on these pages, but in all seriousness, would somebody please, please, please tell Congresswoman Michele Bachmann that this is going to happen tomorrow and she might see or hear an explosion and that it's JUST PRETEND and that there's no need to break out the duct tape and cyanide tablets? This has been a public service announcement.
Fighting Global Jihad With iPhones: Here's hoping that the Taliban doesn't find out about our super secret plan to use cell phones to a) nab terrorists, b) triangulate locations for predator drones, and c) stick them with heavily marked up roaming charges, for justice.
REAL LIFE. REAL NEWS. REAL VOICES.
Help us tell more of the stories that matter from voices that too often remain unheard.