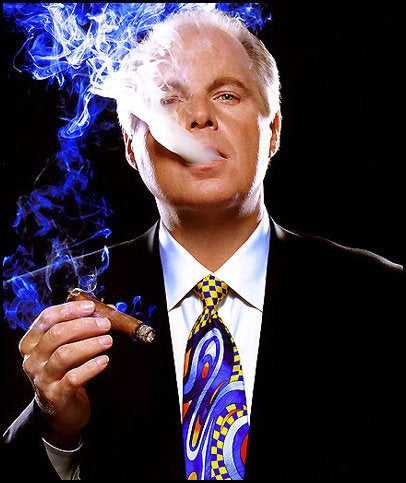 L.A. Times contributor Andrew Klavan DOUBLE DOG DARES YOU intolerable lefties to listen...just listen!...to Rush Limbaugh's show! Because if you did, maybe you wouldn't be so intolerant! EVEN YOUR COMMAS ARE INTOLERANT. And Klavan is here to tell you that in all his many-splendored days, he has "never heard the man utter a single racist, hateful or stupid word!" BETCHA YOU WON'T EITHER, he seems to be saying. He's actually, really, really juvenile.
Klavan is pretending to be publishing an honest account "from liberals who took the bait" next week. I have a good feeling that this won't be a very honest accounting of Limbaugh's history of objectionable cakehole bleats. Before you even send Klavan such Limbaughian classics as "Take the bone out of your nose!" or "Have you ever noticed how all composite pictures of wanted criminals resemble Jesse Jackson?" or [CORRECTION: Many thanks to our Media Monitor Brian Dennert for urging me to check into this last quote. Sorry to say, it's an example of me being snookered by what amounts to an online urban legend. At best, the James Earl Ray quote is "disputed," for what it's worth, I think there's credible evidence that it's simply a lie. I regret the error!] let me head you off by saying that this guy is ABSOLUTELY going to weasel out of explaining past instances, so don't bother. But, if you find yourself listening to Rush this week, and you send Klavan an example of Limbaugh saying something "racist, hateful, or stupid," just CC me, and I'll make sure your comments are accounted for.
I guess Rush needs all the ratings help that the L.A. Times can provide. Times are hard, I guess, and everyone's in need of a bailout.
Both ABC's This Week and NBC's Meet the Press will host Treasury Secretary Tim Geithner this weekend and they are both touting it as his first interview with a Sunday morning program, the Huffington Post reports.

The difference: ABC will tape Geithner's interview first, while NBC's interview will be live.
Jesus, nerds. It's just Timothy Geithner. Settle down.
Annals Of Greetings For Liberators: Sure, I really can't imagine why the average Iranian would have any problem getting part of their country bombed unilaterally, so long as it's the right part. I mean, I can allow an argument over whether the idea has merit, but can we stop all the deluding ourselves, please?
Mother, Courage: Postcards From Your Momma bloggers Jessica Grose and Doree Shafrir are celebrating the publishing of Love Mom: Poignant, Goofy and Brilliant Messages From Home by taking on all of your momma-centric inquiries - with special guests: THEIR MOMS - over at Jezebel.
Another Potentially Lucrative Print-Media Market Ruined By The Web: From Freakonomics: "Does panhandling work better through the web? A Houston father and son team thinks so. They gave a homeless man named Timothy Dale Edwards a sign to hold while panhandling; it directed passersby to his website, PimpThisBum.com. In less than two months, the site has garnered $50,000 in pledges and donations." Okay? How much revenue do you have to raise before the feelings of UTTER, GHASTLY SHAME start to diminish?
Wayback Machine: You know, the failure of the press and of pollsters to correctly suss out how the New Hampshire primary was trending last year is legendary. It's been written about, discussed, debated, blogged, rued, lamented, cited, and recited, over and over again for months. Still can't get enough? Well, celebrate the the structural flaws underpinning the statistics in a single instance of polling all over again with a commemorative 123-PAGE PDF DOCUMENT. Treat yourself to the PDF that people are already calling the "What, now?"
Popular in the Community