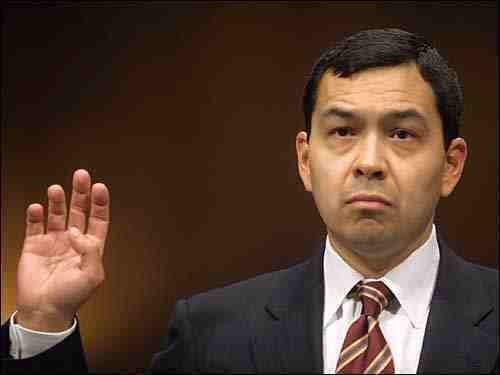 But what damage did Democrats suffer when they viciously attacked Miguel Estrada's nomination by President George W. Bush to the D.C. Circuit Court of Appeals, the nation's second-highest court?
Right! Uhm...yeah. There's only one problem with that formulation, though, and it's the many many thousands of Hispanic voters who will ask, "Who is Miguel Estrada, again?"
The argument against Estrada, as I recall it, was that he's very conservative. The argument about Sonia Sotomayor consists of the idea that we should discount her career and her degrees because those are just the results of the kind of "preferential treatment" that poor Puerto Rican girls from the projects get. We've also heard that she has a troubling fondness for Puerto Rican food. That it's unreasonable that she pronounces her name as if it's a Spanish word. We've heard that she's a soft-hearted woman who wants to set aside the law in favor of empathetic victims, and also heard complaints that she's failed to set aside the law in order to help out empathetic white people. These kind of criticisms are going to drive Hispanics away from the conservative cause not because conservatives are criticizing a Latina, but because they're criticizing her in terms that imply a generalized skepticism about the qualifications of all American Hispanics, a loathing of Latin culture, and a monomaniacal obsession with defending the interests of white people.
Naturally, outside of these two massive flaws, Karl Rove remains every bit the genius he is typically credited for being.
Media Experts Make Mistakes That Would Anger My Father, Part One: Why is John Taylor saying things like: "A 100 per cent increase in the price level means about 10 per cent inflation for 10 years." No, no! There's a whole rule about sevens and tens in compound interest that is quite literally the only thing I know about economics.
Media Experts Make Mistakes That Would Anger My Father, Part Two: Ever notice how many people actually think that the President swears an oath to "protect America" or "protect the American people?" All of those people are wrong! Even Obama thinks this is true, and he actually said this oath out loud, TWICE.
The Netherlands...has so few criminals that it is now faced with the choice of shutting down its prisons and laying off the staff, or importing criminals from other countries like Belgium on a contract basis:
During the 1990s the Netherlands faced a shortage of prison cells, but a decline in crime has since led to overcapacity in the prison system. The country now has capacity for 14,000 prisoners but only 12,000 detainees.

Deputy justice minister Nebahat Albayrak announced on Tuesday that eight prisons will be closed, resulting in the loss of 1,200 jobs. Natural redundancy and other measures should prevent any forced lay-offs, the minister said.
Blogging On Base: Niel Smith, an Iraq War vet and Army Major stationed at the US Army and Marine Corps Counterinsurgency Center at Fort Leavenworth has an insightful post up at Attackerman detailing the way the Army learned to stop worrying and love the blog.
REAL LIFE. REAL NEWS. REAL VOICES.
Help us tell more of the stories that matter from voices that too often remain unheard.