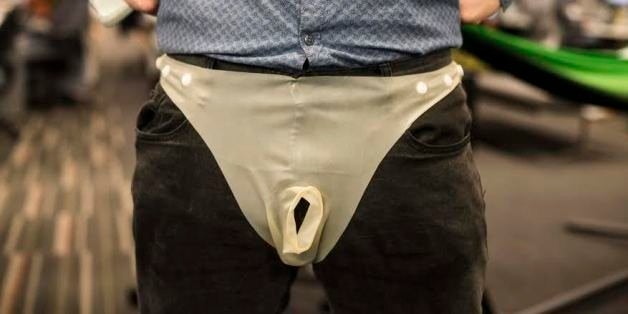 This might be the best form of birth control to hit the market yet -- because nobody will have sex with you if you wear it.
The Scroguard is essentially a girdle made of latex that, when paired with a condom, "reduces skin-to-skin contact" over the entire genital region. It's a well-meaning product with a big caveat: It's not FDA-approved and isn't officially designed to protect against STDs like herpes.
Officially, it's for "couples and individuals who love to swing" and want to wear a big latex diaper, like we did: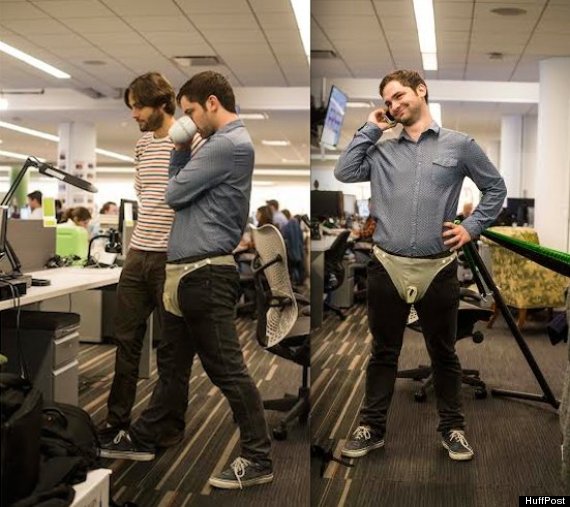 We didn't get laid in the Scroguard, but we DID close a million-dollar deal at the office.
"When we started developing this product, we thought, there's gotta be a need for people out there who want an extra layer of security or peace of mind," Scroguard co-founder Addison Sears-Collins told HuffPost Weird News. "People who are using it say it's brilliant. Phenomenal."
Sears-Collins said that people in the herpes and HPV communities would use Scroguard, which launched last week. He reiterated several times, though, that it's "not a medical device" and won't necessarily protect you from anything. But hey, it's a fashion statement, and according to the Scroguard website, it farts during sex so you don't have to!
What is the weird noise that is made when I use Scroguard™?

This Whoopee cushion-like noise that might occur when wearing this product is due to air pockets between your skin and Scroguard™. Fasten other buttons to see what tightness level is best for you based on your body shape and size.
As reporters, we're obligated to grab our stories by the balls, so we tried the Scroguard. Let's just say the cries of, "Oh my god, take it off" didn't come from a place of sexual lust. It's hand-washable, so, maybe next time.
BONUS! Watch the promotional video:
Related
Popular in the Community