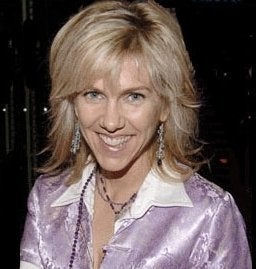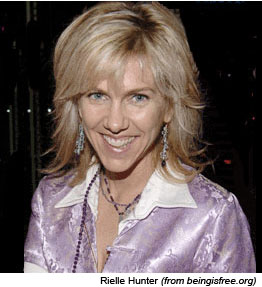 A set of short documentary film "webisodes" made for former Sen. John Edwards prior to his presidential candidacy continues to weave a curious web, this time involving the filmmaker.

The videos, which cost Edwards' One America Committee $114,461, were produced in 2006 by an aspiring actress/producer named Rielle Hunter, who proposed the idea to the senator in a bar in New York City. The objective was to give viewers - and presumably voters - an authentic look at the North Carolinian. But shortly after Edwards declared his White House aspirations, the footage all but disappeared from public view. After the Huffington Post wrote about the webisodes, the videos resurfaced, both on YouTube and Webcastr.com, although the anonymous individual who reposted them (user name: "MissingVideos") has not responded to emails.
Little was known about Hunter as well. Despite working in the movie business, she had virtually no Internet presence save for an article in Newsweek about her filming of Edwards and an uninformative IMDB entry for her work on the short film Billy Bob and Them (2000).
This anonymity, it turns out, wasn't always the case. The Huffington Post has uncovered a deleted website that formerly belonged to Hunter. Titled "Being Is Free," the site was last updated on April 22, 2007, roughly twenty days after Edwards' One America Committee made its final payment to Hunter's company, Midline Groove Productions.
There is virtually no mention of filmmaking or politics on the site. And there is little indication as to what Hunter did professionally - beyond an involvement in various spiritual quests - before she and her partner, Mimi Hockman, started Midline Groove Production in the spring of 2006. As Colin Weil, a consultant to the Edwards webisodes told the Huffington Post: "Neither of them had done tons and tons of stuff before hand... The whole [Edwards' taping] was pretty organic."
On the deleted pages, the 44-year-old Hunter (formerly known as Lisa Druck) discusses her former hard partying days, her search for enlightenment, and her issues with drugs and debt. There is a 2005 interview she did with one-time boyfriend Jay McInerney, in which the celebrated novelist reveals that Hunter was the basis for Alison Poole, the main character of his book, Story of My Life.
"It was narrated in the first person," McInerney writes in the intro to the interview, "from the point of view of an ostensibly jaded, cocaine-addled, sexually voracious 20-year old who was, shall we say, inspired by Lisa [aka Rielle]."
The two go on to discuss Hunter's life after the book's publication. Here's an excerpt (the full interview is available here):
Hunter: I thought I was going to LA to be an actress and to get away from New York because I was doing so many drugs. We always think we're going somewhere for some particular reason, and it turns out that that isn't the reason at all

McInerney: Is LA less druggy than New York?

Hunter: Oh yeah. Actually the reason it was less druggy was because someone referred me to a healer who did a clearing on my energy field. I was in a state of ecstasy for about a week and realized what I was looking for, in terms of medication, was inside of me; it was a higher bliss. With that clearing, all desire for drugs or alcohol vanished. I became sober overnight. And then I became a spiritual seeker, addicted to a higher consciousness, addicted to enlightenment.
So why was Hunter's website - which had no material related to her work with Edwards or the Edwards' campaign - taken down? Emails and calls to Midline Groove Productions went unanswered.
Moreover, why did Edwards choose someone with limited film experience to document his behind-the-scenes campaign presence - "the real John Edwards"? The Senator's campaign, likewise, did not return calls requesting comment.
And was the more than $100,000 spent by Edwards' One American Committee - itself dedicated to fighting poverty and lifting Americans into the middle class - worth it?
According to several experts on the topic, the project was unique, portraying the senator in a positive informal light that could potentially benefit his presidential campaign. But the cost of the films, they say, was higher than that of traditional political video.
"In terms of politics it's a lot. In terms of non-political production it is chump change," said Jeremy Thompson, a Democratic media consultant, who works for the organization Reelpolitik. "The combination of how much was paid, the experience factor and how many pieces [Midline] made, made the whole thing a bit surprising."
Popular in the Community