On Wednesday, I joined animal activist, vegan and broadcaster Jane Velez Mitchell in her Marina Del Ray, Calif., kitchen.
I created one of my favorite organic vegan salads live on her show #LunchBreakLive. It took 10 minutes to make this healthy plant-based feast.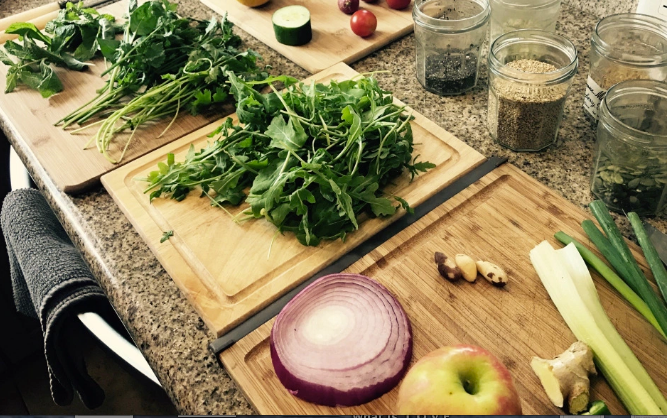 Recipe: Dr Reese Halter's Sensational Summer Salad with Red Lentils, Herbs & Seeds
· ½ cup red lentils, ¼ cup water, dash pink salt, boil 3 minutes, do not drain
· 1 medium red apple (skin on), chopped finely
· 1 celery stalk, chopped
· 1 radish, chopped finely
· Fresh ginger, 1 inch, finely chopped (skin on)
· ½ jalapeno, chopped finely
· Fresh turmeric, 1 inch, finely chopped (skin on)
· 1 green onion, chopped in its entirety
· 4 oz, fresh arugula, chopped
· 3 oz, fresh basil, chopped
· 2 oz, fresh cilantro, chopped
· 2 oz, fresh mint, chopped
· ¼ cucumber, sliced & halved
· 3 cherry tomatoes, halved
· 8 French beans (steamed 2 min & drained)
· 1 purple carrot, sliced
· 1 sweet red onion slice, chopped finely
· 3 Brazil nuts, finely diced
· 1 lemon, freshly squeezed
· Organic first cold pressed olive oil, a drizzle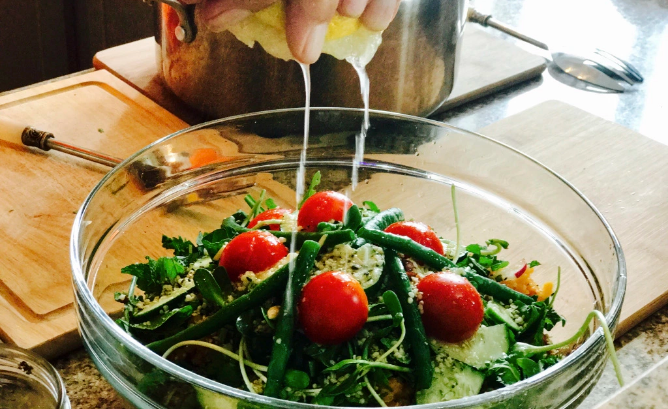 1. Place ingredients in a large bowl, add dressing & gently toss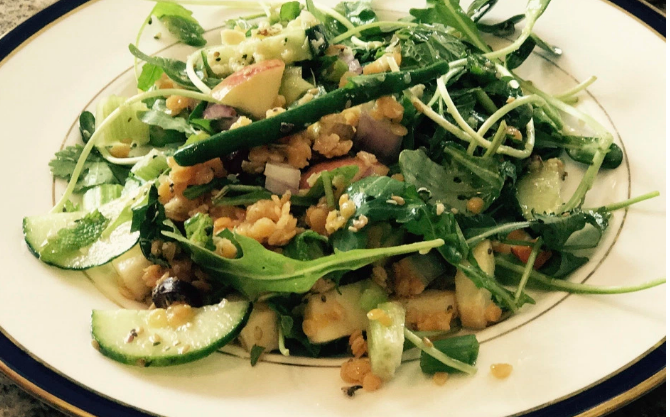 Each year, almost 2.5 billion people suffer through deadly heatwaves and it's predicted to get far worse by mid-century as the world burns more subsidized fossil fuels. A scorching heatwave in the American southwest grounded planes on Tuesday at Phoenix Sky Harbor International Airport. The tarmacs are not long enough when air temperature exceeds 118F for jets to take off. This life-threatening heatwave was so hot it caused meteorologists to add magenta, a new heat color, to the weather map.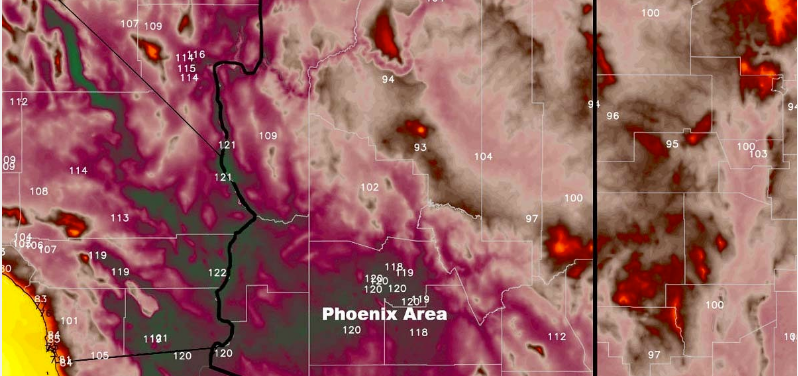 The single biggest thing that each of us can do right now to fight the climate crisis is switch to a plant-based diet. It's healthy, water-smart, easy and compassionate. Each year, animal agriculture contributes at least 18 percent of the climate-altering green house gases, and that's more than the entire transportation sector globally.
Earth Doctor Reese Halter's upcoming book is "Save Nature Now."
REAL LIFE. REAL NEWS. REAL VOICES.
Help us tell more of the stories that matter from voices that too often remain unheard.
This post was published on the now-closed HuffPost Contributor platform. Contributors control their own work and posted freely to our site. If you need to flag this entry as abusive,
send us an email
.