When you want to experience the neighborhoods of New York, you go walking on our streets. When you want to study the people who are New York, you go to John Ahearn.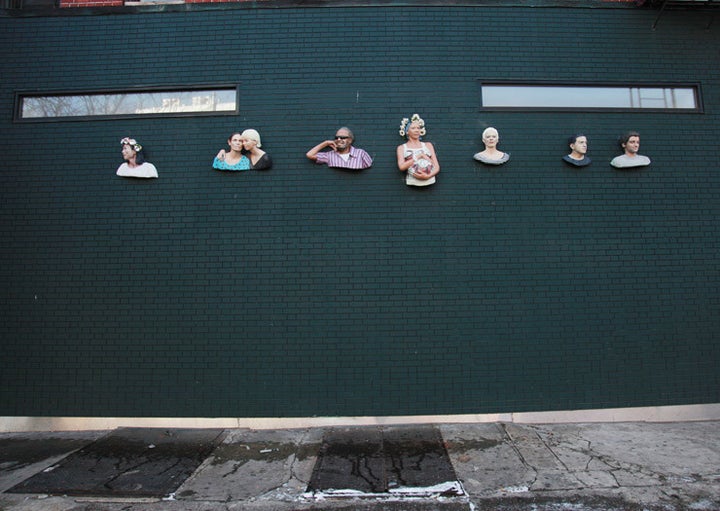 For nearly forty years on the streets of New York this artist has been casting New Yorkers and attaching them to walls for all to see, to watch, to talk to, to argue with. In all our self-possessed and artful individual non-homogeneity, with our multitude of languages, accents, trades, styles, opinions, attitudes, and dreams John captures us, and then shares us with the neighbors.
Long before "Humans of New York" presented the idiosyncrasies in this crazy enigmatic rat trap of a city, sculptures by John Ahearn were capturing a certain bluntly tender honesty of the character of his sitters and their family members and, in doing so, giving them a certain immortality that few could claim.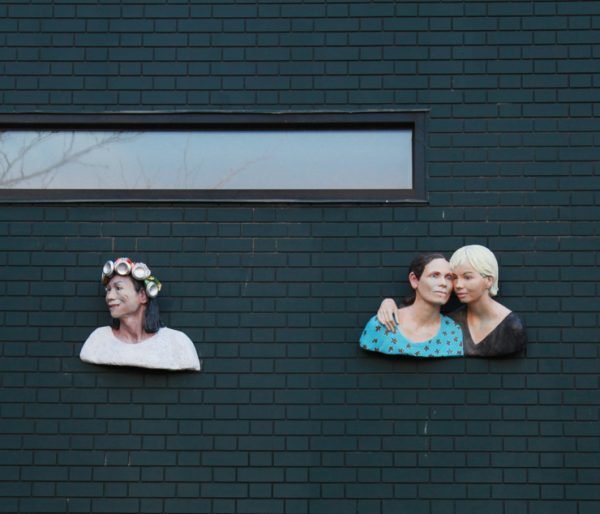 That kind of honesty may get you in hot water occasionally of course, as a public art installation during the early 1990s once revealed, when Ahearn sculpted everyday street people from his Bronx neighborhood and dared elevate them as worthy of public display. The incident caused vitriol and pearl clutching and chest pounding and a lot of spilled ink in the The New Yorker, so splendid and nerve-strumming were his honest portrayals of New Yorkers.
It also revealed latent here-to-fore unspoken prejudice, pride, racism, and classism and put it all muddily and bloodily on parade; in other words, an American story. The writer Jane Kramer rightly asked in that article's title "Whose Art Is It?" – a lengthy piece which was later published as a book. As many artists who take their inspiration from the street and who give their work to the street will tell you, Ahearn had already answered that question of whose are it is. It's yours.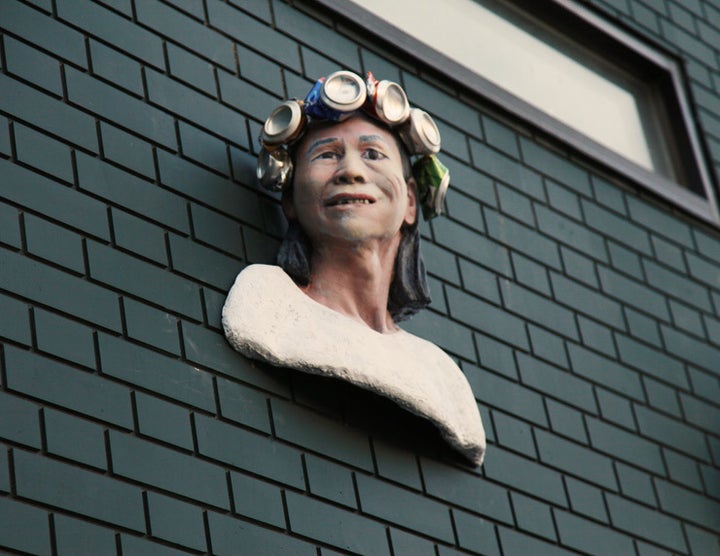 A brand new installation this month on Manhattan's Lower East Side by Ahearn again elevates your neighbors to a recognized position of prominence, recalling local cultural history and those of our families. As his custom of working within context demands, this line up of people is as significant as their location. A post punk musician from the downtown scene that flourished here when artists flooded this neighborhood and the city was broke, a colorful performance artist, a gallerist, a hometown all city 1970s train writer, John's own lady pregnant with their child. These are personal stories of life in this city, here on the wall while the cars and taxis and delivery box trucks and tractor trailers roar and halt and honk and rumble by 24 hours a day.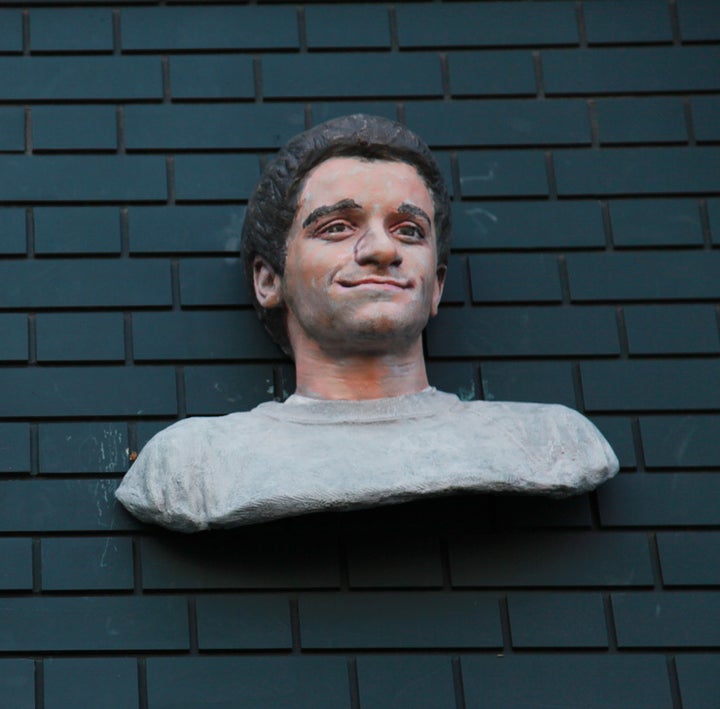 "The life on Delancey Street is the aim of the work. Friends from Colab took over a building there in January 1980 and proclaimed it "The Real Estate Show," says Ahearn of the touchstone illegal show that happened four blocks from this new installation on James Fuentes Gallery. It is almost like he's reflecting wistfully on that earlier time with this new choice of subjects recalling the art scene in this part of town – as if the geography of the city might invoke the hallmark Bohemian spirit that has been steadily and mercilessly stamped out by shiny bulldozers of impossible rents and dull luxury hotels serving rooftop cocktails.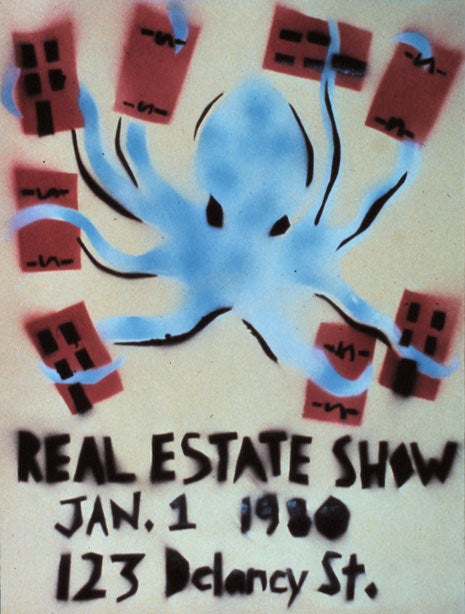 The seminal "Real Estate Show" opened on the last day of 1979 and closed the first day of 1980 by force of city officials, who are said to have padlocked the art inside the building and out of reach of everyone, including Ahearn. The show and the events surrounding it highlighted the same issues that struggling artists in many cities are facing across the country today; trying to develop alternative spaces in a hostile rental market, city agency bureaucracy, largely absent institutional support, murky grey areas of legality/illegality, crime, real estate speculators, intimidation and of course, gentrification.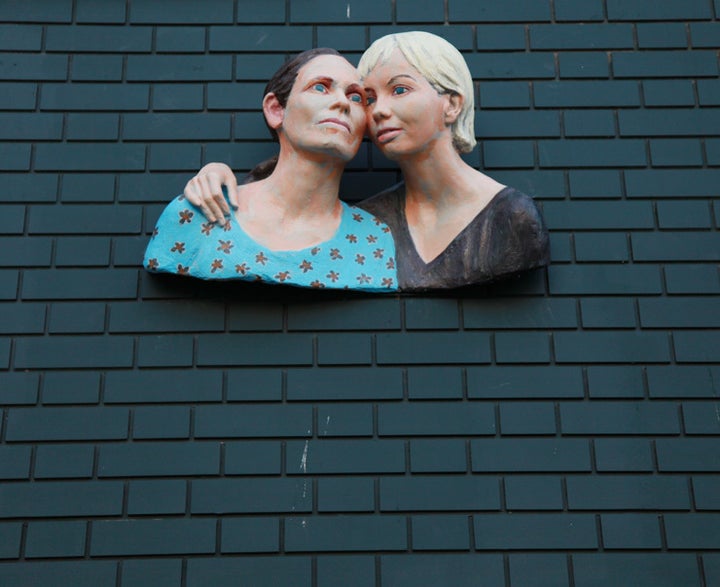 The police shutdown of that show galvanized the artist community and became part of the Downtown art scene lore and along with three other LES galleries James Fuentes himself made an homage to The Real Estate Show in 2014. Fuentes also posed for one of these new sculptures for "Delancey Street" while at one of those galleries, Cuchifritos, located down the block. Ironically, Fuentes is further connected to the work of Ahearn by dint of growing up in the early 1980s directly across the street from an Ahearn public sculpture mural called "Bronx Double Dutch" (1981-82), a casted mural of girls jumping rope that still hangs there today. (see below)
Ahearn had begun his public sculptures only a year or two earlier in 1979. "I was casting faces of neighbors at Fashion Moda in the Bronx in 1979 and people passing on the street would stop and watch," he says. After meeting the nephew of a guy who owned a nearby statuary factory, John and Rigoberto Torres began to work together as a team.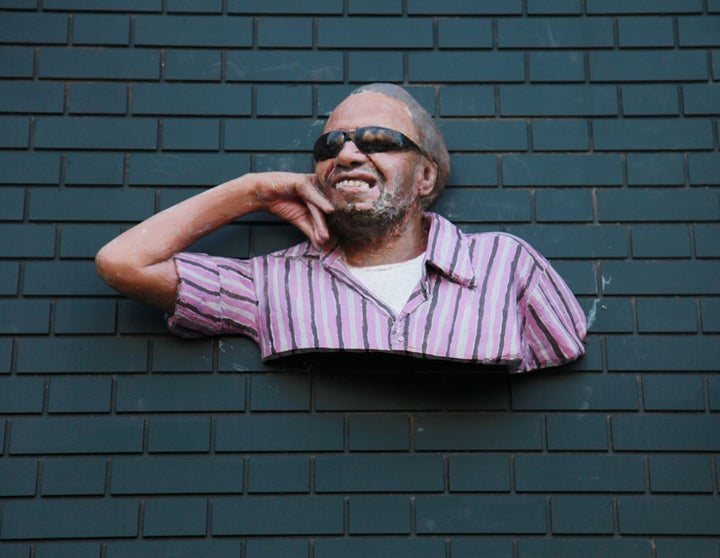 "I gave Rigoberto some materials and he cast some friends on the sidewalk on his block at Walton Avenue," he says of the partnership that lasted a number of years. "I moved to Rigoberto's block soon after." Both built their craft and confidence and community ties by setting up a long-time public presence working on the street and eventually set up a studio together on Dawson Street to begin making a series of permanent fiberglass culture murals.
Today on a warm summer day you can find John on the street in the summer in the Bronx, or out at Welling Court in Queens, or a Street Art festival in Baltimore, casting the people who are calm enough to stick straws up their noses and be draped with wet plaster and to remain still until it dries.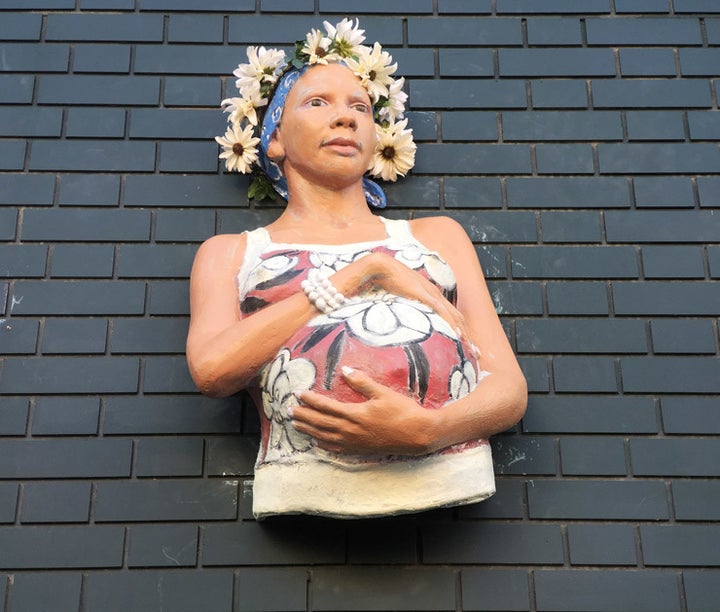 Even in 1980 it was a challenge for children to complete a sitting for him. "It became a point of pride for young kids to demonstrate their confidence," he says, blue eyes smiling. "The little kids would come up to us and say "Let me do it! I'm ready!' and I would say "No, you're not ready, you have to wait!" When Ahearn talks with his infectious enthusiasm, you know he's giving as much energy to his work as he is getting from it and he can tell you countless stories about the people he has profiled, what kind of work they do, who they are married to, where they went to school.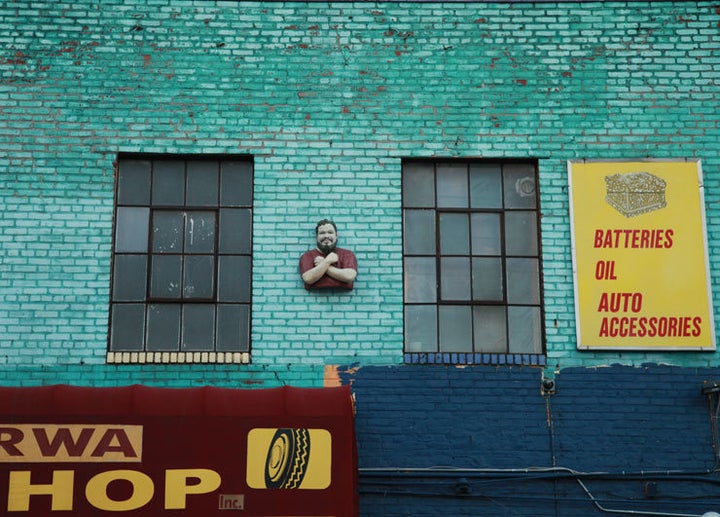 Just this past Saturday on the blue bricked wall over a tire shop near his studio in the Bronx Ahearn installed his most recent portrait of a neighbor whom he has known for years. Monxo Lopez went to school with John's wife Juanita in Puerto Rico and he is a social organizer and professor who lives nearby the tire shop, John tells you. Posing in the Bronx 'resistance' gesture that also recalls the borough's letter "x", Lopez had been trying to get John to make this of him for a couple of years, but the scheduling didn't fall into place.
The newest work is just as authentic as ever, distilling personality, stories,  relationships and inferred community in the same way that all of John Ahearn's sculptures do.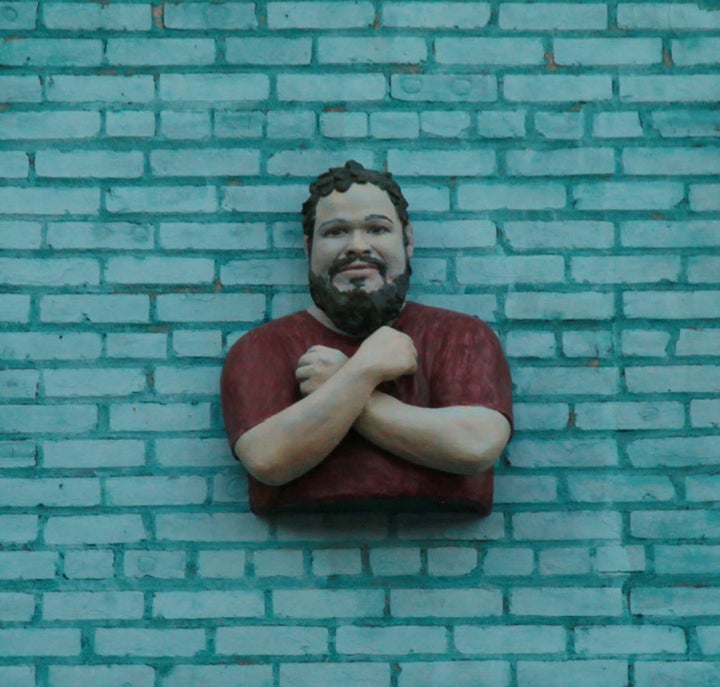 "I always liked this tire shop better than my studio space nearby because it is so social. It's loud and bustling," he says with something you could may interpret as glee.
"Everyone is yelling and telling jokes all day," he says. "The owner, Mike, and I are friends – I wanted my sculpture to share this great space and Mike liked the idea."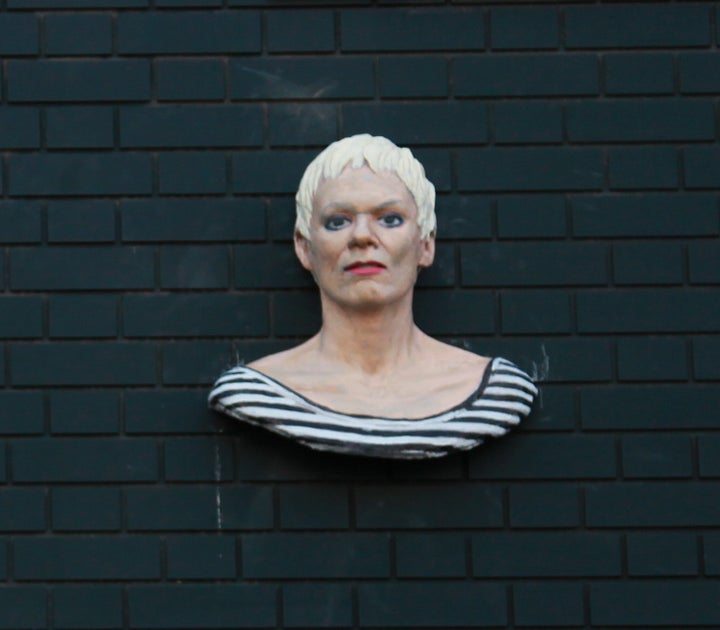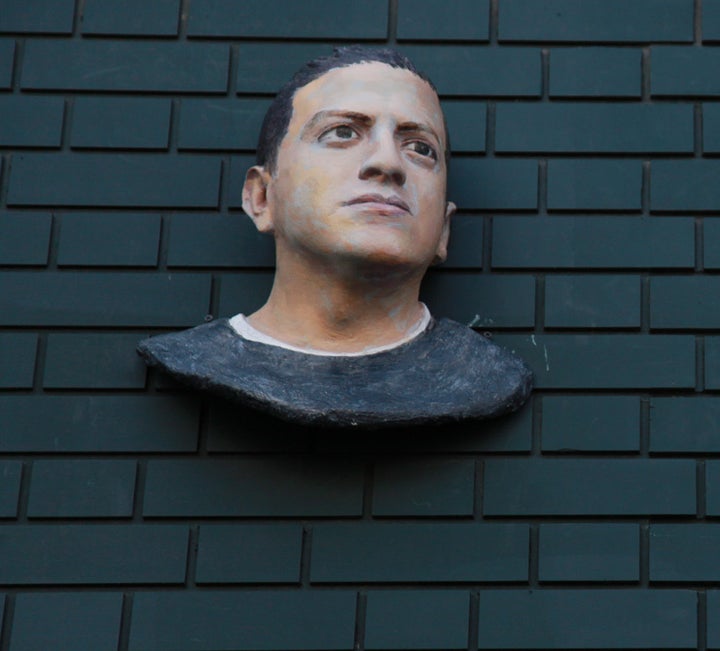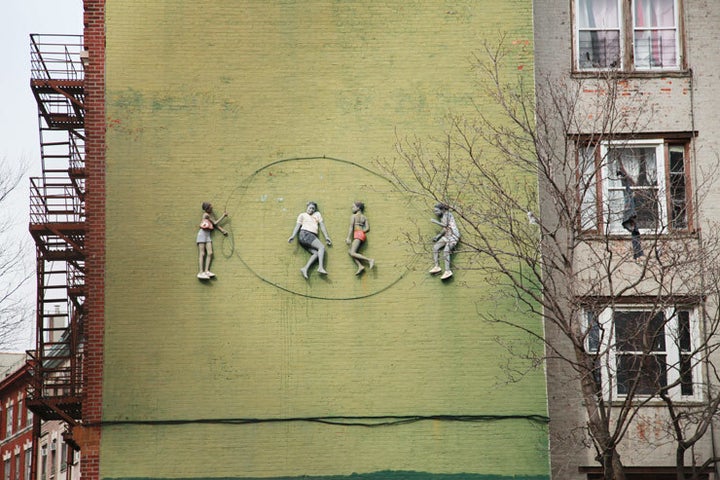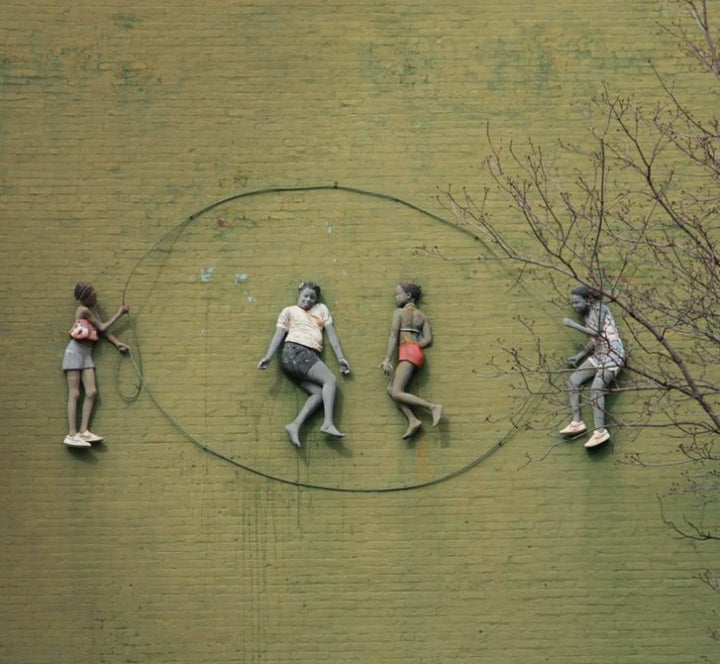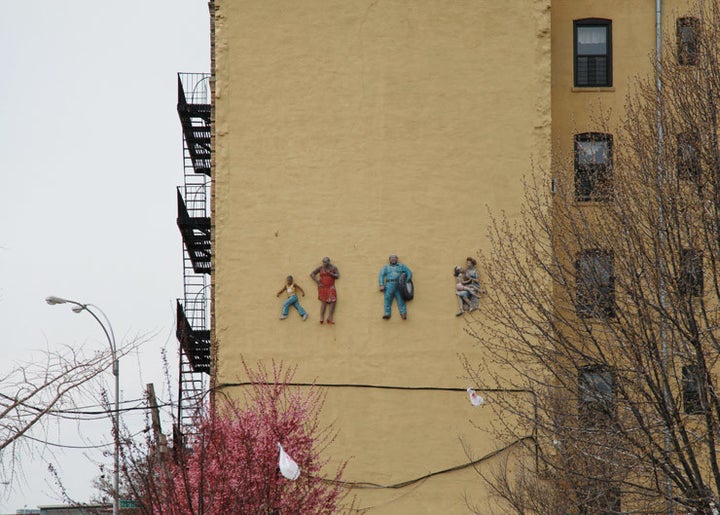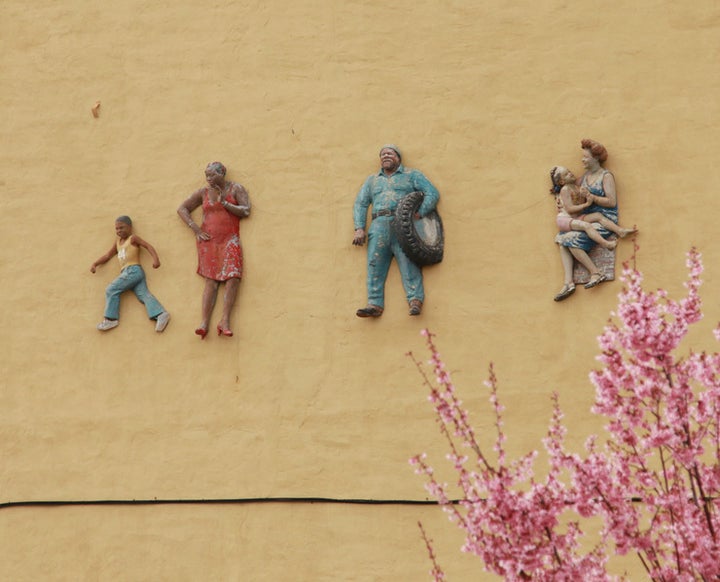 Please note: All content including images and text are © BrooklynStreetArt.com, unless otherwise noted. We like sharing BSA content for non-commercial purposes as long as you credit the photographer(s) and BSA, include a link to the original article URL and do not remove the photographer's name from the .jpg file. Otherwise, please refrain from re-posting. Thanks!
A version of this article is also posted on Brooklyn Street Art here.
Read all posts by Steven P. Harrington and Jaime Rojo on The Huffington Post HERE.
Follow us on Instagram @bkstreetart
Calling all HuffPost superfans!
Sign up for membership to become a founding member and help shape HuffPost's next chapter