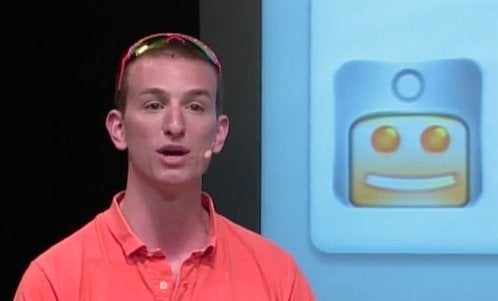 Here's a glimpse into the future: upon entering a store, a patron's phone prompts them to complete a challenge custom-designed by the store's owner, like uploading a photo of an item or solving a riddle about the location. Once the patron completes the challenge, he or she immediately earns points. The patron then shows their phone with the accrued points to a cashier and, in return, receives a discount or a freebie.
A location-based social network called SCVNGR is trying to make this scenario a common occurrence.
And social media-savvy business owners with tight marketing budgets are quickly signing on to the company's rewards service, which launches a week from today. As SCVNGR subscribers, they'll pay $80 a month to design mobile phone challenges that reward in-store customers with free stuff.
A wave of location-based social networks has already swept through cities across the country. Smartphone in hand, an on-the-go urbanite can use services like Foursquare, Gowalla and Loopt to share information with their friends about where they are and where they've been. Foursquare has amassed 2.4 million users globally, and is growing 30% to 40% a month, according to the Wall Street Journal. People use Foursquare to broadcast their location or "check-in" to venues with their phone and earn points, emblems and honorific titles they can exchange for free stuff. Facebook, too, has unveiled a location-sharing function called Places.
But Seth Priebatsch, CEO and founder of SCVNGR, says his game, which revolves around "fun, 6-second challenges," like uploading a picture of an origami swan made from a burrito-wrapper at a local café, creates a more engaging experience for consumers.
The increased engagement "activates viral buzz and in the end drives up sales," says Priebatsch, who dropped out of Princeton in 2008 after his idea for SCVNGR captured first place in the university's business plan competition. Priebatsch is also one of five innovators featured in a recent edition of HuffPost's "Innovators Series."
"The time of the check-in seems to be passing. For next-level location services, we are going to need next-level applications," wrote Venture Beat's JP Manninen. He's one of a number of social media analysts who argue that the popularity of location-sharing is quickly giving way to more complex location-based games.
"By making real-life tasks and experiences more like games almost any business can inspire customer loyalty, launch much more engaging marketing campaigns, even change consumer behavior in radical ways," another Venture Beat columnist, Camille Ricketts, wrote earlier this year.
SCVNGR is banking on the trend. Beyond just broadcasting location, its games encourage users to think through challenges that might involve brand names or specific items businesses promote. SCVNGR's team also developed a technology that adds on Foursquare's signature check-in function. Using SCVNGR, multiple users can check-in to venues together by touching phones. SCVNGR calls the new function a "social check-in," and to show it off they recently set the world record for simultaneous "phone-bumps" at their offices in Cambridge, MA.
SCVNGR has already achieved notable success in the enterprise market. Their 1,000 paying enterprise clients include museums, universities and sports teams that use the platform to design things like tours, orientations and team-building exercises.
They're do so with $4 million from Google, and at a time when location-based social networks are an increasingly attractive marketing tool for small, cash-strapped businesses. Signing up for services like SCVNGR and Foursquare costs firms minimal time, effort and money. Plus, the sites "appeal to loyal consumers who favor local businesses over big, cookie-cutter chains," the Wall Street Journal notes. Which is why local business owners are leaping at the chance to link promotions to them.
SCVNGR's current game plan is to launch its rewards program in cities across America, with one new city each week until the end of the year, starting September 1st in Boston. The first 50 businesses in each city to sign on will get SCVNGR for free.
Watch SCVNGR CEO Seth Priebatsch talk about building a game layer on top of the world at a recent TEDx event in Boston:
Popular in the Community