This post is co-authored by Sofia Santos
Today, the green economy represents at least 4 trillion euros, growing at 4% per year, and the investment in clean energy has reached 300 billion USD, 25% of which has been invested by European countries and another 25% by China. On the other hand, the COP21 Paris agreement signed last December commits countries from around the world, including the U.S. and China, to (a) keep global temperature increases well below 2C (3.6F) and to pursue efforts to limit it to 1.5C; (b) to report on their emissions and implementation efforts; (c) to invest $100 billion a year in climate finance for developing countries by 2020, with a commitment to further finance in the future; and (d) other specific commitments.
In order to move past rhetoric and promote an effective new economic growth model, where the environmental impacts of industrial processes decrease globally, and the supply of sustainable products increase significantly, the world needs to have money available to invest in companies, in their new research, their new project pilots and in their new 'green' products and services. Back in 1991, Sarokin and Schulkin already argued that the business of moving money is inextricably linked to the movements of raw materials, finished goods, labour, and ultimately, to the quality of our environment... If we are to achieve sustainable development, we must be prepared to finance it. Last week Jeffrey Sachs argued that today's investments with high social returns - such as low-carbon energy, smart power grids for cities, and information-based health systems - depend on public-private partnerships, in which public investment and public policies help to spur private investment.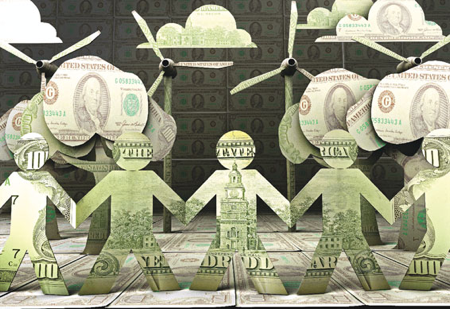 2015 was not only the year of Sustainable Development Goals (SDGs) and COP21 Paris -- there were also other signs of hope! The Wall Street Journal says that the year 2015 might well have been when sustainable investing became sustainable. Mainstream financial firms, such as Goldman Sachs and Morgan Stanley, have launched investment products with environmental, social and governance (ESG) criteria, or have produced research highlighting the potential market for these types of funds. According to the Global Sustainable Investment Alliance, about 58,5% of the total asset under management by European investment funds are funds with ESG criteria; only 7,9% in the U.S. and 30% globally. Between 2012 and 2014 the ESG fund market grew 55% in Europe, 76% in the U.S. and 61% globally. This is good news for the SDGs and the COP21 Paris agreements.
For the United Nations' Principles for Responsible Investment Initiative, a definitive list of ESGs criteria does not exist. Nevertheless, such criteria are typically related with (a) how a company manages biodiversity loss, greenhouse gas emissions, climate change, renewable energy, energy efficiency, air, water or resource depletion or pollution, waste management; (b) how a company manages human rights, labor standards in the supply chain, child, slave and bonded labor, workplace health and safety, freedom of association and freedom of expression, human capital management and employee relations, diversity, relations with local communities, activities in conflict zones; (c) how a company manages issues associated with board structure, size, diversity, skills and independence, executive pay, shareholder rights, stakeholder interaction, disclosure of information, business ethics, bribery and corruption.
For the European Sustainable Investment Forum (Eurosif), sustainable and responsible investment (SRI) combines investors' financial objectives with their concerns about environmental, social, ethical and corporate governance issues. SRI funds invest in organizations that have some kind of business approach to these issues. Some funds might discriminate positively by choosing companies with good SRI practices; others might discriminate negatively by deciding not to invest in some sectors or companies that do not follow the SRI principles. Since, on average, SRI funds have higher returns than mainstream funds, it is reasonable to expect future expansion of these funds across the world, which can also positively impact financial markets overall.
For example, Goldman Sachs launched in 2008 the Goldman Sachs Global Responsible Equity Portfolio investment fund with returns of 28% in the last 3-year period. This fund chooses companies with specific practices on environmental and social aspects, which have been previously identified in the investment fund policy. Another example is the Pictet Funds (LUX) European Sustainable Equities that invests only in Swiss companies, which follow sustainable management principles (returns of 32% in the last 3-year period). Also, in the UK, citizens can use an online tool to identify the types of SRI available for purchase, which helps further promote and disseminate these types of investment opportunities.
Morgan Stanley has created the Morgan Stanley Institute for Sustainable Investing, which aims at mobilizing capital to sustainable businesses. This institute has a research team exclusively dedicated to the identification of promising sustainable business opportunities for their investors. For instances, in March 2015, this institute published a paper covering 7 years of performance data for 10,228 open-end mutual funds, concluding that sustainable funds tend to exhibit slightly higher returns and lower volatility than their traditional counterparts, sending a strong message to the market, which traditionally believed that SRI funds offered lower returns.

The global challenges for the 2015-2030 development agenda are massive, the global potential market size for SRI funds is huge and market opportunities for green technology, goods and services associated with the SDGs and COP21 are colossal! 2015 was a remarkable year and it may very well become known as the year when sustainable investing became sustainable.
Sofia Santos, PhD, is an economist expert in sustainable banking and the Secretary General at BCSD Portugal, part of the World Business Council for Sustainable Development Network.
Calling all HuffPost superfans!
Sign up for membership to become a founding member and help shape HuffPost's next chapter