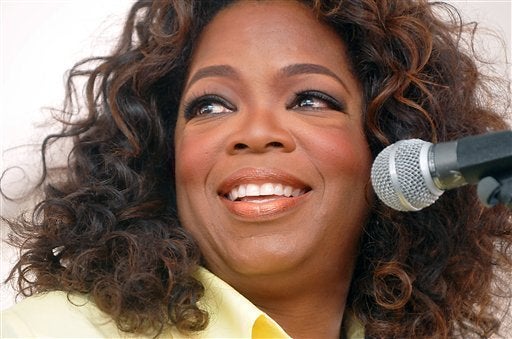 Oprah Winfrey spoke to "Hispanics" on Monday. This is what she said: "You don't need to learn English, I'll tell you what to buy and how to live your life by my tenets in Spanish. And those of you who only watch English-language TV - I don't care about you."
Well, she didn't actually say that, nor did she actually learn to speak the language of the very people she's targeting. Instead Harpo Productions, through the magic of Secondary Audio Programming and closed captioning (sponsored by a tortilla-maker, perhaps?) started broadcasting her cult of personality in Spanish in Chicago, Los Angeles, New York, Miami, Houston, and Dallas on Monday.
"With this action we want to serve the largest-growing segment of the population in the country: Hispanics," Angela Depaul, a Harpo Productions, Inc. spokeswoman told a reporter for Hoy, Chicago's Spanish-language daily newspaper. "With Spanish subtitles, Hispanic viewers will a have a more direct experience with Oprah."
And Oprah gave Spanish-only speakers yet one more reason to not have to learn English to "get along" in this country.
But Oprah's crack market-research team didn't do their homework. The fastest-growing segment of the population is overwhelmingly U.S.- born and fluent in English.
And guess what? Despite the breathless banner ads on Oprah.com exclaiming "Finally! Oprah in Spanish!" the kind of women living in the U.S. who don't speak English are probably not the type who are going to be able to afford the $60 LeMystere bras or $30 Yves Saint Laurent lipsticks that the Queen of Consumerism shills on her show, in her magazine and on her website.
No, that would be me: Young, female, affluent, English-speaking, U.S.-born Latinas.
Let's compare: Oprah's 7.4 million daily viewers are overwhelmingly female, white, and over the age of 55, according to MSNBC's Aswini Anburajan. She also reported that Oprah's reach among the Hispanic population is tiny -- only about 230,000.
Now, will Oprah do the things that would actually make me stomach her show like easing up on pop stars like Ricky Martin, and feature more Hispanic doctors, lawyers, scientists or dietitians in her stable of experts? How about having a touchingly emotional segment on racism against Hispanics? Or just flat out making an effort to have any Latino faces in her hyper-estrogenized audience?
"I can't comment on that," spokeswoman Depaul told Hoy in answer to a direct question about whether we can expect to see more Latino guests on the Oprah show. "Of course that would be spectacular." Nice save, but I'm not holding my breath.
Oprah has been called the most-successful business woman in history. Is she smart enough to actively and meaningfully tap into the Latino market by truly speaking to a Hispanic audience in a way that reflects and respects them?
Nah. Why should she? No one else does.
Calling all HuffPost superfans!
Sign up for membership to become a founding member and help shape HuffPost's next chapter