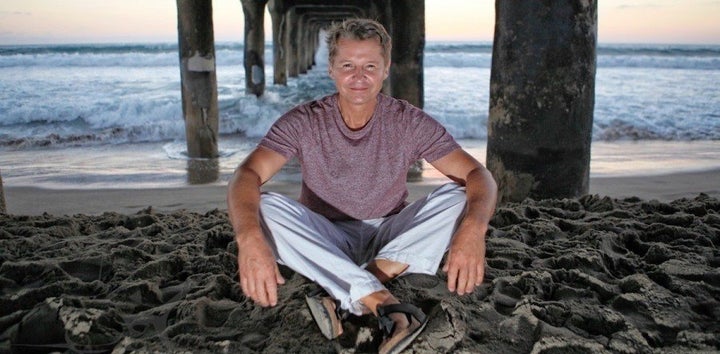 For years, French navigator Alain Thébault has had a dream to fly over water. In 1994, the Hydroptère -- an experimental sail-powered vessel that is able to hover above water simulating an aircraft's movement -- he invented, set sail for the first time, making his dream come true.
Last year, Thébault conceived a project, dubbed "Sea Bubbles," that would use the Hydroptère technology to establish an Uber-style service in the River Seine to facilitate overwater travel in Paris. The project, he tells HuffPost France, has "just the right level of ambition."
Paris, a city of approximately 2 million people, has a traffic problem that cost the French economy approximately $11.7 billion in 2013, according to the Center for Economics and Business Research. The congestion issue is only expected to worsen.
Sea Bubbles may help alleviate Paris's road traffic problem. Thanks to Thébault's Hydroptère technology, when the service transports passengers across the water, the vehicle won't float on the surface like a boat. Instead, it will rise above the water, while four thin wing-like structures remain in contact with the water.
"Zero emissions, zero noise, zero waves," says Thébault.
"We use the same mechanism that allows planes to fly. The air passing over the wing generates a lift," the entrepreneur says, as he folds a sheet from his notebook and uses his lips to blow air on it. The paper rises. This is how the Hydroptère works, he explains.
"I watched birds outside my window, and told myself that one day, I would fly."
He's been working on his Hydroptère for the past 30 years. In 2009, it beat the world's outright sailing speed record. The device uses hydrofoils and profiled wings that are already common in the world of boating. Many engineers have contributed to the project, including the retired Dassault systems engineer, Philippe Perrier.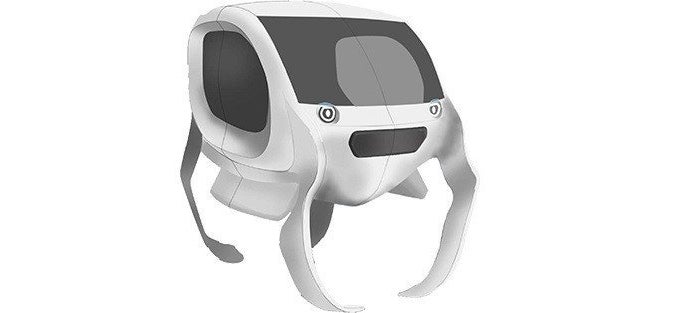 Thébault is not an engineer himself. He quit school at 17, and decided to pursue windsurfing. It's not that he didn't do well in school -- he aced math, he says -- but he found the courses to be too standardized. Thébault, who prefers to walk around barefoot, and has spent many nights sleeping on benches in Port Haliguen in Quiberon, France, does not like standards.
"Between the ages of 8 and 10, I lived in a boarding home across from my mother's house in Pont l'Abbe in Brittany. She was sick and I was not allowed to go see her," he said. "It was very difficult. I watched birds outside my window, and told myself that one day, I would fly."
What Thébault lacks in academic training he makes up for in passion and enthusiasm. He signs all of his correspondences with "à donf!" or "go for it!"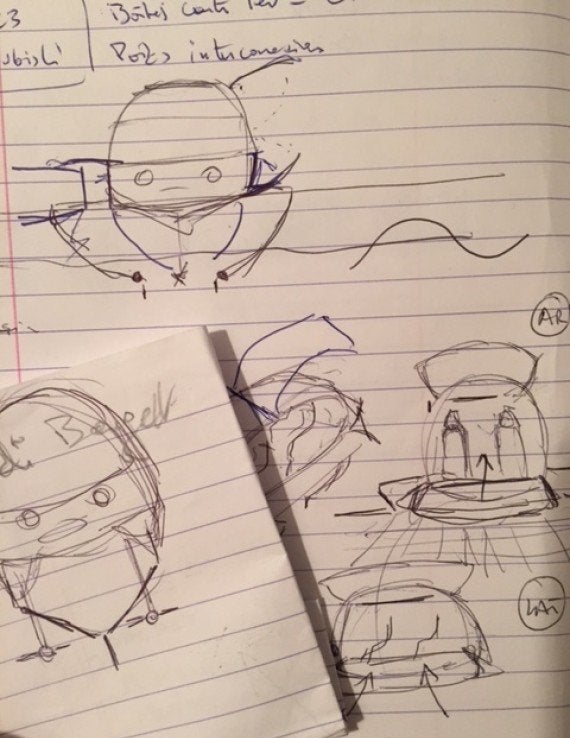 At a restaurant near Bibliothèque François Mitterrand in Paris, he animatedly tells HuffPost France about the project. Between flipping through the pages of his notebook, which he uses to draw sketches, and showing the photos on his laptop, he hardly touches his food.
His enthusiasm is "impossible to keep up with everyday," exclaims his youngest daughter, Victoire, who occasionally hosts Thébault in her Paris studio.
Thébault says he is currently taking meetings with major executives to gauge investor interest in his flying bubbles, which could provide a way for people in Paris and other megacities to move around, off the streets.
Thébault says he has met with BMW, Renault, Bolloré, Tesla, Uber and Google, and that the feedback has been largely positive.
Henry Seydoux, CEO of Parrot, a French manufacturer of drones, has already pledged 100,000 Euros, he said. He confirmed the investment via text message. The venture capital fund Partech International is pledging another 150,000 Euros. Thébault still needs another 250,000 Euros to complete the fundraising goal he's set for his team.
The prototypes were launched with the help of designer Marc Van Peteghem and engineer Philippe Perrier. Two prototypes are currently being tested (in bathtubs).
A pilot test on the Seine is scheduled for June 2016, because Mayor Anne Hidalgo has requested that "Paris be the first city to test the first two prototypes in the spring," Thébault says.
The business plan forecasts between 3,000 to 5,000 bubbles to be produced by 2018, driven by professional drivers. The Sea Bubbles vessels would transport people mostly between tourist destinations.
But Thébault envisions that Sea Bubbles will be a new kind of Vélib' -- the public bike sharing system, similar to Citibike, that was launched in Paris in 2007. Passengers would "Catch a Bubble," just like they would an Uber. Thébault says Uber has expressed interested in the project.
A version of this post first appeared on HuffPost France. It has been translated into English and edited for clarity.