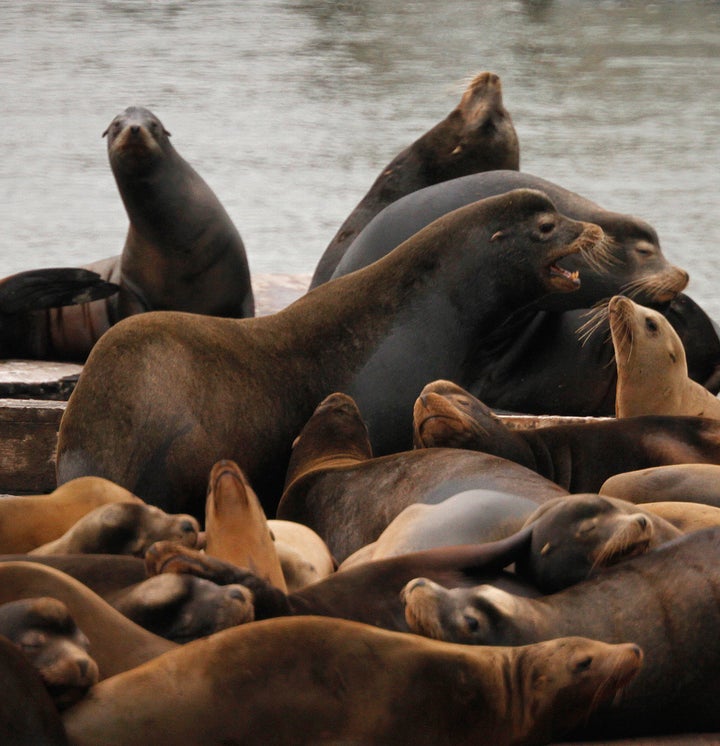 PORTLAND, Oregon (By Teresa Carson) - Washington and Oregon won authorization from a federal agency on Friday to kill sea lions eating endangered salmon at the Bonneville Dam, angering animal rights advocates.
The move marks the second time the National Oceanic and Atmospheric Administration's Fisheries Service has approved killing the sea lions, which travel up the Columbia River to eat salmon trying to pass the dam on their way to spawn.
The Humane Society of the United States fought the first authorization, in 2008, winning a ruling from the U.S. 9th Circuit Court of Appeals that NOAA must explain why it allowed fishermen to catch the salmon but not sea lions.
The NOAA has said in response that it can limit the number and type of fish caught by the fishermen, but not so the indiscriminate sea lions.
"This is not an easy decision for our agency to make, but a thorough analysis shows that a small number of California sea lions preying on salmon and steelhead are having a significant effect on the ability of the fish stocks to recover," William Stelle, NOAA Fisheries Service Northwest regional administrator William Stelle said in a written statement.
Oregon and Washington may only remove sea lions known to be eating salmon and only 85 per year can be killed.
Sharon Young, marine mammal issues field director for the Humane Society, told Reuters the group was studying NOAA's order and may go back to court to challenge it again.
"Sea lion predation represents only 2.4 percent of the salmon run this year," Young said.
"This is shameful that they are distracting attention from real problems they could be addressing," she said. "This is one of the least important things they can to do address salmon recovery."
Since 2008, 26 sea lions have been euthanized and 10 were placed at zoos and aquariums. Usually about 70-80 huddle around the dam every year, NOAA said, estimating that they ate more than 5,000 salmon last year.
The Oregon Fish and Wildlife Department does not have a start date for when it might begin trapping and euthanizing the mammals, Rick Hargrave, a deputy administrator said.
They have been marking and observing the sea lions since March, so they can identify the most egregious offenders.
California sea lions are protected by the Marine Mammal Protection Act, but NOAA said the population of about 238,000 is "healthy and stable."
(Editing by Dan Whitcomb and Jerry Norton)
Popular in the Community