The Baquerizo Moreno boardwalk on San Cristóbal Island is a nice place to stroll and enjoy the views of plants and balconies overlooking the bay. It's popular not only with tourists and locals but also with other large endemic creatures: Zalophus wollebaeki or sea lions that have made their home in Baquerizo Moreno. They are found sleeping on the benches, sunbathing on the sidewalks, even using a slide built for local children.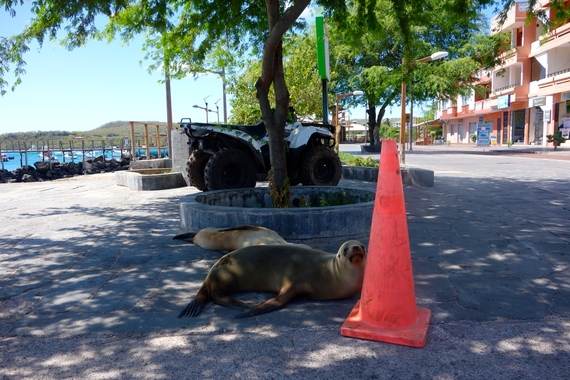 Sea Lions on the Baquerizo Moreno boardwalk. Photo by Cecilia Alvear/Galapagos Digital
But this proximity of sea lions to humans and other introduced species presents problems.
As Galapagos Digital reported in July of last year, a study by a British scientist showed that sea lions living in residential areas of the Galapagos suffer more health problems than those living in the uninhabited islands. According to that study, they may acquire certain diseases of dogs and other pets.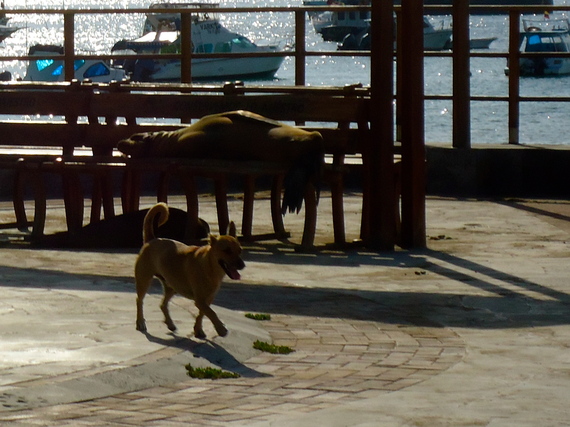 A dog walks by sea lions napping on a park bench. Photo by Cecilia Alvear/Galapagos Digital
It is estimated that between 16,000 and 18,000 sea lions inhabit the Galápagos. In 2008 they were included in the Red List of the International Union for Conservation of Nature (IUCN) as an endangered species.
Now the Galapagos National Park reports that in conjunction with the San Francisco University of Quito, it has undertaken a project to study diseases that may affect the sea lions. "The main objective," a statement from the park said, "is to assess whether the interaction with dogs and other introduced species exposed the sea lions to distemper, parvovirus and leptospira."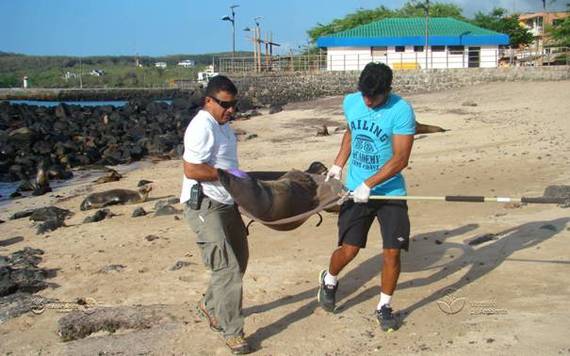 Technicians of the Galapagos National Park transport a sea lion to be tested and tagged. Photo by Galapagos National Park
Park technicians and volunteers from participating institutions have been capturing sea lions in various colonies and drawing blood and mucous samples. The teams place numbered tags on the front flippers of the animals to aid in identifying individual animals. The samples are analyzed at the Laboratory of Microbiology of the San Francisco University of Quito.
Initially about 200 samples were collected in breeding colonies of sea lions in San Cristóbal, Española, Floreana and Santa Fe islands. In a second phase, the study will extend to Santa Cruz, Seymour and Isabela islands. The study will last two years.
The park also plans a community forum on sea lions for residents of San Cristobal March 5.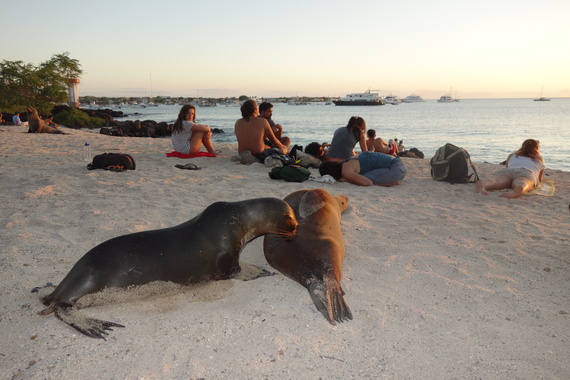 Sea lions and people on Playa Mann in San Cristobal island. Photo by Cecilia Alvear/Galapagos Digital
Carlos Ortega, a technician from the park said that an international panel of experts will discuss how humans can better share the island and protect the sea lions.