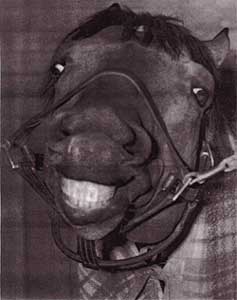 On May 11th, a 44-cent rate-change stamp featuring the great thoroughbred racehorse, Seabiscuit, will be issued by the U.S. Postal Service. This stamp is significant for one huge reason: We the people did it! It took us eight long years, but we did it. People think we don't have power in Washington but, when there are enough of us, we can do anything.
In 2001, when Laura Hillenbrand's best seller, Seabiscuit: An American Legend, was published, millions of readers were inspired by the true story of "an undersized, crooked-legged racehorse named Seabiscuit," who beat all odds and became a pop-culture phenomenon. Back in the Thirties, as many spectators attended his races as today attend the Super Bowl. Those who couldn't squeeze into the track hung off lampposts, stood atop their cars, and climbed onto roofs just to catch a glimpse of him. When President Obama appeared on the Tonight Show March 19, ratings rose higher than they'd been in years with 20 million viewers; when Seabiscuit raced, 40 million people listened on their radios.
The stamp shows "the people's horse," Seabiscuit, beating the horsey crowd's favorite, the magnificent Triple-Crown Winner, War Admiral, in their famous match race, still regarded as the greatest horse race in history.
Impassioned by the book, I took a guided tour of the Biscuit's home, Ridgewood Ranch, in Northern California and, at the showing of an old 8mm movie of his greatest races and life at the Ranch, I spoke with another tourist, a man from New Orleans. Over time and telephone, we became friends and he suggested we try to get Seabiscuit on a California coin. That idea evolved into the possibility of attempting to get the horse, an American cultural icon, on a U.S. stamp.
Fat chance, right? We had no money, no lobbyists, and no Washington connections. We had only passion, and a belief that the word "No" really meant, "Try harder."
We learned about the Citizens Stamp Advisory Committee, whose primary goal is to select subjects of "broad national interest for recommendation to the Postmaster General that are both interesting and educational." To give you an idea of the odds we were up against, merely 25 subjects are selected each year out of many thousands of submissions. Only one other horse in history (Secretariat) had ever been so honored, and he had big financial backing and Washington lobbyists.
Undaunted, we started a grassroots movement, beginning with local book clubs, then book clubs nationwide. Their members not only signed our petition to the Committee, they circulated it to all their friends, who sent it to everyone they knew. We put the petition on the Internet to be printed and mailed by anyone interested. We trolled the streets for signatures; promoted the idea on sports news TV; haunted Santa Anita for signatures; and returned to Ridgewood Ranch for the premiere of the movie, Seabiscuit, getting signatures from attendees. We did everything we could think of and then some. Thousands of people pitched in, like an Arkansas soybean farmer, a Louisiana pharmacist, a Kentucky woman who cans hams for Hormel, a Massachusetts landscape designer; racetrack people; book lovers everywhere; and folks from all walks of life.
Despite times of discouragement, disillusionment, and distress, we never gave up. If Seabiscuit himself never gave up when faced with insurmountable odds, how could we? If his fierce determination to win got him to the finish line to inspire Americans in the throes of the Great Depression, we intended to match his persistence.
We may not be able to see the Biscuit run again, but we can all share in his heritage of beating the odds to achieve a goal.
Give yourselves a round of applause and, when you hold the Seabiscuit stamp in your hand, remember that together, we the people can do anything.