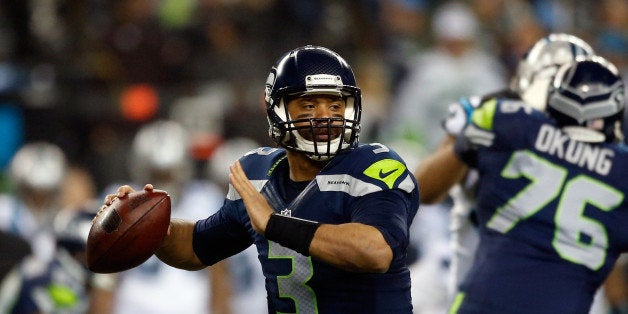 SEATTLE (AP) — This time Russell Wilson did it with his arm, passing the Seattle Seahawks into the NFC championship game for the second straight year with a big assist from Kam Chancellor.
The Seahawks are one step closer to defending their Super Bowl title.
"It's exciting but the job is not done. There is still a lot more to do," Wilson said.
Wilson threw for 268 yards and three touchdowns, Chancellor returned an interception 90 yards for a TD midway through the fourth quarter and the Seahawks beat the Carolina Panthers 31-17 on Saturday night in an NFC divisional playoff game.
Wilson was nearly flawless in one of the best playoff performances of his young career. He took shots downfield and was perfect on third downs.
Wilson threw a 16-yard touchdown to Doug Baldwin in the first quarter, found Jermaine Kearse for a 63-yard TD in the second quarter and capped his night with a 25-yard strike to Luke Willson with 10:26 remaining that gave Seattle a 24-10 lead.
Even with Wilson's passing prowess, the capper was still to come from the most impressive athlete on the field.
"I don't know if a strong safety can have a better game than Kam did tonight," Seattle coach Pete Carroll said.
Chancellor wowed everyone by twice jumping over the Carolina offensive line on a pair of Graham Gano field goal attempts at the end of the first half. And he showed that he's a pretty good safety in coverage, too.
With Carolina driving and trying to cut Seattle's 14-point lead in half, Chancellor anticipated Cam Newton's throw. Newton's primary target was covered and when he came back to try and find Ed Dickson, Chancellor jumped the throw and returned his third career postseason interception for a touchdown.
For all the tackles Chancellor made — and his hurdling exhibition — it was the hulking safety running alone for the first TD of his career that left CenturyLink Field shaking.
"We have a full trust and understanding of his athletic ability. He's a freaking monster," Seattle cornerback Richard Sherman said. "... He's damages people's souls."
It was the longest touchdown in Seattle's postseason history, topping Percy Harvin's 87-yard kickoff return for a touchdown in last season's Super Bowl.
"It felt awesome. It felt like preparation. It felt like everything I worked all week for," Chancellor said.
The Seahawks (13-4) never trailed and became the first defending Super Bowl champion to win a playoff game the following season since New England in January 2006.
Since that Patriots victory, three defending champions have earned byes only to lose in the divisional round, the last being Green Bay in the 2011 playoffs.
Seattle will host either Green Bay or Dallas next Sunday for a trip to the Super Bowl.
Newton threw a pair of touchdowns to Kelvin Benjamin, but Carolina (8-9-1) couldn't overcome three turnovers, two of which the Seahawks turned into touchdowns.
After knocking off Arizona in the wild-card round last week, Carolina was trying to be the first team to reach a conference championship game after having a losing record in the regular season.
Much like the previous three regular-season games between the two teams, Carolina made it difficult on Seattle. The best running team in the NFL this season was held to 100 yards rushing by the Panthers defense.
Marshawn Lynch was mostly a non-factor aside from a 25-yard run in the third quarter that helped set up Steven Hauschka's 37-yard field goal on the first play of the fourth quarter.
But Wilson was outstanding, especially on third down. All three of his touchdown throws came on third-and-long situations. Baldwin beat safety Tre Boston on a double move on third-and-9 on his TD catch in the first quarter.
Kearse's TD reception came on a third-and-7. And Willson's catch-and-run TD was on third-and-10.
Wilson finished with a passer rating of 149.2, the second-highest for any game in his career. He was 8 of 8 for 199 yards passing on third downs.
"That's just a fantastic night of coming through in critical situations," Carroll said.
Newton played well, but turnovers were the Panthers' undoing. Newton finished 23 of 36 for 246 yards and added 37 yards rushing. Jonathan Stewart had been a key to the Panthers' late-season surge, and rushed for 70 yards on 13 carries.
Newton got away with testing All-Pro cornerback Richard Sherman in the first quarter and watching Sherman dance away with his first career postseason interception.
But Seattle took the lead after Carolina's second turnover of the first quarter. Michael Bennett disrupted the handoff between Newton and Stewart and Tony McDaniel fell on the loose ball at the Carolina 28. Wilson connected with Baldwin to take the lead and Carolina never pulled back even.
"We needed them to make some mistakes and that would help," Carolina coach Ron Rivera said. "But it didn't happen. Credit to them."
NOTES: Seattle won its eighth straight home playoff game. ... Carolina's 132 yards rushing were fourth-most of any team vs. Seattle this season. ... C Max Unger re-injured his ankle late in the fourth quarter. Seattle WR Paul Richardson suffered a sprained knee in the third quarter.
Popular in the Community