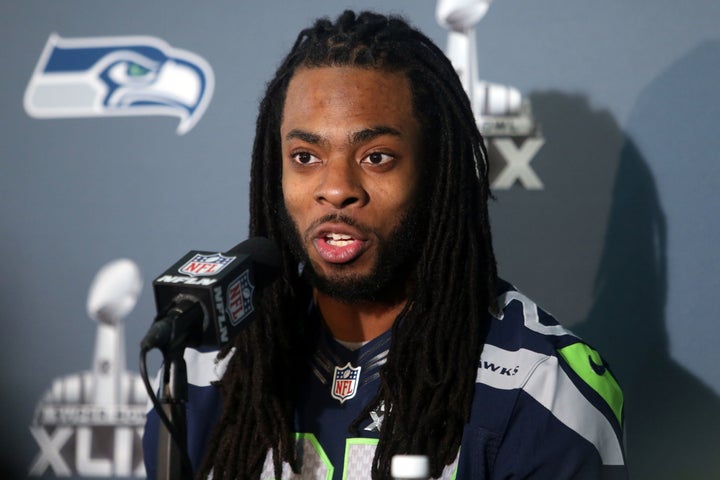 Seattle Seahawks cornerback Richard Sherman has never been scared to call out the National Football League.
"I have not -- I see a concussion movie every Sunday for free," Sherman said with a grin. "Don't need to go to the theater."
It's possible to see this quip as a deliberate attempt on Sherman's part to squeeze in one more viral moment before the end of the year. But whether or not that's the case, it doesn't really matter -- the NFL knows about its problem, enough that it seems to go to great lengths to whitewash any and all criticism about concussions.
Some outlets contend that the "Concussion" film itself was rewritten to make the NFL and its lawyers happy. Deadspin reports:
We stated back in September that the real story's complexity, along with studio honchos botching things up, would result in a movie that misses the point. Now that we've seen it, it's even more obvious that Sony's film cooks up drama with composite/fictional characters while ignoring the broader issues of institutional complicity that are at the heart of the NFL's bad brains problem.

While Sony and Concussion director Peter Landesman deny the film was edited to prevent NFL protests, the differences between the script as originally prepared for production and how it ended up on screen strongly suggest otherwise.
Similarly, The New York Times, citing material released in the Sony email hack, reported in September that "[an] email on Aug. 1, 2014, said some 'unflattering moments for the N.F.L.' were deleted or changed, while in another note on July 30, 2014, a top Sony lawyer is said to have taken 'most of the bite' out of the film 'for legal reasons with the N.F.L. and that it was not a balance issue.'"
Popular in the Community