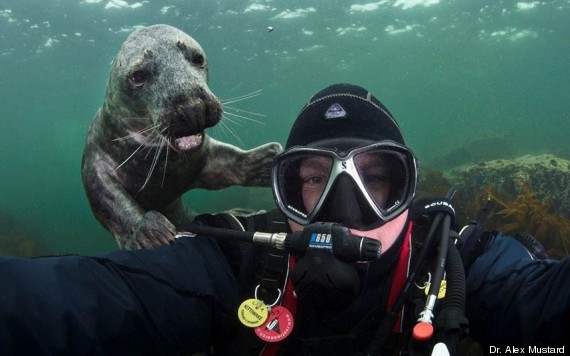 In an e-mail to The Huffington Post, Dr. Alexander Mustard, a U.K.-based marine biologist, author and underwater photographer, said that he encountered this playful seal while diving in the Farne Islands off the northeastern coast of England a few weeks ago.
"Yes that is me, the one on the right," he joked.
The photo was posted to Reddit yesterday, where it quickly accrued "upvotes," accolades and questions about its authenticity. Reddit user "hjaltih" pointed out that other photos from the shoot had been posted to Dr. Mustard's Facebook page, in which his friend Dan Bolt gets some attention from the seal.
So it looks like it was Dr. Mustard in the ocean with the photobomb, after all.
The Farne Islands, also called simply "the Farnes," are a group of about 20 islands off the coast of Northumberland that are home to more than 6,000 grey seals, and are also a habitat of the roseate tern, which is listed as a protected species by the British government.
How would you caption the photo above? Tweet us @HuffPostGreen and check out the captions below!
CLARIFICATION: A previous version of this article did not distiguish between commercial and subsistence seal hunting in Canada.
Popular in the Community