For you, the process is pretty seamless. On a dreary evening, you scroll through a menu online, tap a couple of buttons and voila: Hot food is delivered to your door within the hour. The only energy you have to exert is to get off the couch to open your door and grab your meal.
But that hot dinner doesn't just appear at your door, as you know. There's a real person who travels through traffic, rain, sleet and snow to ensure your Netflix binge is accompanied by something tasty -- and when you really consider the effort it takes, you might rethink the amount of tip you add to your order.
Gabriel Martinez Rios is one of thousands of restaurant workers who are responsible for your gastronomical delight. He delivers meals to hungry New York City residents by way of his bicycle, spending approximately 40 hours of his week transporting orders for S'MAC, a New York City restaurant that specializes in macaroni and cheese dishes. On a rainy afternoon shift in March, Rios strapped a GoPro to his bike helmet and captured what he says is a typical workday.
Rios told The Huffington Post he delivers an average of 15 to 30 meals per day Monday through Friday from S'MAC's Murray Hill location. He earns $7.25 an hour, which is $2.25 more than the minimum wage for tipped workers in New York City. Caesar Ekya, the restaurant's co-owner, says the difference covers the extra responsibilities his delivery employees take on, including assisting with food prep, cleaning, and taking out the trash.
But for Rios, the real money comes in the form of tips. He says he usually receives $2-$4 in tips per order, averaging some $200-$300 in tips each week. In the past, he's received tips as low as 25 cents and as high as $10 on a single order. S'MAC partners with several online food ordering services, including Foodler, Delivery.com and Eat24, but Ekya says most online business comes through Seamless, a platform that features more than 8,950 New York City-area restaurants, according to director of public relations Abby Hunt.
Seamless reports its average national tip as 13.9 percent per order, with New York City falling below average at 13.1 percent. The site's order page has a preset tip amount that can be changed by the customer. According to Hunt, this preset often varies because the company is "always running tests," but at the moment, the tip amount is preset to $2. S'MAC requires its customers to spend a minimum of $15 to place a delivery order on Seamless; if the customer were to leave the preset as is and spent an exact $15, the $2 would amount to a 13.3 percent tip.
Seamless doesn't require its users to leave a tip at all. Some customers still choose to tip in cash, but Rios estimates about 90 percent of his tips are paid for by credit. He receives such tips at the end of each workday, in cash.
Rios tends to make bigger bucks when the weather outside is frightful: Last January 26, when there were about 5.5 inches of snow in Central Park, Seamless reports tips spiked 9 percent higher than the city's year-round average. Rios says the policy at work is to deliver rain, shine, or snow, until that snow reaches 6 inches. At that point, his bicycle will no longer tread through the sometimes-unplowed city streets.
Rios' bicycle helped him get hired at S'MAC nearly two and a half years ago. The restaurant's delivery workers are required to have their own bikes, and Ekya says that's how most New York City restaurants operate. Rios himself owns two bikes; he has the second one "just in case." Reported bike theft in New York City has increased by nearly 70 percent in the past four years, and Rios has had two bikes stolen while on the job. He was responsible for replacing each of them. He also pays for his own bike lock, and he and his coworker perform small bike repairs together with tools provided by S'MAC. For larger repairs, Rios has to take his bicycle to the shop.
Every delivery person at S'MAC is handed a reflective vest provided by Seamless in a free "welcome kit"; a helmet, which is required by New York City law, is provided by S'MAC.
While he's not required to own a cell phone to perform deliveries, Rios uses a personal phone when he needs to reach customers or get directions (though, for the most part, Rios says he knows the city pretty well). Ekyos told HuffPost not all of his employees have a phone, but they've yet to run into a problem: "We always figure something out," he says. "We can call a customer before a guy leaves to tell them he's on his way. We always find a fix."
Rios doesn't retire his bicycle on Friday nights; he works seven days a week. On Saturdays and Sundays, he makes deliveries for another Seamless partner restaurant called Juice Healthy Kitchen & Juice Bar, located directly across the street from S'MAC.
Photo of Gabriel Rios by Irina Dvalidze.
Visual effects by Adam Glucksman.
Translation provided by Carolina Moreno.
Related
Before You Go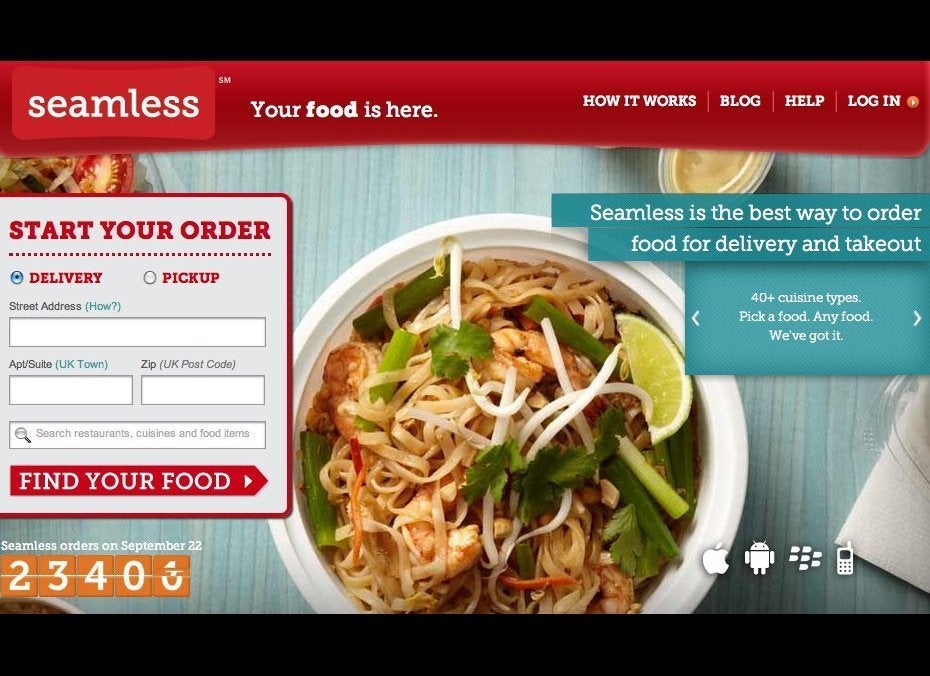 Online Delivery Services