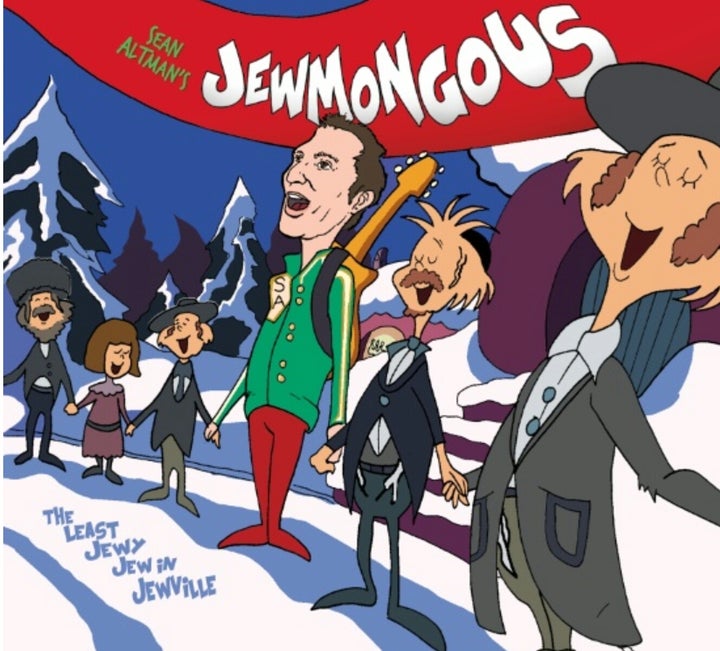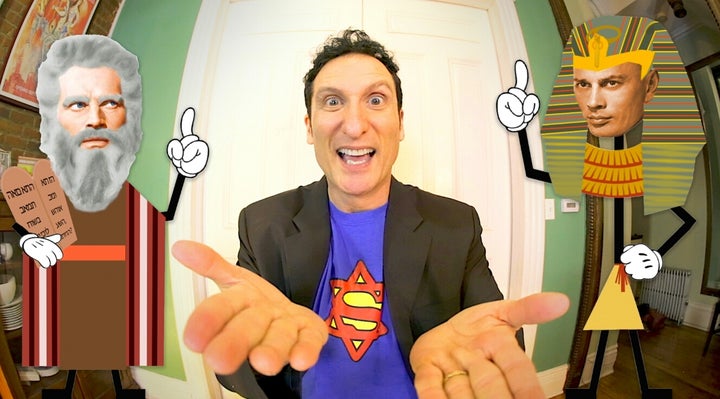 He's performed for Presidents Clinton and GW Bush at the White House Chanukah Party, and his classic Passover song "They Tried To Kill Us (We Survived, Let's Eat)" has been featured on NPR's Fresh Air with Terry Gross. Billy Joel, Steve Miller, Whoopi Goldberg, Jon Stewart, Jay Leno, Joey Ramone and Moby have shared the stage with him (or, vice versa). He has recorded with Miller, as well as XTC, John Cale, Richie Havens and They Might Be Giants.
But Altman's special mission is to ensure that Jews have a place to go during the Christmas holiday. "Jews, don't be sad and lonely on Christmas!" he cajoles in his current presser, inviting readers, Semitic, and otherwise, to his Dec. shows, where "The Least Jewy Jew" will debut on stage and on the merch table. Dec. 23 will find JEWMONGOUS! at the NextStage Arts Project in Putney, Vermont. On Xmas Eve, they'll do the annual show at Club Passim in Cambridge; and for the big holiday night, JEWMONGOUS! will appear at Triad Theatre in Manhattan. Special guests include comedic songstress/author Cynthia Kaplan and instrumentalist Michael Hunter. 9 p.m. showtimes allow for Chinese beforehand; the Passim shows are 5 and 7:30 p.m., so the Chinese can follow.
Altman's GrooveBarbers toured last weekend ("in four states," Altman clarifies — "confusion, denial, panic, and New Jersey."). And after December, the madness continues with a JEWMONGOUS! show on Jan. 22 at the Towne Crier in Beacon, New York. And then, Altman's Everly Brothers-themed act will hit New York, New Jersey and Maryland.
"JEWMONGOUS! is my own quirky way of connecting with my ancestry," Altman told HuffPo. "As a proud, secular Jew, I greatly admire the Tribe's achievements and values. I long to feel like I'm a contributing member of the team, but I'm too busy being a rock star wannabe to attend synagogue," he continued. Therefore, he channeled three favored persuasions — singing, songwriting and joke-telling — into a project that he said explores his people's idiosyncratic nature into comedic song.
"There's also an obvious nod to my funny Jewish forbears," Altman added, citing Mel Brooks and Woody Allen, as well as the more contemporary Sacha Baron Cohen, Sarah Silverman, Jon Stewart, and Andy Samberg.
Altman said there is nothing inherently funny about Judaism. "OK, maybe strapping a box of tefillin to one's head, WTF?" he interjected. "I believe that the oppression that my people have suffered for thousands of years has engendered humor as a survival mechanism. When your village is ransacked, your house is confiscated by the government you trusted, and your sister is getting molested by Cossacks, humor is one of the things that enables you to survive."
Altman said it is no accident that the two funniest and most comedically influential ethnic groups in the USA — Jews and Blacks — have both suffered years of discrimination. "Oppression clearly begets comedy," he observed.
Altman writes his songs to make himself laugh, and to explore. "From my own ignorant secular perspective, I try to reinterpret the mystifying customs and rituals of my tribe," he said. "The tone is irreverent, even occasionally risque, but it's always affectionate. Are you really telling me that I can't eat a cheeseburger because the burger cow might have been cooked in the milk from the cheese cow, who just so happened to be his MOTHER?!!" he posited. "Lemme get this straight: Moses made a covenant with God to cut off part of *my* penis? I've heard of crazy relatives, but great Uncle Moses went too far with that one," he continued. "But happily for me, my sensibility seems to have broad appeal: secular Jews identify with me, conservative Jews like to laugh at me, and orthodox Jews get a kick out of pitying me." This year, Chanukah and Christmas coincide. No worries, Sean Altman's JEWMONGOUS! welcomes people of all faiths. "But not children, unless you're training them to be sailors," he cautioned. "Parents, you've been warned."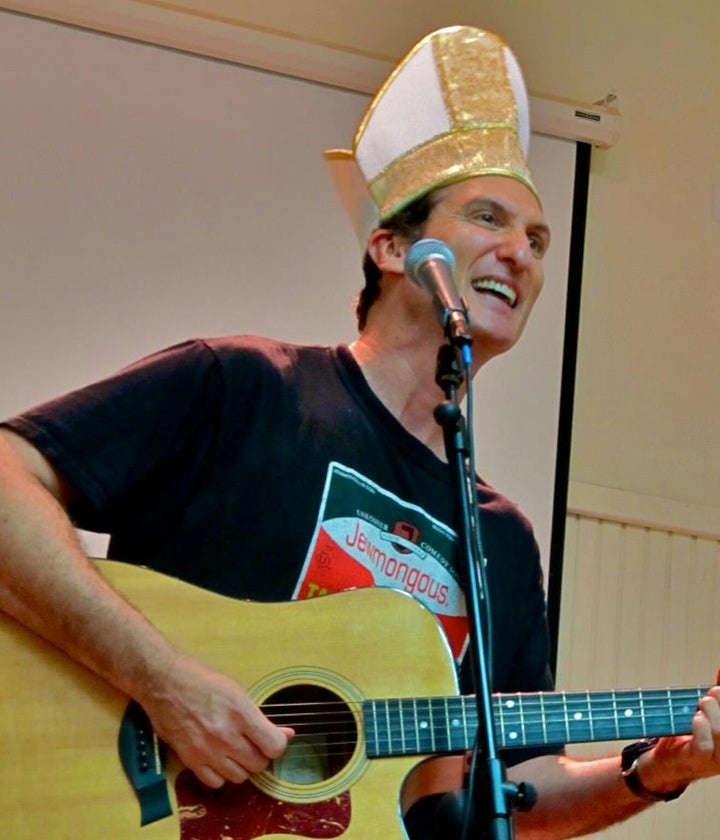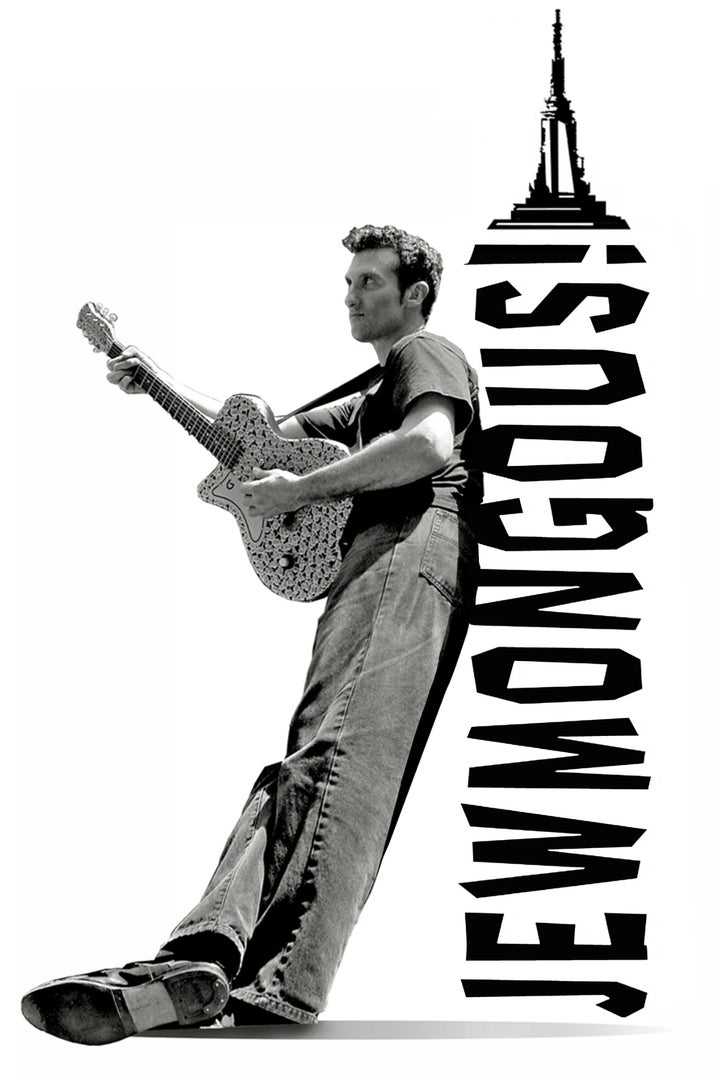 Susie Davidson tweets at @SusieDavidsonMA.