Sean and Catherine Lowe are one of the only success stories in the "Bachelor" franchise. They met on Season 17 of the show, fell in love, got engaged and tied the knot a little over a year later, in January 2014, on national television in front of millions of viewers.
The pair ― along with other married couples like Trista and Ryan Sutter, Desiree and Chris Siegfried, Ashley and J.P. Rosenbaum, and Molly and Jason Mesnick ― believe their relationship lasted due to the fact that they were both truly ready to find love. Unfortunately, they don't think all the recent Bachelors and some of their contestants were at that point during filming, so they're glad to see 36-year-old Arie Luyendyk Jr., who appeared on "The Bachelorette" with Sean in 2012, be named the dating series' newest star.
"The predicament that the show runs into is maybe this 26- or 27-year-old makes it to the end of ['The Bachelorette'], the audience falls in love with him, so they want him to be the next Bachelor. But in real life, he might not be ready to settle down, or maybe in that situation he thinks he is. So I do think Arie is a pretty good choice," Sean told HuffPost during an interview on Build Series. "I definitely know he's a good buddy of mine and he would like to find a wife and have kids, and move on to the next chapter of his life." 
Sean is excited to see a more "quirky, kind of nerdy" guy in the role, since he'll be a little more endearing, in a way.
"Even though a lot of people maybe didn't watch back then or have forgotten him, I think they'll be reminded really quickly why everybody liked him the first go-around," Sean said, as Catherine chimed in, "He's also very serious and, this sounds bad about Arie, but he's kind of emotional. In terms of, he's really passionate about finding a woman. I think he'll be surprising to a lot of people who might have been on the fence about [the decision] or not happy about it."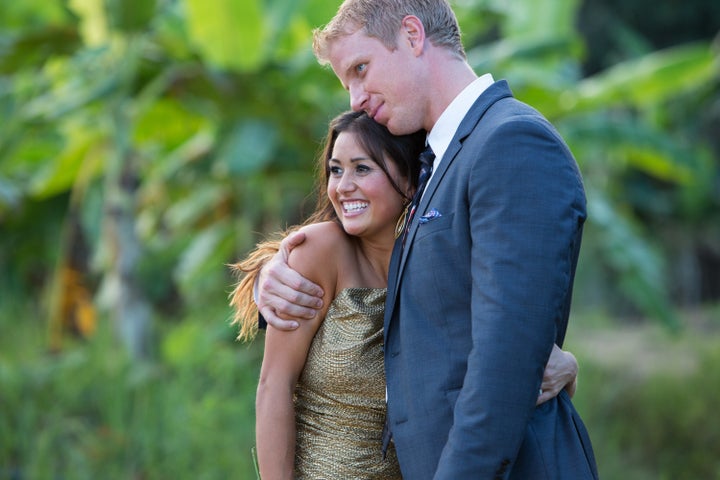 A lot has changed since Sean and Catherine were on "The Bachelor." Social media has become much more prevalent these days, and it appears that almost any former star can instantly become an Instagram influencer within seconds of appearing on the show. 
"People know, 'OK, if I go on the show and I'm the loudest person there, if I cause the most drama, I'll get the most attention, I'll get the most Instagram followers, and then maybe I can promote teeth whitener or something like that,'" Sean explained of current "Bachelor" franchise stars. "So I think [social media] has been detrimental in a sense ― this is probably just me being the old man that I am, saying, 'Back in our day, things were different!' But I just got the sense that the crazy ones on my season were crazy because they were literally crazy and they weren't trying to get an Instagram following. But who knows, that's just me being cynical, maybe." 
But Catherine agreed with her husband, adding that the women who appear on the show in recent seasons seem to be so much more glammed-up than she and her co-stars when they joined the dating series five years ago. 
″These girls are upping their game. They are flawless. Like, you don't have a stylist, you don't have makeup people, so if that's what they really look like, I'm so glad I wasn't on any of these seasons," she said. "I feel a little bit bad for these girls because they have to keep it up ... forever!" 
Although it's clear a lot has changed over the years, Sean and Catherine admit they're all here for the drama that comes along with "The Bachelor," "The Bachelorette" and even the "sketchy" (as Sean calls it) "Bachelor in Paradise" ― they just want it to be, or feel, genuine.
Calling all HuffPost superfans!
Sign up for membership to become a founding member and help shape HuffPost's next chapter
BEFORE YOU GO
PHOTO GALLERY
Tweets About The "Bachelor In Paradise" Season 4 Finale