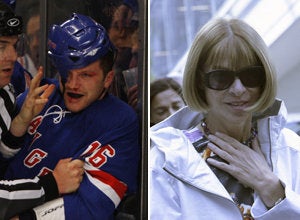 Avery's more conventional provocation techniques, such as trash-talking, wife-slagging, face-rubbing, slew-footing, slashing, diving, and flopping, may irritate his adversaries even more on account of his unconventional off-ice persona. Not for Avery the typical prairie-boy self-effacement of the hockey man. He has said that he finds sports, and athletes, boring, and that he'd like to be an editor of a fashion magazine. (He's planning to do a summer internship at Vogue.) Unlike most hockey players, he sees nothing wrong with the fact that he likes to "smell nice occasionally." He has said that he prizes his black patent-leather Yves Saint Laurent high-tops, "a lovely cashmere throw from a friend who works at Calvin Klein," and his Philippe Starck machine-gun-shaped lamp ("It lets you know there's a man living in the house"). For a while, he wore black nail polish on one hand--"my fighting hand." He told one magazine, "Sometimes I'll wear a scarf to the game and my teammates have no idea what to do." He is a conspicuous dater of starlets, such as Elisha Cuthbert, and was recently linked, by rumor, to Mary-Kate Olsen, and, in error, to the alleged Manhattan madam Kristin Davis. He's sort of a puckhead's Dennis Rodman, except that there's more fox in his crazy.
So how did Avery get the Vogue gig? He wrote a letter to Anna Wintour expressing his desire to work there (presumably his day job helped the missive get some attention). Avery will report to 4 Times Square this summer, though his first day hasn't been confirmed (a Vogue spokesman said it depends on how well the Rangers do in the playoffs). And what, exactly, will he be doing? The spokesman said Avery likely will work with a variety of editors, including European editor at large Hamish Bowles. There's also talk of him working at Men's Vogue. And the spokesman claimed that, like most interns, the 28-year-old Avery will be expected to do traditional assistantlike tasks -- making copies and messengering couture gowns, for instance.
Calling all HuffPost superfans!
Sign up for membership to become a founding member and help shape HuffPost's next chapter