 Hip-hop stars making the leap to the big screen is no fresh trend. Will Smith, Snoop Dogg, 50 Cent, Queen Latifah, Ludacris, Ice-T and Eminem represent just a handful of the rappers who've dived into the acting world, but do they only hold a candle to Sean "Puff Daddy"/"Puffy"/"P. Diddy"/"Diddy" Combs? The rapper has garnered nearly universal acclaim for his movie work, and this week's football flick "Draft Day" finds him in a small role opposite Kevin Costner and Jennifer Garner. Take a look at the high praise Combs has received for his film performances, each of which is defined by a singular characteristic.
1. IRATE in "Made" (2001)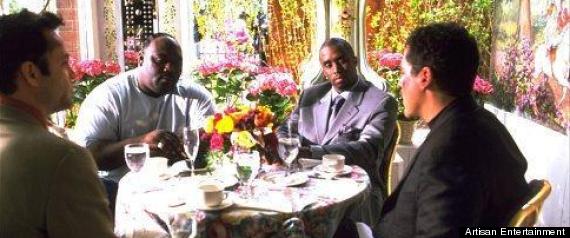 Key quote: "Shut the f--k up, you fat f--k!"
Sample reviews: "Combs [gives] an understated, convincing performance." - Roger Ebert, Chicago Sun-Times
"Bobby leaves a trail of apologies through a veritable Time Out tour of Manhattan clubs after Ricky messes up a deal with Max's New York associate, Ruiz (a very funny Sean Combs, who puts aside the Daddy and Diddy persona for this role)." - Elvis Mitchell, The New York Times
"Among the other supporting players, standouts include Combs, who infuses the surprisingly sophisticated Ruiz with crude wit and daunting menace." - Joe Leydon, Variety
2. REPENTANT in "Monster's Ball" (2001)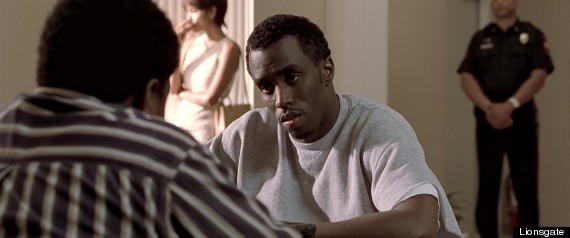 Key quote: "I've always believed that a portrait captures a person far better than a photograph. It truly takes a human being to really see a human being."
Sample reviews: "Rap star Combs impresses by avoiding the slightest hint of melodrama." - Robert Koehler, Variety
"In the end, the movie belongs to the actors -- to Ms. Berry and Mr. Thornton, principally, but also to the large supporting cast, including Mr. Combs, Mr. Ledger and the hip-hop star Mos Def." - A.O. Scott, The New York Times
"Certainly, there are the raw ingredients for a Faulknerian harrowing: three lonely generations of racist prison guards (infirm retiree Peter Boyle, execution-team captain Billy Bob Thornton, rookie Heath Ledger), and a boozy waitress (Halle Berry) whose husband (a fine, weary-voiced Sean Combs) is on death row." - Michael Atkinson, The Village Voice
3. LARGE AND IN CHARGE in "Carlito's Way: Rise to Power" (2005)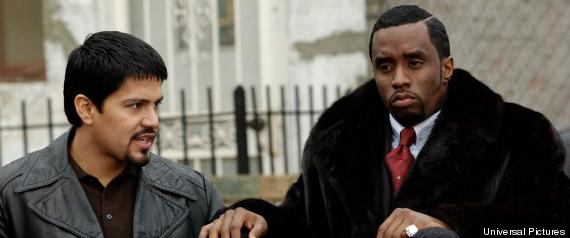 Key quote: "When you take something that's mine, that offends me. It's spitting in my face."
Sample review: "Despite interference by crooked cops (Giancarlo Esposito, Tony Cucci), old school Mafiosi (Burt Young, Dominic Lombardozzi) and a stylish but lethal Harlem crime boss named Hollywood Nicky (rapper Sean Combs, well-cast and convincing), the three comrades easily fulfill their ruthless ambitions." - Joe Leydon, Variety
4. PASSIONATE in the TV movie "A Raisin in the Sun" (2008)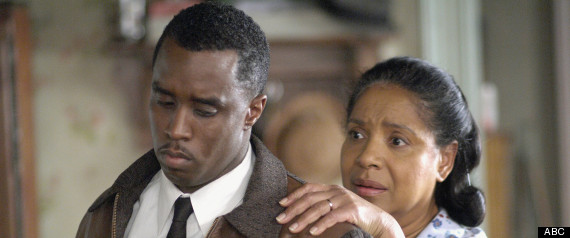 Key quote: "Mama, I want so many things. Mama, I want so many things it's driving me crazy. ... Mama, I open and close car doors all day. I drive a man areound that looks right through me. I say, 'Yes, sir,' 'No, sir,' 'Shall I take the drive, sir?' Am I the best-trained monkey you've seen, sir?' Mama, that ain't no kinda job. That ain't nothin.'"
"In a role originated by Sidney Poitier, Combs drops his 'Making the Band' poker face and reminds us he can act with full-hearted expressiveness. He holds his own with [Phylicia] Rashad." - Ken Tucker, Entertainment Weekly
5. UPROARIOUS in "Get Him to the Greek" (2010)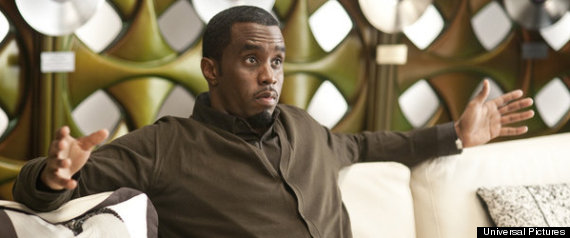 Key quote: "I've got six f--kin' kids! Do you know how many Air Jordans six black kids wear?"
Sample reviews: "It features a smartly pugnacious and self-parodying turn by Sean Combs as the record label boss." - Richard Corliss, Time
"Combs's comic timing is devastating; he should do more acting." - David Denby, The New Yorker
"[Combs is] enjoyably hammy." - Dana Stevens, Slate
Calling all HuffPost superfans!
Sign up for membership to become a founding member and help shape HuffPost's next chapter
BEFORE YOU GO
PHOTO GALLERY
Diddy Photos