Sean "Diddy" Combs in partnership with Diageo announced their new acquisition of the luxury tequila brand, DeLeon.
Combs and Diageo's first alliance was with the vodka brand, Ciroc in 2007. In seven short years Ciroc has grown from a 50,000 case a year line to nearly 2 million. The new joint venture will benefit from Diageo's strong distribution network and Combs access to influencers and proven track record of marketing luxury lifestyle brands. According to Combs, "DeLeon is an outstanding brand that appeals to those who love exceptional tequila in a distinctive bottle. Together with Diageo, we will take DeLeon to new heights."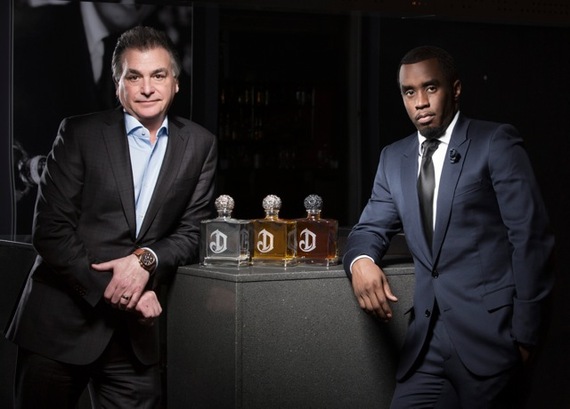 Larry Schwartz, President, Diageo North America & Sean "Diddy" Combs - Photo Credit: Blue Flame Agency
Combs will not be the spokesperson for DeLeon. "This brand doesn't need a face. This brand is a feeling," explained Combs.
This acquisition will accelerate Diageo's share of ultra-premium and about ($40) tequila, which is the second fastest growing tequila segment in the US, according to Nielsen.
"The joint venture with Combs Wine & Spirits and its purchase of DeLeon is Diageo's latest step toward returning to a leading position in tequila in North America," said Larry Schwartz, President, Diageo North America. Combs stated "When pursuing a tequila brand, I found DeLeon at all the places I frequented. It tasted it, and it was hands down the best. I would describe it as Liquid Luxury." Robb Report awarded it "Best of the Best" in 2013 the third year in a row. No other spirits brand has received that honor three years running.
DeLeon offers the connoisseur an array of luxury tequilas to choose from. "This is going to be a sipping tequila," said Combs. "The beauty of this; it requires nothing mixed with it. There is a depth and complexity to the taste that really grabs you. You will want to take your time with this."
For now, the product design and packaging will remain the same. While Combs is working with the previous owners and designers to discuss creative ideas, he noted at present, he wouldn't want to touch what he feels is perfection.
To learn more about Diageo, visit their website: Diageo.com
And check out their site that promotes responsible drinking at: DRINKiQ.com
Calling all HuffPost superfans!
Sign up for membership to become a founding member and help shape HuffPost's next chapter