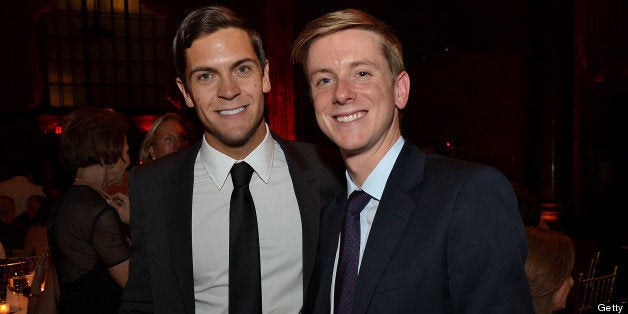 Sean Eldridge wants to be a United States Congressman. He has a lot going for him. He is young and of the moment, wealthy and self-made, and ideologically perfect for the Democratic Party, with which he hopes to one day caucus. He has an enviable base of financial support, including progressive funder-macher George Soros and verbose wedding blogger Sean Parker.
And he's earned some battle scars. After the New York State Senate failed to pass a bill legalizing marriage equality, Eldridge joined up with Freedom to Marry, rose through the ranks to become the organization's political director, and got marriage equality over the goal line two years later. (Eldridge is married to Facebook co-founder and New Republic editor-in-chief Chris Hughes.)
So the stage is fairly well set for Eldridge to mount a future campaign for Congress. The only hink, it seems, is that he's missed the memo that makes it clear that Democratic Representatives should demonstrate a little of the old common-man touch, and not do things like ... I don't know ... continue to emphasize the extent to which you've used your massive wealth to go district shopping, moving into and out of expensive upstate New York super-homes, and inviting New York Times photographers into those residences, repeatedly, to shoot you posing in the lap of luxury.
Two years ago, Sean Eldridge and his husband, the Facebook co-founder Chris Hughes, bought a $5 million estate in Garrison, about 50 miles north of New York City. It offered 80 acres of rolling fields and a farmhouse once owned by a Vanderbilt. It would also allow Mr. Eldridge, 26, to run for the local Congressional seat if he chose to.

But that seat appeared unattainable, and soon the couple's gaze shifted north, to the neighboring district on the other side of the Hudson River. In January, they bought a $2 million modern home here overlooking a reservoir, laying the groundwork for Mr. Eldridge's campaign for their new local Congressional seat, New York's 19th.
That "$2 million modern home" in New York's Ulster County has actually received about as much coverage from The New York Times as Eldridge has. (Perhaps because they have a journalist embedded there? It is nice.) The home was previously profiled by the Times in 2011. Its former owner, who designed the home "in the style of [architect] Richard Neutra," described it thusly: "Maybe people expect all this glass and concrete and aluminum to add up to an emotionally cold space. But it's very inviting and warm."
Previously on "Sean Eldridge: House Hunter," the would-be Representative of the 19th District of New York, was living in Garrison, N.Y., and flirting with being a would-be Representative of the 18th District of New York. As Daily Intelligencer's Joe Coscarelli noted, when Eldridge moved into the 18th District, which was represented at the time by tea party favorite Nan Hayworth, it "fueled speculation among Democrats who'd spoken to him of his ambitions that he was eyeing her seat." Ultimately, however, Eldridge would assist the campaign of the man who did defeat Hayworth, Representative Sean Patrick Maloney, which left Eldridge with the need to go district shopping once more.
Hilariously, the Times offered Eldridge a similar profile back then. (On this occasion, the New York Times photographer shot Eldridge and Hughes standing in a field on their then-estate.) In the March 2012 profile, the Times wrote: "While they enjoy city life, Mr. Eldridge said, Garrison is where 'we put down roots, where we want to have a family'; the community reminded him of Toledo, Ohio, he said, where he grew up playing outside and visiting neighbors unfettered."
Mike Morey, a spokesman for Eldridge, said today, "The Hudson Valley is where Sean and Chris have put down their roots. They live in Shokan, ten minutes away from Sean's office in Kingston, where he runs Hudson River Ventures."
(Eldridge and Hughes have also "put down roots" in a SoHo loft in Manhattan, for good measure.)
Anyway, now that Eldridge is happily ensconced in the 19th District and preparing to take on the incumbent Republican Representative Chris Gibson, how is he getting along with his future constituents? The New York Times reports that they are "puzzled." One resident describes Eldridge as "presumptuous" and criticizes his lack of "ties" to his "neighbors." Another resident says that an encounter with Eldridge "at a gathering of local leaders working to establish a beer trail featuring area craft breweries" left him "perplexed," telling the Times that while Eldridge "seemed pretty friendly," once he discovered that Eldridge was running against Gibson, he was left with the strong impression "that this was all a little bit of a staged situation."
For his part, Representative Gibson, who mainly withheld commentary on the challenger who has moved into his territory, nevertheless took the opportunity to play the populist by offering the Times this pointed remark: "There are some things money can't buy."
But it's a pizzeria owner named David Winchell who delivers the coup de grâce:
"This area is becoming too citified," said Mr. Winchell, wearing an apron over his maroon flannel shirt and bluejeans. "I would fear that this gentleman coming in would be too relaxed in his views."

He added, with a disapproving tone: "Progressive is the word."
Well, at least Eldridge's new house has managed to wring something "inviting and warm" from an "emotionally cold space."
Before You Go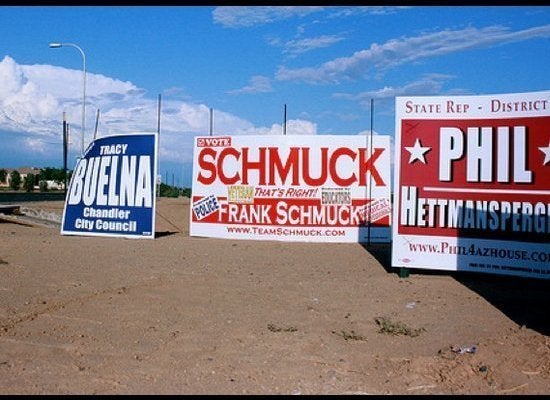 Unfortunate Politician Names
Popular in the Community