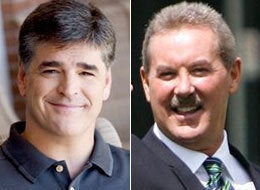 ***SCROLL DOWN FOR AUDIO***
Mention 'Sean Hannity' to Stanford Coins & Bullion and get a free guidebook.
Yup, that's Stanford as in Stanford Financial Group, or Allen Stanford, the Texas billionaire who is apparently on the lam after being charged Tuesday in connection with a multi-billion-dollar fraud.
"Stanford Coins & Bullion, a member of the Stanford Financial Group, their name as good as gold," Hannity intones on advertisements that regularly run on his radio show.
"I couldn't believe it when I heard the advertisement," said Michael Levine, a regular Hannity listener from Westchester County, New York.
He called the radio station on Tuesday to inform them Stanford had been implicated in what the SEC termed "massive, ongoing" fraud. "They told me they had no idea what I was talking about," Levine told the Huffington Post.
Hannity spokesman Hosea Belcher did not return a call for comment.
Stanford Coin & Bullion "is just a telemarketer boiler room-type of company that calls during dinner and tries to fleece you," said Jon Nadler, a senior analyst at gold firm Kitco.com.
The SEC charged Stanford, who is the first American to be knighted by the government of Antigua, for fraud Tuesday. The Texas native has spent millions in the Caribbean island, erecting sports facilities and other community facilities. He is charged with allegedly trying to bilk 50,000 clients out of $8 billion through a scheme involving high-interest-rate CDs.
The cricket fanatic--he founded the Stanford Super Series where Caribbean teams compete against the British for a $20 million purse--has allegedly been perpetrating the fraud for at least 13 years.
Stanford has also donated millions of dollars to politicians, and counts as friends several powerful Washington, D.C. powerbrokers, including Tom DeLay, Chris Dodd and Colin Powell. He also has an endorsement deal with golf superstar Vijay Singh.
object width="320" height="260">
Popular in the Community