The Black Lives Matter movement is "racist" and akin to the Ku Klux Klan, Fox News host Sean Hannity said Wednesday.
During a "Race In America" segment, Hannity exploded over the news that the Democratic National Committee said it would allow the group a host a town hall forum with candidates.
"Why don't you let the [Ku Klux] Klan host the party?" Hannity asked.
"Your Democratic Party -- not all lives matter, just black lives matter -- is going to allow the 'pigs in a blanket, fry 'em like bacon' group to host a Democratic forum?" he asked guest Juan Williams, also of Fox News.
Hannity proceeded to give a master class in "missing the point entirely" when it comes to the goals of Black Lives Matter, but Williams and the other guest, radio host Larry Elder, shot down his attempt to paint the group as racist and pro-cop killing.
Elder said the Democratic Party is "scared to death" about Donald Trump. Polls indicate black voters' growing support for Trump, he said, which chips away at what has traditionally been a "monolithic" voting bloc for Democrats and could help explain the party's acceptance of the movement.
Williams tried to explain the movement's mission.
"They're a special interest group and they are saying they want attention for their issue," Williams said.
"Right, the 'pigs in a blanket, fry 'em like bacon' group," Hannity interrupted.
"I don't think that's fair," Williams said.
Hannity repeatedly returned to the "pigs in a blanket, fry 'em like bacon" phrase, which originated in August during a Black Lives Matter protest at the Minnesota State Fair. After the chants drew sharp criticism from law enforcement, a Minnesota Black Lives Matter organizer told The Associated Press that the protesters' 30-second chant wasn't meant to condone violence against police.
Other Fox News hosts have previously tried to peg the Black Lives Matter movement as racist and anti-cop, despite ample evidence that the group does not promote violence against police.
All the Democratic presidential candidates at the party's first primary debate earlier this month discussed the movement. Black Lives Matter has not been mentioned during either of the Republican primary debates that have occurred so far.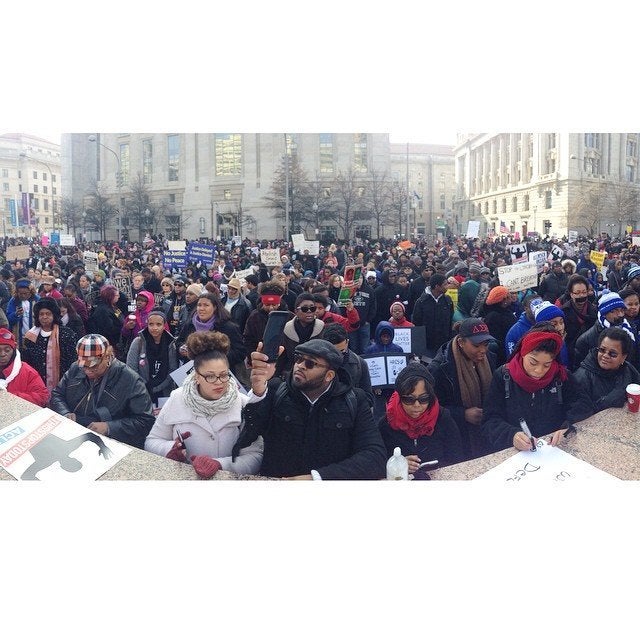 Powerful Black Lives Matter March In Washington
Support HuffPost
The Stakes Have Never Been Higher
Related
Popular in the Community