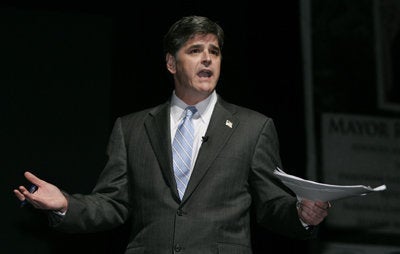 In the end, Citadel Broadcasting, which inherited top Talk personality Sean Hannity when it bought ABC Radio, could only hold onto Hannity through an unusual deal with Clear Channel's programming powerhouse, Premiere Radio Networks.
Hannity's new syndication contract, announced Monday (July 21), calls for his afternoon Talk program to be syndicated via ABC Radio Networks (owned by Citadel) through the end of the year. But in December, Premiere will take over syndication of the three-hour program to all non-Citadel-owned stations and lead the advertising sales.
Hannity's contract with ABC Radio Networks expired recently and rumors have been swirling every since. For Premiere, grabbing Hannity gives the radio network a blockbuster afternoon Talk block beginning with Rush Limbaugh at Noon, followed by Hannity at 3 p.m.
While Limbaugh reportedly got a $400 million contract over eight years with Premiere, Hannity's was somewhat less, about $100 million over the next five years, according to various reports.
Related
Popular in the Community