Sean Hannity was livid the day that the FBI raided the office and hotel room of Michael Cohen, President Donald Trump's longtime personal lawyer. He said it showed that special counsel Robert Mueller was "out to get the president," and he blasted the media for giving the raid so much coverage. 
"The media, while they are obsessing over Michael Cohen ― yeah, there are really important stories to bring to you," Hannity said on his Fox News show.
But what he never revealed is why he doesn't want the media to pay attention to the story: because he is one of Cohen's clients. 
Cohen has done legal work for just three clients since leaving his position last year as counsel for Trump's private company. It was previously reported that the first two clients were the president and GOP fundraiser Elliott Broidy. 
Broidy had an affair with a former Playboy model. She became pregnant during their relationship, and Cohen helped arrange payments to her to keep her quiet. 
Cohen is under federal criminal investigation for possible bank fraud, wire fraud and campaign finance violations in connection with his business dealings. The U.S. attorney's office in Manhattan is handling the case. Mueller, who is investigating Russia's involvement in the 2016 election, referred the matter to the U.S. attorney's office but has not been involved since. 
Hannity said on his radio show Monday that he has known Cohen "a long, long time" and tried to play down his involvement in his life. 
"Let me be very clear to the media: Michael never represented me in any matter. I never retained him in the traditional sense. ... I never received an invoice from Michael. I never paid legal fees to Michael," Hannity said. "But I have occasionally had brief discussions with him about legal questions. I wanted his input and perspective. I assumed those conversations were attorney-client confidential."
"Not one of any issues I ever dealt with Michael Cohen on ever, ever involved a matter between me and a third party," he added.
He also tweeted that his discussions with Cohen were primarily about real estate. 
Hannity appears to be specifically trying to put to rest any speculation that he was in a situation similar to Broidy. Federal investigators are also reportedly interested in records Cohen has regarding a payment he made to porn star Stormy Daniels, who claims to have had an affair with Trump and received money from Cohen to stay silent in the run-up to the election.
On Monday, Fox News hosts found themselves in the strange position of reporting breaking news on their own colleague.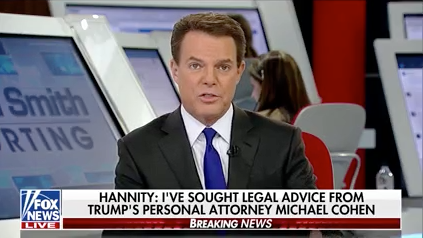 Hannity never addressed his conflict of interest in his initial coverage of the Cohen raid. On his radio show on April 9, Hannity said the incident showed "that there's no limit at all into the fishing expedition that Mueller is now engaged in and if he has access to everything that his personal attorney has."
Jen Bendery contributed reporting.
Calling all HuffPost superfans!
Sign up for membership to become a founding member and help shape HuffPost's next chapter