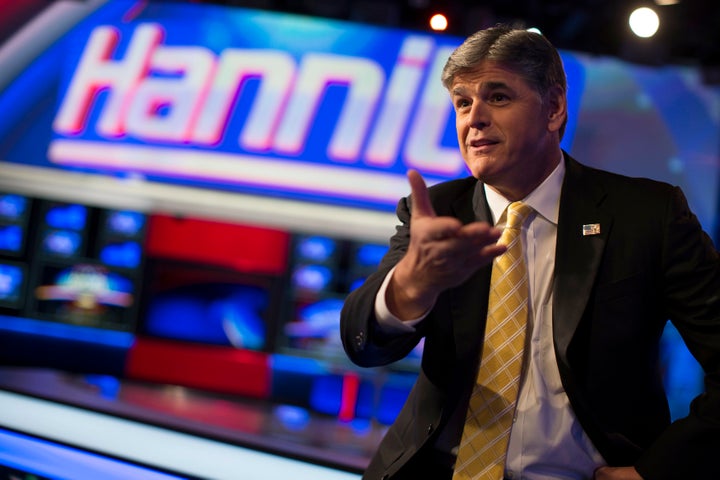 WASHINGTON ― Republican presidential nominee Donald Trump keeps saying he opposed the Iraq War, even though he supported it. He claims Fox News host Sean Hannity can back up that he was against it early on because he privately told him about his concerns at the time.
Sen. Claire McCaskill (D-Mo.) happened to bump into Hannity after Sunday night's presidential debate, so she went ahead and asked him about it. Hannity could not change the subject fast enough.
Hannity was interviewing McCaskill in the spin room when the topic of the Khan family came up. Khizr Khan, a Muslim American whose son Capt. Humayun Khan was killed during the Iraq War, became a national figure this summer when he called out Trump for his mistreatment of Muslims. During Sunday night's debate, Trump said Humayan would be alive today if Trump had been president in 2003 because he opposed the war.
"He said he wouldn't have died because he wouldn't have sent him to war," Hannity said.
"And you were the only one that knew that secret," McCaskill replied. "Right?"
Hannity became flustered.
"No, I don't ― that was the other, that was the issue of whether or not he should go," he said.
"I think he said you were the only one that knew the secret that he was opposed to the war," pressed McCaskill.
"No, we actually had midnight conversations about whether or not Iraq was a thing," he said, not actually answering the question.
"We can go on like this for a while, you know," McCaskill laughed.
"We can, yeah," Hannity replied. And with that, it was on to a new topic. "How do you like being a senator?"
Reporters nearby laughed at Hannity's abrupt subject change. He proceeded to list off his favorite senators for some reason: Sens. Ted Cruz (R-Texas), Mike Lee (R-Utah) and Jeff Sessions (R-Ala.).
HUFFPOST READERS: What's happening in your state or district? The Huffington Post wants to know about all the campaign ads, mailers, robocalls, candidate appearances and other interesting campaign news happening by you. Email any tips, videos, audio files or photos to scoops@huffingtonpost.com.
Popular in the Community