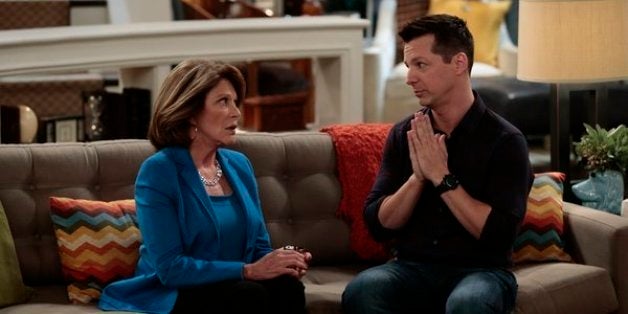 Sean Hayes thinks his sitcom, "Sean Saves The World," is great. Viewers and critics think otherwise.
The show wasn't very well received by critics. The Huffington Post's Maureen Ryan named it one of the shows to avoid this fall and said, "The rhythms, the 'jokes' and the pace are all stiff and overwrought, and priority seems to be giving Sean Hayes a huge number of opportunities to mug for the camera. Hayes is a sharp, talented comedic actor, but this show doesn't use him well and it's as false and as brittle as they come."
Hayes, of course, has his own opinion. "Even if I wasn't on the show, it'd be the funniest sitcom, to me, on the air right now," he said. "I watch it and go, 'Well, this is really f--king funny.' I wouldn't change anything right now, I think it's all working."
In the sitcom, Hayes plays a single gay dad to a teen daughter. He's also the executive producer and is behind NBC's "Hollywood Game Night" and "Grimm."
When asked about the criticism, he said classic sitcoms like "Seinfeld" and even his previous hit show "Will & Grace" got bad reviews. "I think critics like to associate themselves with cool, hip things and multi-cams feel retro to them ... But I think they get nervous because they want their name on something new and hip and cool, and a lot of times they associate that with single-cam shows because those are the du jour format. This format isn't that so they get scared," he said.
"Sean Saves The World" airs Thursdays, 9 p.m. ET on NBC.
PHOTO GALLERY
NBC's New Shows 2013-2014
REAL LIFE. REAL NEWS. REAL VOICES.
Help us tell more of the stories that matter from voices that too often remain unheard.
BEFORE YOU GO