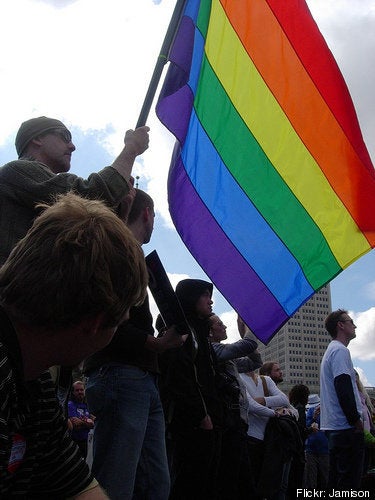 Rosie O'Donnell and Wanda Sykes were comparing coming-out stories the other day on O'Donnell's satellite radio show when O'Donnell, who came out in 2002, announced that it was another lesbian--a former editor of The Advocate--who pushed the hardest to get her out of the closet. "She'd be at every event I was at and she'd say, 'I really want to talk with you about coming out. When are you going to come out?' It felt like pressure from the gay community, not really anyone else."
Sean Hayes, who played the flamboyantly gay Jack on the outrageously successful sitcom Will & Grace, felt similar pressure from yet another former editor of The Advocate. In 2006, after many turned-down requests to interview Hayes, the magazine ran a story titled "Sean Hayes: The Interview He Never Gave." The one-page "Q&A" was a clip job of quotes Hayes had given to other publications through the years that made him look silly for pretending no one knew he was gay.
Four years later, Hayes has finally acknowledged that he's gay--on the cover of the current issue of The Advocate. And in doing so, he's expressed a lot of resentment toward folks who prodded him to do so sooner.
"I feel like I've contributed monumentally to the success of the gay movement in America," he tells the magazine. "What more do you want me to do? Do you want me to stand on a float? And then what? It's never enough."
I'm not sure a float would have made that much of a difference. But O'Donnell's and Hayes's openness shouts louder than all the pride parades in the world--especially for young people, who (no discredit to the terrific examples of Ellen DeGeneres and Neil Patrick Harris) are desperate for more openly gay and lesbian role models.
Still, I wonder if we're misdirecting our efforts--constantly goading celebrities who are already allies but not yet ready to announce their sexual orientation--when people like Roy Ashburn are passing by with little to no attention.
Haven't heard of Ashburn? He's a California state senator who, after opposing marriage equality and fighting a statewide holiday recognizing slain gay rights pioneer Harvey Milk, was arrested last week on drunk driving charges after leaving a Sacramento gay bar. Only then did Ashburn acknowledge that he is gay, saying, "I've always believed that I could keep my personal life personal and my public life public. But through my own actions, I have made my personal life public."
I've got no beef with people who want to keep their personal lives private. But the difference between someone like Hayes, whose public life actually opened people's eyes to the realities of gay people (albeit on a sometimes stereotypical and always comedic level), and Ashburn, whose public life was built on deception and the denial of equal rights, is profound.
As I read the thousands of tweets and comments on Advocate.com in response to Sean Hayes's decision to come out--many of them catty "What took you so long?" remarks--I wonder how many of these people are also calling Ashburn's Bakersfield office to demand his resignation. How many of them have seen Kirby Dick's amazing documentary Outrage and taken action to help unseat the closeted politicians featured in the film?
My predecessors at The Advocate weren't driven solely by the bottom line in their unending push to get O'Donnell and Hayes out of the closet--coming out really is a noble and wonderful thing. But as a journalist I know--as they did--that many more people will be drawn to stories about celebrity than they will be to stories about people like Roy Ashburn.
Still, as a gay man who is unequal in the eyes of the law, I can't help but think we'd do ourselves a favor if we embrace people, like Hayes, who willingly (and on their own timetable) come out of the closet and save our anger for rooting out--and kicking out--the hypocrites who are determined to keep us down.
Popular in the Community