In the past 70 years, roughly 15 men have portrayed the heroic Robin Hood in film and on television - Kevin Costner, Russell Crowe, Sean Connery, Errol Flynn. Now Sean Maguire, the sophisticated, sexy and suave British actor joins that coveted list. This gifted actor has brought his special interpretation of the romantic hero to ABC's hit fantasy drama Once Upon a Time which premieres Sunday, September 27 from 8-9pm ET/PT on ABC. Sean, a fan favorite, has recently been made a regular cast member for Season Five.
An actor's actor, Sean's career spans television (East Enders, Grange Hill, Criminal Minds, CSI New York), film (Songs For Amy, Waterland), and music. Yes, he actually flirted with the UK pop charts in the mid-1990s placing nearly a dozen singles in the Top 30, but surely his proudest credit yet is becoming a father for the first time. He and his wife, Tanya, welcomed Flynn Patrick this summer.
And here's another Sean Maguire fun fact: Sean's first role (at age five) was in the film Voyage Around My Father with Sir Lawrence Olivier, which also happened to be the legendary knighted actor's final role. I caught up with Sean via phone who was in Vancouver filming Once Upon A Time.
Xaque Gruber: Robin Hood has existed for about 600 years since the late Medieval period, and his popularity has continually endured. To what do you attribute this? Were you a Robin Hood fan growing up?
Sean Maguire: Yes, I was always a Robin Hood fan, and now I have a nephew who is five and he likes to pick up a pretend bow and arrow and sword like he wants to be a knight. It's a universal thing with little boys I think. At his core, Robin Hood is a good guy with nice ethics but he does good things in a kind of naughty way. He's robbing from the rich to give to the poor. I think the idea of Robin Hood has become bigger over the centuries because most of us relate to doing the wrong thing for the right reasons. XG: Do you have any clear memories on working with Sir Lawrence Olivier?
SM: I was only five so all I have is snapshot memories. It would be kind of ridiculous to say I learned the Stanislavsky Method of acting from him (laughs). I do remember the day before working with Olivier, my father saying to me "tomorrow, you will be working with the best actor in the world so you need to be on your best behavior. It is most important to be very well behaved when you are in the company of this man." Of course years later I realized how tremendous an honor and how special it was to begin my career working with him.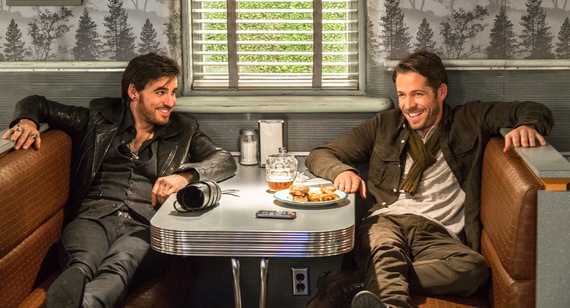 Sean Maguire and Colin O Donoghue (Captain Hook) share a laugh on the set of Once Upon A Time. Photo courtesy of ABC.
XG: I've often heard that UK actors have a certain training that gives them an edge in America. There's certainly an abundance of British actors working in American television. Can you explain this?
SM: Well, first of all I think America has just as many brilliant, talented actors. If there were any reasons to explain this - well, Americans like the accent and associate it with Shakespeare and the classic literature, which for many Americans believe gives Brits a weight and gravitas. And there's a cool novelty with the accent. Growing up we watch Americans on television and so hearing American accents isn't a novelty to us, but Americans don't grow up watching British accents on television so it's something fresh and different. Also in England, there are so many good actors, and it's a much smaller industry so acting is extremely competitive - even more than here. I feel you work your ass off to break in and beat those guys who are already on British TV. You have to know your lines, come in on time, you don't mess about, you play well with others, you can't have an attitude, you have to show up with your very best game. I think this British work ethic that is engrained in us is very appealing to American producers.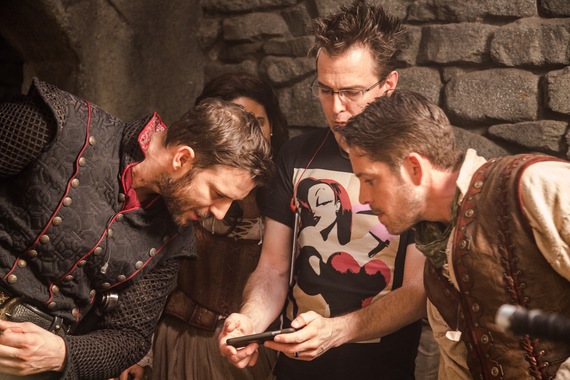 Wil Traval (Sheriff of Nottingham on left) and Sean Maguire (Robin Hood on right) with Once Upon A Time director Billy Gierhart (middle). Photo courtesy of ABC.
XG: Many people may not realize that you had a string of pop hits in the 1990s.
SM: The pop music thing shouldn't have happened to me. I wasn't a gifted musician or singer. I wasn't even a huge music fan growing up - I listened to only a couple bands. My dad played a lot of opera. I played a popular character on a show (East Enders) and they offered me a record deal and I said, "No, I don't have any skills or musical talent to speak of. It should go to someone who can play the guitar and sing - not me." And so I kept turning the offers down, and then I had a very bad motorcycle accident and very nearly died. I was 18 and laying in the hospital for about 11 days, and I felt lucky to be alive. So the offer to do music was still there and I thought "carpe diem - I should seize the day and roll the dice and do it." I recorded one song after another - enough to fill up two albums over three years. I look back on that three years or so of being a recording artist and realized I behaved very badly at times, and had a lot of growing up to do in that period. The music was secondary really. I never truly believed in myself as a musical artist. The crowds were there and so I thought I will play the character of a pop star. I was sometimes embarrassed by the cheesiness of the records, but ultimately I'm glad I did it. It helped form me as an adult.
XG: What music are you listening to?SM: I'm a big Mumford & Sons fan and I just saw George Ezra play at the Squamish Music Festival in Canada and really liked him. I'm listening to the original Gene Wilder/Charlie And The Chocolate Factory soundtrack with my son. An eclectic mix.
XG: Is there a certain kind of role that you'd like to play?
SM: I'd like to play somebody not nice. Somebody disturbed. I tend to play relatively nice guys more often than not. And I see on Once Upon A Time the actors who play villains and how much fun they have with that. Playing something a little darker and a little bit more villainous appeals to me.
XG: You play a lot of very physical roles, and I know you're a big sports fan. Would you call yourself a jock?
SM: Definitely not a jock, no. I'm a fan of sports, with football - or soccer - being my sport of preference, but I disconnect with the term 'jock.' I don't know if this is right, but in my head the 'jock' mentality seems to go a little hand in hand with a sort of bullying and whipping kids with a wet towel in the locker room who are good at science.
XG: I understand you're friends with James Corden.
SM: We have a number of friends in common - and I hung out with James and had a few drinks together. He is a tremendously funny guy.
XG: You worked with Bernadette Peters in Prince Charming, and she's one of our most beloved stage talents. Makes me wonder if you would consider doing more stage work.SM: I'd love to do a play again. I've been offered to do a musical part, but actors in musicals are doing eight shows a week - it's an enormous endeavor. They have to protect their voice. So a commitment in a musical might be tough for me, but I am keen to do a good play.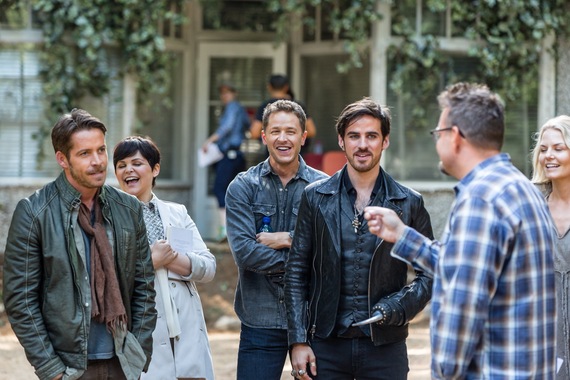 Sean Maguire (left) describes this photo as him not understanding a joke told by Once Upon A Time's 1st AD Rob Duncan. He adds that his castmates (seen here) clearly did understand it. Photo courtesy of ABC.
XG: Robin Hood has been put through an awful lot of drama with the devious diva Zelena in the last season of Once Upon A Time. What can we expect from Robin Hood in Season Five?
SM: Robin Hood is in a tricky situation to navigate, which is that Zelena is his archnemesis and bearing his child. I think frankly he'd like to kill Zelena, and now he is torn between the woman he loathes who is the vessel that carries his child - and he loves his unborn child more than anything. It's going to be a very tricky problem to resolve. I'm as excited as you are to see where it all goes this season.
XG: What are some of the codes that Robin Hood lives by that you would like to share with your child?
SM: I would share with him the fact that Robin Hood lives by the code of practical decency, and doing the right thing. Doing what is right rather than what is easy. Everything I've been told about being a father is true - being sleep-deprived and all that, but this boy is extraordinary.
Sean Maguire is on Twitter at @sean_m_maguire
Support HuffPost
The Stakes Have Never Been Higher
Popular in the Community