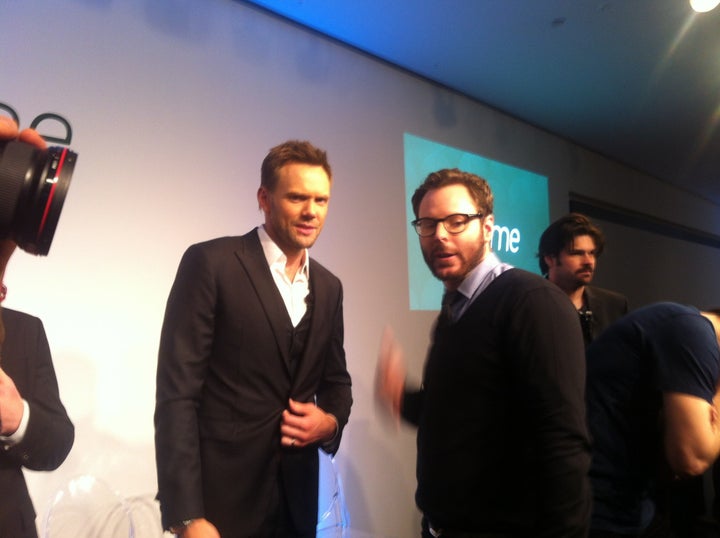 Whatever Napster founders Sean Parker and Shawn Fanning paid the celebrities who attended this morning's unveiling of their new video-chat application, it wasn't enough.
Olivia Munn, Joel McHale, Julia Louis-Dreyfus, Ed Helms and Jim Carrey were forced to flex every improvisational muscle they have in an effort to amuse an audience of skeptical tech bloggers and journalists as the demo for their new product, Airtime, failed one user-interaction test after another. (Says a representative for Airtime, "The glitches from this morning's launch were generated by a custom built intranet for the event, not Airtime. We are happy to report the Airtime network is working and running smoothly.")
"I can't actually thank you guys enough," Parker told his celebrity helpers at the end of the session, "because you took a completely fucked-up situation where everything was going to shit and actually salvaged it."
Even that may have been a bit optimistic. Sure, the jokes helped soothe the pain of yet another tech P.R. fiasco -- coming in the wake of Facebook's gigantic I.P.Uh-oh -- but there was no disguising the fact that the Airtime team had clearly spent more time and energy wrangling lineup than they had prepping the product. Not to mention that the product itself appeared to have exactly two functions beyond simple video-chatting: users can easily play YouTube videos for their friends, and they can easily swap Facebook interests -- should they desire to do so, for some reason.
The problems began early, as journalists were forced to wait inside a hot, stuffy holding room while functionaries scrambled to put the finishing touches on the presentation. About an hour after the announced start time, Jimmy Fallon took the stage for a Q&A with Parker and Fanning that went reasonably well, except for a slew of audio problems that shot feedback through the room when Parker talked and made Fanning impossible to hear. Still, it was interesting to hear Parker describe the early encounters that brought them together. "Fanning and I met on the Internet, literally in a chat room. We were both hackers," he said. "We ended up being the two people in this world who headed into something other than online vandalism and screwing peoples lives."
The real nightmare began when Parker and his hired celebrity hands began showing off the product itself -- using what he would defensively describe as "this weird demo staging environment that's designed for you guys."
He began by "calling" Olivia Munn, who was backstage. Their banter was entertaining enough -- until her video feed froze. Then she took the stage and attempted to phone Snoop Dogg in California, multiple times, only to encounter the video-chat equivalent of a busy signal -- an embarrassing error that would recur again and again over the course of the event. After repeated attempts, Snoop was eventually patched in, but he and Alicia Keys -- who dialed in from what looked like her bedroom -- had it easy. They didn't have to stand there in front of the audience and suffer.
"I'm just out here with 300 of my closest friends, who are judging," a visibly uncomfortable Julia Louis-Dreyfus said at one point.
"By the way, I'm Matthew Lillard, everyone," McHale said, trying to kill time -- and defer blame -- during one seemingly endless tech delay.
"Thank God you guys are funny, because we're screwed right now," Parker observed.
"Sean, whose ass are you going to fire?" McHale asked.
"You guys aren't meteorologists," Helms joked. "I am. There are sun spots today. That's why the Internet is kooky."
Asked how he had enjoyed the presentation, Jim Carrey quipped, "It went on a little long. I got a few gray pubes during it."
Toward the end of the fiasco, Munn took it upon herself to defend Airtime, which she said she had tested herself. "This is not how it's really operating, I swear to fucking God. I don't believe in God, but if I did, I would swear to him."
Finally, she took it upon herself to threaten any audience members who might be planning negative coverage: "I know where all of you live."
Others may not be so loyal to Parker. Jim Carrey appeared to be enjoying the chaos -- he stayed onstage after the presentation ended and took questions from audience members. But Louis-Dreyfus looked about as happy as Selina Meyer, the character she plays on HBO's VEEP, after a visit from Jonah the presidential toadie.
The truth is, comedians become TV and movie stars so they don't have to stand in front of hostile crowds, improvising jokes to keep the peace. And while paid appearances are an increasingly important part of the celebrity industrial complex, it may be a while before Sean Parker can afford to recruit the A-list for one of his product launches.
Popular in the Community