Pennsylvania Republican Sean Parnell suspended his U.S. Senate campaign on Monday after losing a custody battle with his estranged wife, who claimed that Parnell physically and verbally abused her during their marriage.
"I strongly disagree with the ruling today and I'm devastated by the decision," Parnell said in a statement. "I plan on asking the court to reconsider this decision. In the order, two of the leading factors that weighed heavily in the judge's decision revolved around me being a leading U.S. Senate candidate."
"There is nothing more important to me than my children, and while I plan to ask the court to reconsider, I can't continue with a Senate campaign. My focus right now is 100% on my children, and I want them to know I do not have any other priorities and will never stop fighting for them."
A judge on Monday awarded Parnell's wife, Laurie Snell, sole legal custody and primary physical custody of their children, ages 8 to 12. Parnell can still see his children three weekends a month.
Though the former Army Ranger and Fox News personality retains some custody rights, the ruling favors his estranged wife, who described instances of domestic abuse in court. The couple separated in 2018 and had previously split custody.
Parnell had sought shared legal custody and sole physical custody, according to court documents.
In his ruling, Judge James G. Arner wrote that he found Snell to be the "more credible" witness and derided Parnell's demeanor on the stand.
Parnell "was somewhat evasive," the judge wrote. "When weighing his position against Laurie Snell's statement of detailed facts about many incidents, Sean Parnell's position is less believable."
Parnell entered the primary in May and won former President Donald Trump's endorsement in September, making him the perceived front-runner in a crowded Republican field. Now his suspension creates an opening for another candidate to claim Trump's support.
"Today, @SeanParnellUSA spoke w/ Pres. Trump and told him of his intention to suspend his campaign given the decision by the PA court," Trump spokesperson Taylor Budowich tweeted. "#PASen remains a top priority for Pres. Trump & the '22 MAGA Map — rallying our movement behind the best America 1st candidate remains critical."
Pennsylvania's Senate race in 2022 has major implications for control of the upper chamber, split now 50-50 with Vice President Kamala Harris able to cast the tie-breaking vote. Republican Pat Toomey is not seeking reelection, and the swing-state contest is considered a true toss-up.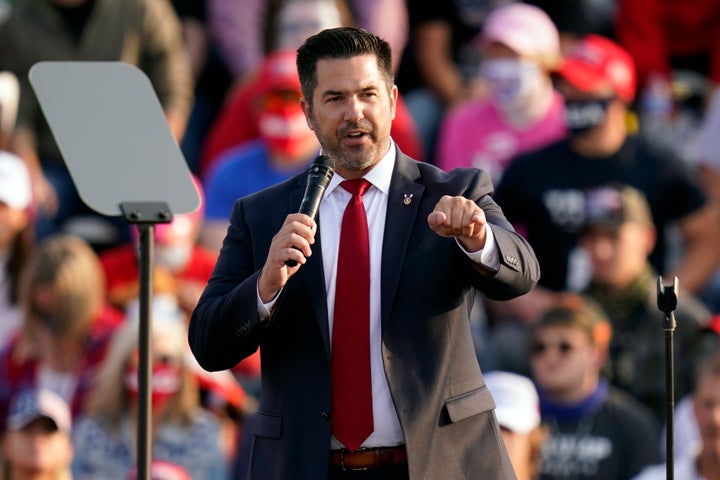 Even before the custody hearing, Parnell's opponents sought to portray him as anti-woman. GOP rival Jeff Bartos, a real estate developer, called Parnell "unelectable" after revealing Snell had sought two protection orders, in 2017 and 2018, that were later expunged. It wasn't clear at the time what Parnell was accused of doing.
In court proceedings, Snell accused Parnell in separate instances of choking and strangling her, pinning her down and kicking her out a car on the side of the highway while she was pregnant and as he screamed at her to get an abortion. She also testified that Parnell struck one of their children, leaving a handprint, and hit another child with a door, leaving a bruise. Parnell broadly denied Snell's abuse claims, countering that they were exaggerations or outright falsehoods.
In evaluating the credibility of both parents, the judge wrote that Parnell "was dressed very casually for his appearances in court, in blue jeans and untucked plaid shirts, which did not show respect for the seriousness of the occasion. While testifying he looked mainly at his attorneys and toward members of the news media in back of the courtroom, rather than me."
He found that Parnell "did commit some acts of abuse in the past" toward Snell but argued that since they were years ago and didn't involve their children, he didn't weigh them in his ruling. He made a similar determination about the alleged violence episodes involving their children, noting that it had been years since the last reported incident.
Even before the judge's ruling, Republicans had been looking elsewhere for new blood to invigorate the primary. "Dr. Oz" TV personality Mehmet Cengiz Öz is reportedly looking at getting in, and Republicans have been encouraging hedge fund CEO David McCormick to also enter.
Democrats have their own crowded field, including Lt. Gov. John Fetterman and Rep. Conor Lamb.
"Today's developments will only throw Pennsylvania's Republican Senate primary into further chaos," Pennsylvania Democratic Party spokesperson Jack Doyle said. "The vicious infighting amongst the GOP Senate candidates in this race is sure to intensify, and by the time this GOP primary is over voters will have seen why no Republican candidate can be trusted to represent Pennsylvania in the Senate."
Support HuffPost
The Stakes Have Never Been Higher
Popular in the Community