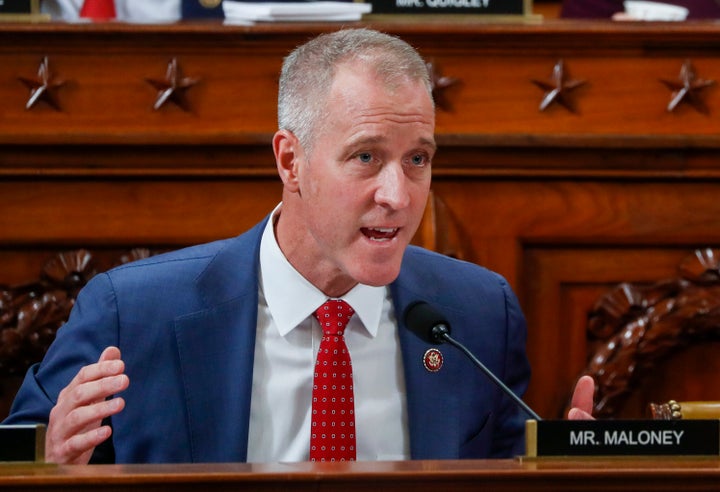 Maloney takes over for Illinois Rep. Cheri Bustos, who chaired the party campaign arm during the 2020 election. Bustos presided over a disappointing performance for Democrats, who saw their majority in the chamber shrink when Democrats expected it to grow. After her own bruising battle to hold on to her House seat, Bustos opted not to run for a second term as DCCC chair.
Maloney will now have to steer Democrats through another potentially perilous election, where they could easily lose their House majority. Democrats will hold a roughly six-seat advantage over Republicans come the new Congress in January, and the president's party usually loses lawmakers in midterm elections ― on average by more than 30 seats.
But Maloney won by stressing his belief that Democrats could grow their majority in the 2022 cycle.
"We're going to break that curse. And we're going to win seats. Write it down," Maloney told Roll Call recently.
Maloney will also have to navigate the difficult process of redistricting, where Republicans could redraw lines cutting out Democratic districts in certain states. On top of losing seats in Congress, Democrats also lost a number of state legislative chambers and at least one governorship, and the conclusion of the decennial Census means new maps. Democrats could be starting the 2022 midterms at an immediate disadvantage if Republicans draw themselves favorable maps.
As a first order of business, however, Maloney will have to oversee a deeper look into the DCCC's polling operation. A number of Democrats were falsely led to believe they were in much better shape than the electoral reality of the situation. Maloney led a similar effort after the 2016 election to better understand how the polling missed Trump's presidential win, as well as some unexpected results in the House.
Maloney will also have to start recruiting top-tier talent for Democrats to put up against vulnerable Republicans. Democrats have long said they were able to win more than 40 seats in the 2018 midterms because of the attractive candidates they recruited to run against Republicans. Maloney will have his work cut out for him trying to get strong Democratic candidates to put themselves up in red and purple districts during a time when there could be a backlash to a Joe Biden presidency.
Maloney is no stranger to tough districts. He actually represents a district with a Partisan Voting Index score of R+1, and his experience in his own Republican-leaning seat may have helped push him over the edge against Cárdenas, who represented an extremely safe D+29 district.
Maloney, who is openly gay, was first elected to represent New York's Hudson Valley in the House in 2012. Despite Donald Trump's victory in the exurban and rural district in 2016, Maloney was reelected.
But Maloney is also stepping into a party riven with public feuds between moderate Democrats in swing districts and their left-wing counterparts in deep blue enclaves. He has signaled that he plans to thread the needle between the two factions, conceding that left-wing members like Rep. Alexandria Ocasio-Cortez of New York have a point when they criticize the strength of the party's digital programs. (Maloney's own record is not flawless: In 2018, the year of Ocasio-Cortez's win, he nabbed third place in the Democratic race for New York attorney general.)
Maloney, a Wall Street-friendly centrist, has said he would reevaluate DCCC policies of blacklisting vendors that worked with Democratic primary challengers. The blacklist, put in place by Bustos in March 2019, was a polarizing force within the DCCC, which found the policy difficult to enforce as unscrupulous vendors used shell companies to disguise their activities. Progressives maintain the blacklist ended up backfiring on Democrats, fostering a campaign ecosystem on the left that eased the path for the ouster of three more incumbents in the 2020 cycle while depriving the DCCC of the largest possible talent pool.
Maloney "seems to be doing a pretty good job listening to progressive concerns about the DCCC," said a senior aide to a House progressive, who spoke on condition of anonymity. "It's very positive that he wants to get rid of the consultant blacklist."
Maloney, who has nonwhite children, has also assured Black and Latino members of the House Democratic Caucus that he will improve the DCCC's commitment to recruiting and protecting members of color, as well as hiring diverse staff for the campaign arm. Bustos had faced criticism for a dearth of Black and Latino senior staffers at DCCC headquarters in Washington.
Cárdenas, who would have been the most senior Latino in Democratic leadership, was plagued by accusations that he drugged and fondled a minor in 2007 while he served on the Los Angeles City Council. The woman making those accusations eventually dropped her lawsuit in 2019, and Cárdenas has maintained all along that the accusations were categorically false.
Cárdenas ran on the argument that Democrats needed to adapt their strategies to attract Latino voters, after a number of disappointing showings in Florida, Texas and California may have cost Democrats seats. But Maloney's appeal to moderates and his experience running in a tough district seemed to win the day ― as well as his support among a number of Latino members.
"I'm supporting Sean Patrick Maloney because he has the depth of experience to remake the DCCC, and he's personally committed to me that he will make the Latino vote a priority," Rep. Linda Sánchez (D-Calif.) told CNN.
Popular in the Community