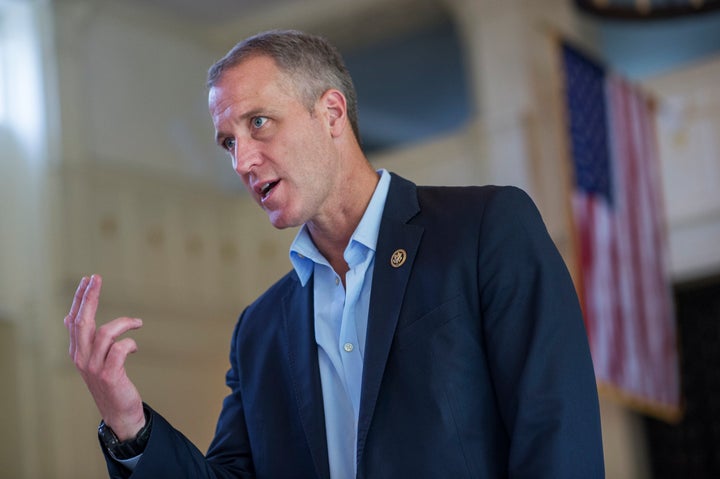 Openly gay Representative Sean Patrick Maloney, a New York Democrat, didn't hold back in talking about members of Congress who blocked a vote to protect LGBT rights last week, taking aim squarely at GOP House Speaker Paul Ryan (R-Wis.), as well as Rep. Rick Allen, a Georgia Republican who,  just two weeks before the Orlando massacre, read from Bible verses that condemn homosexuality as "worthy of death."
"When the guy stood up in their Republican caucus meeting, the morning prayer that they hold, he read Scripture -- he read a passage suggesting that gays are worthy of death," Maloney explained in an interview with me on SiriusXM Progress on Friday, discussing Allen. Republicans had passed an amendment in April to rescind President Obama's executive order banning discrimination against LGBT people among federal contractors. And Allen and other GOP lawmakers in the month following have continually blocked attempts by Maloney to protect the president's order.
"That's what was going on in the days before this tragedy in Orlando," Maloney continued. "And I guess a lot of of us would have liked to think that after this tragedy had occurred, people of good faith would have rethought those positions, and we would have been able to move on this and send a signal to gay, lesbian, bisexual, transgender and questioning Americans that this is something we don't have any tolerance for in federal law. We shouldn't discriminate in federal law. But I'm sorry to say, I was once again blocked from protecting the president's executive order this week."
Maloney's own amendment to restore the executive order gained enough votes to pass last month -- after failing a day before --  but House Speaker Ryan stopped the clock and allowed four Republicans to change their votes in order to defeat the measure, eliciting angry chants from Democrats in the chamber of, "Shame! Shame! Shame!"
Now, on Maloney's fifth try last week, after the Orlando mass-shooting that killed 49 people, most of them people of color, at Orlando's Pulse, an LGBT nightclub, Ryan changed House rules, refusing to even allow a vote on the Maloney amendment. Maloney said that's because Ryan knows, especially in light of the horrific events in Orlando, that the votes are there.
"I want people to know that Paul Ryan talks a good game," he explained, pointing to Ryan's holding a moment of silence on the floor of the House last Monday to honor the Orlando victims -- which prompted many Democrats to shout out "Where's the bill?" before walking out of the House chamber. "But he has been rationalizing discrimination against LGBT people in federal law at the same time that he endorsed Donald Trump and rationalized racism. It's just wrong. They've sort of stopped standing for anything."
Maloney is confident, however, that equality will eventually triumph.
"We're undermining them every day," he said, noting that more moderate GOP supporters are coming forward. "We're gonna win this fight. We just need to keep at it. But man, in the wake of Orlando it just seems like more than we should have to do. But I learned a long time ago that these guys -- they don't like us. They don't want us to be equal under the law. We're gonna have to make 'em do it."
REAL LIFE. REAL NEWS. REAL VOICES.
Help us tell more of the stories that matter from voices that too often remain unheard.
BEFORE YOU GO
PHOTO GALLERY
Vigils Held In Honor Of Victims Of Orlando Nightclub Shooting