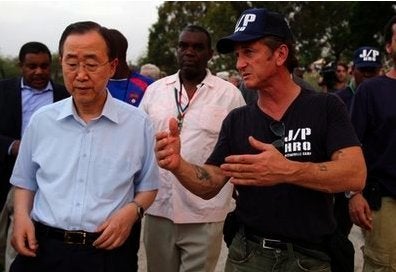 The massive, 7.0 earthquake struck Haiti last January 12th, killing 230,000 and making 1.3 million more homeless. Sean Penn flew to the country to help one week later. Now, it's his life's work.
The actor gave a tour of his massive relief efforts in Haiti to The Hollywood Reporter, giving an unfiltered and sometimes shocking view of the devastation and poverty still racking the country. Devastation so bad, he says, that he's dedicated his life to it. "There's no end point," he told the magazine. "This is where I'll be when I'm not working, for the rest of my life."
Among other efforts, Penn has become the leader of the 55,000 person J/P HRO refugee camp in the Haitian suburb for Petionville, overseeing 11,000 tents, medical personnel, a market and food dispersement. He helps funds fledgling schools, evaluating each and greeting fleetingly excited children personally. He even fights gangs, which overwhelm the country in many places.
"There's something that takes over and it's really an obligation because you see the strength of the people who have never experienced comfort, and the gifts that that can give to people like myself and to our country and culture. You see the enormous gaps."
It's a consistent theme from Penn, who in May told the AP: "I don't think that anybody who hasn't been in places like this really understands what poverty is, and what a real lack of infrastructure is."
Not that fixing it is easy. Penn has a whole host of issues to contend with beyond Haiti, compounding his stress.
One issue, even for him, is money.
"I started paying for stuff," he said, "and that was when I thought, 'OK, I better figure this out, because at this burn rate I'll last about a week and a half.'" Now, he's getting help from charities such as OxFam, though the budget for his work is always tight.
What exactly drives Penn? Why stay when he could do more Hollywood movies -- he intends on still acting while keeping up the relief work -- and make more money? To him, the quick cold shoulder Haiti has received from the world since initial charity efforts is personal.
Calling all HuffPost superfans!
Sign up for membership to become a founding member and help shape HuffPost's next chapter