The actor, 52, who stars in the upcoming flick "Gangster Squad," opens up to Esquire magazine about his struggle to understand the concept of marriage, especially after going through two heartbreaking splits. (Penn was married to Madonna from 1985 to 1989).
"There is no shame in saying that we all want to be loved by someone. As I look back over my life in romance, I don't feel I've ever had that," Penn reveals in the January issue of Esquire. "I have been the only one that was unaware of the fraud in a few of these circumstances blindly."
"When you get divorced, all the truths that come out, you sit there and you go, 'What the f**k was I doing? What was I doing believing that this person was invested in this way?' Which is a fantastically strong humiliation in the best sense," he adds. "It can make somebody very bitter and very hard and closed off, but I find it does the opposite to me."

Penn, who has two children with Wright -- daughter Dylan, 21, and son Hopper, 19 -- is also struggling with co-parenting, admitting that being a father to two adults is difficult at times.
Hopper had to have emergency brain surgery after a horrific skateboarding accident, and Penn says it left him in a daze.
"When he was recovering, seeing the morphine go into him and give him relief created kind of a love affair for me with morphine and that usage of it," Penn confesses. "It had already been eight months of divorce and s**t, and raising a kid that's going through the divorce himself, and then this f**king thing happens ... it was a tough, tough time."
Penn explains that Hopper, who had been living with him following the divorce, moved back in with Wright -- leaving him alone and unsure about his future.
"I thought, 'Wow, I can actually go on a date.' And so I go out and I strike out four nights in a row, drinking at a bar and ending up home, you know, drunk. And on the fourth day I said, 'I could just go sit in the middle of the bed and watch TV at four in the afternoon, too. I don't have anything.' My daughter's ... doing her thing, my son's with his mother. So I turned on the TV and there was this earthquake in Haiti."
"The road started with the most obvious kind of trauma -- my son's head -- and then to get to a place that had been just so devastated and traumatized, and then to see that in fact most of the trauma actually predated the earthquake," he said. "You had a country that had never experienced anything that related to comfort, and out of that you had great trauma -- but also this great strength that, I think, we all benefited from."
Check on Sean on the cover of Esquire below: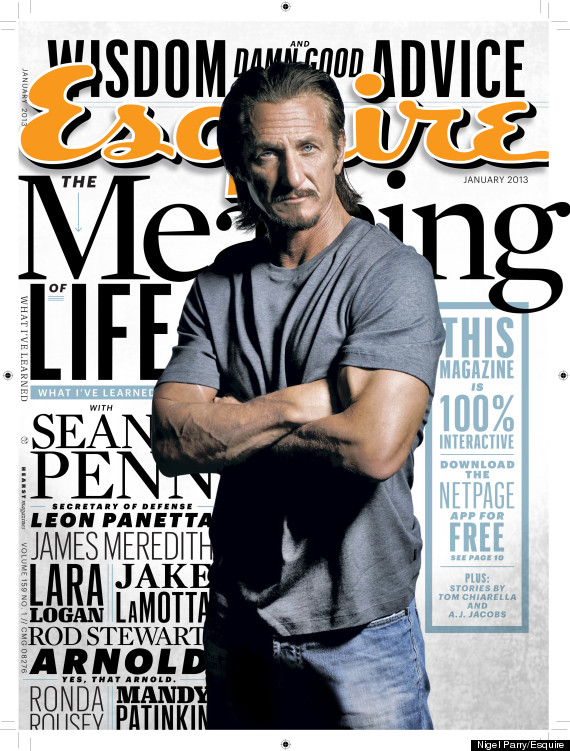 Calling all HuffPost superfans!
Sign up for membership to become a founding member and help shape HuffPost's next chapter
BEFORE YOU GO
PHOTO GALLERY
Celebrity Splits