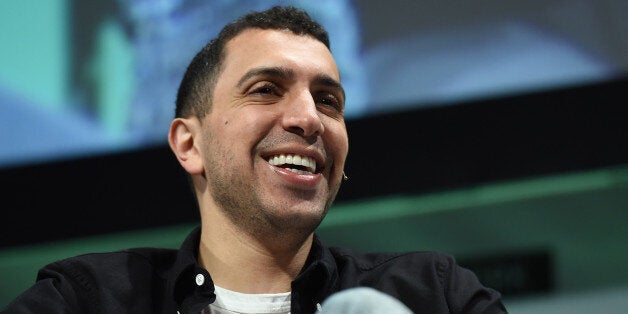 Sean Rad believes that male "inexperience" is the root cause of inappropriate interaction on Tinder.
During The Atlantic's New York Ideas festival on May 20, Atlantic President and Editor-in-Chief James Bennet asked the Tinder co-founder to address the critique that "women can encounter some pretty aggressive and even nasty behavior" on the dating app. Bennet cited a Guardian article that called Tinder "a place where women regularly have to put up with the kind of sexist, vulgar and aggressive messages."
"Let's talk a little bit about how you think about policing the environment [on] Tinder -- or if you do -- to prevent that kind of thing," said Bennet.
Rad assured Bennet that Tinder moderators "quickly take action" if a user is reported, going on to say that the company just launched a program to "correct" bad behavior and "educate" users who engage in it. However, Rad made it clear that it takes at least three or four reports for someone's account to be suspended from the platform, and said he sees no difference between the behavior women encounter on Tinder and the behavior women encounter out at a bar.
"You're of course going to find incidences of creepiness just like when you walk into a bar," said Rad, "there are going to be guys who are lost and don't know how to communicate well or effectively." That assessment is questionable at best; It's very hard to believe that all the people who feel emboldened to call women sluts and whores and racial slurs on dating apps would use the same language in person.
Here, for example, is a real-life Tinder exchange that was post on the popular (and self-explanatory) Instagram account, Tinder Nightmares:
Rad implied that men who are "rude and offensive" to women on Tinder are essentially lost puppies who genuinely don't know any better:
I think a lot of the times, what you see is, men don't know what to do, so it's not they're inherently creepy or bad, they just genuinely don't know what to say, so they resort to stupid things. That's the unfortunate reality.

I think that corrects over time. And I think they're learning. And the more practice you have on Tinder, the more you realize that being rude or offensive doesn't work. And when you realize it doesn't work, you stop being rude and offensive. I think there's this self-policing aspect of Tinder.
Rad's analysis is insulting to men and women. Are men truly as dumb and ignorant as he makes them out to be? And if so, is it really the responsibility of female Tinder users to turn offensive dudes into decent human beings? To both, I say, swipe left.
(Skip to 8:25 to hear Rad discuss harassment of women on Tinder.)
Popular in the Community