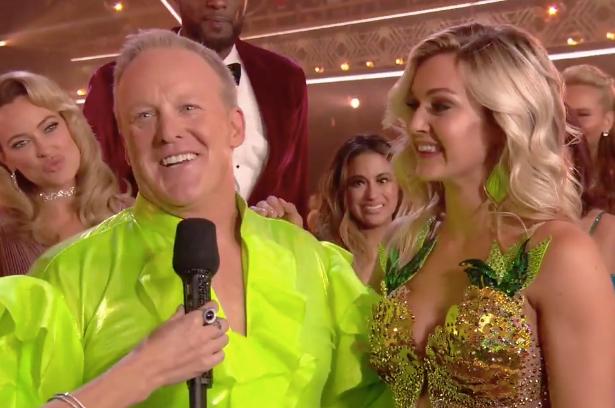 Reactions to former White House press secretary Sean Spicer's big debut Monday on ABC's "Dancing With the Stars" weren't exactly ... kind. One wit posted a GIF of Homer Simpson pouring bleach in his eyes, and several on Twitter were convinced that a Democrat — or the Resistance — dressed Spicer in his flouncy neon-green dancing shirt.
Spicer was paired up with Lindsay Arnold, the champion of Season 25, who described her partner in a clip before their performance as dancing at a "pre-pre-school level." She added: "He definitely isn't natural at it."
But Spicer seemed to have a blast. He attempted a salsa to The Spice Girls' "Spice Up Your Life" that end with a knee slide. Judge Bruno Tonioli said he looked like he was being attacked by a "swarm of wasps." But judge Len Goodman said he admired Spicer's "courage." He scored 12 out of a possible 30 points.
Spicer appeared to take it in dance stride. He said earlier in an interview that he just hoped to show another side of himself.
"My tenure [in the White House] was very one-dimensional," he said before his performance. "I sat up on a podium and looked like an angry leprechaun some days, yelling at people." Now people "get to see a different side of me," he added. "If you walk away and you still don't like who I am, God bless you."
CORRECTION: "Dancing With the Stars" is on ABC, not NBC.
Popular in the Community