President Donald Trump has reversed his position on at least six major issues this week, giving up pledges he made on the campaign trail and repeatedly touted to his base.
But according to White House press secretary Sean Spicer, it's not that Trump has shifted his views ― it's that the world has shifted to Trump's views.
"If you look at what's happened ― it's those entities or individuals in some cases ―or issues ― evolving toward the president's position," Spicer said Thursday in his press briefing.
One of Trump's big shifts is on NATO. Last year, Trump called NATO "obsolete" and faulted members of the military alliance for "not paying their fair share." He even said he would "certainly look at" pulling the U.S. out of the organization.
But on Wednesday, Trump had a different view: "They made a change and now they do fight terrorism. I said it was obsolete. It's no longer obsolete."
Spicer reiterated Thursday that NATO was the clearest example of an institution shifting to be in line with Trump.
"He talked about the need of countries to pay their fair share, to live up to their commitments of 2 percent of GDP," Spicer said. "He talked about the need for NATO to focus more on terrorism. NATO has done just that. ... NATO is moving towards what he has been calling for."
But as The New York Times pointed out, NATO "has changed very little if at all in the last three months, and that whatever modest changes have been made were in train long before Mr. Trump entered the doorway of the White House."
This week, Trump also decided that the Chinese are no longer currency manipulators, low-interest rates are good, he may keep Janet Yellen as head of the Federal Reserve, he supports the Export-Import Bank and he thinks President Barack Obama should have launched a strike against Syria in 2013 ― all reversals of what he said during the campaign.
Spicer repeatedly cited NATO as an example of how the world is shifting to Trump, but he was unable to explain why Trump has changed his views on China and currency manipulation.
"That's a very, very complex issue and I think the president ― I'm going to leave it to the president to specifically answer that," said Spicer, whose job it is to explain the president's positions.
Want more updates from Amanda Terkel? Sign up for her newsletter, Piping Hot Truth, here.
Before You Go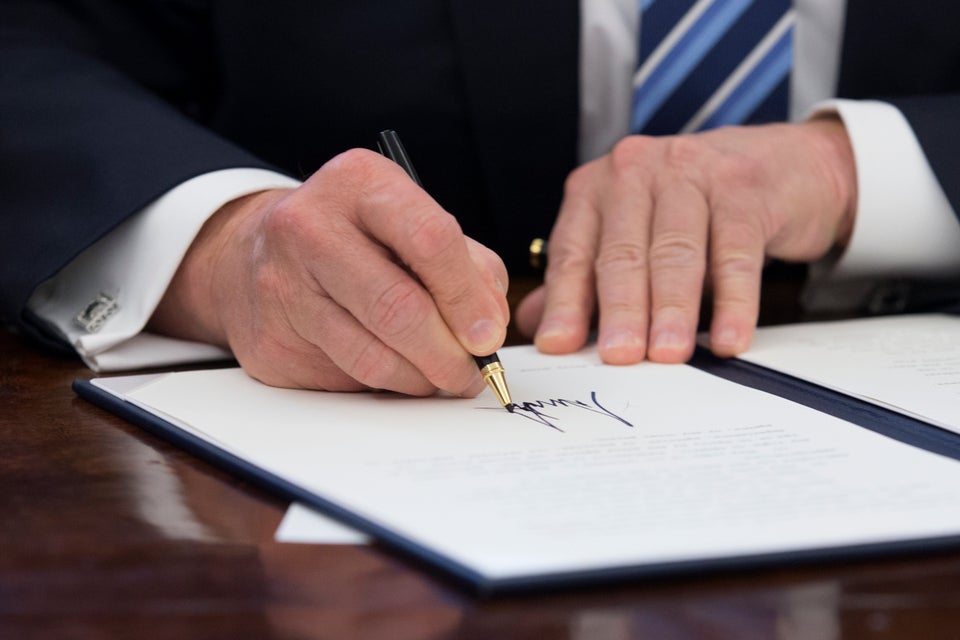 Donald Trump Loves Signing Things
Popular in the Community