WASHINGTON ― The White House tried to put the best possible spin on the debacle surrounding Michael Flynn's pre-inauguration conversations with the Russian government Tuesday, claiming that laws weren't broken and that the dismissal was based on eroding "trust" between the president and his national security adviser.
"It was not an issue of law, it was an issue of trust," White House Press Secretary Sean Spicer repeatedly told reporters.
Flynn resigned Monday night after evidence piled up that he had discussed sanctions with Russian officials in late December, before President Donald Trump took office. Spicer said the president personally asked his national security adviser to step down ― contrary to what senior administration officials said Monday night and Tuesday morning ― insisting the president "took immediate, decisive action" and was "unbelievably decisive" in the matter.
But it wasn't immediate. Spicer admitted Trump first learned about Flynn's discussions weeks ago, in late January. The president and his staff, he added, discussed it daily from there but didn't do anything to discipline Flynn until Monday. The reason it took the time it did, Spicer claimed, was because Flynn needed his "due process."
Flynn's talk with the Russian ambassador, Sergey Kislyak, came a day before President Barack Obama's administration announced sanctions on the Russian government after U.S. intelligence agencies concluded that top officials interfered in the 2016 elections to help elect Trump. Flynn and other Trump administration officials have consistently denied that such a conversation ever took place. But transcripts from a wiretap of his call proved that to be untrue.
Experts have raised the possibility that Flynn may have violated the obscure Logan Act, which bars private citizens from interfering in foreign relations. And on Tuesday, Democrats and Republicans on the Hill began questioning whether anyone else, including Trump, knew what Flynn was doing. Spicer denied that Trump ever asked Flynn to discuss the sanctions. But he insisted Trump had "no problem" with Flynn talking to Russian officials.
"I can't state it clearly enough: There was nothing in what Gen. Flynn did in terms of conducting himself that was an issue," Spicer said, adding that the White House counsel agreed with this assessment.
Instead, what bothered the president, according to Spicer, was that Flynn told Vice President Mike Pence that he never discussed sanctions ― and Pence subsequently went on television and said so, repeating Flynn's lie.
The Washington Post reported that the Department of Justice first informed the administration last month that it believed Flynn had misled the administration when he said he had not discussed sanctions during the late December call. Acting Attorney General Sally Yates also said she believed Flynn was vulnerable to blackmail from the Russians because of the information he was hiding. Trump later fired Yates because she refused to defend his ban on refugees and travelers from seven majority-Muslim countries.
NBC reported Tuesday that Pence didn't learn about the Justice Department's concerns about Flynn until Feb. 9, 11 days after Trump and other White House officials heard about them.
That was the same day that the Washington Post first reported and made public the fact that Flynn had discussed sanctions.
Spicer continued to say no conversations with Russian officials took place during the campaign ― despite reports that members of Trump's team did so ― and wouldn't say whether the White House would declassify the transcripts of Flynn's calls about the sanctions.
As to whether other administration officials have talked about sanctions relief with Russia, Spicer said that "as far as we are aware, that was an isolated incident.
Want more updates from Amanda Terkel? Sign up for her newsletter, Piping Hot Truth, here.
Before You Go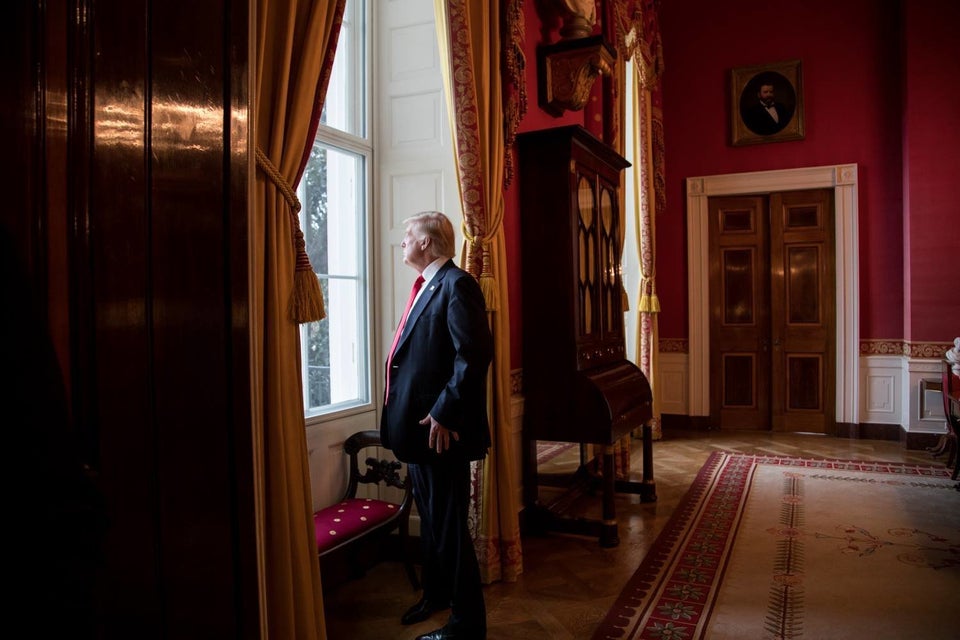 Trump's First 100 Days
Popular in the Community