WASHINGTON ― White House press secretary Sean Spicer on Monday defended President Donald Trump's executive order halting travel and immigration from six majority-Muslim countries by claiming that the administration has been "consistent" on referring to it as a ban.
"I know how we talked about this from the first day of this administration: as a travel ban," he said. "We've been very consistent since the first day of this administration on this."
"I've been very clear," Spicer added. "I don't think I need to clarify what we have said or what the president said."
A federal court in Virginia this week is weighing the constitutionality of the executive order. One of the central questions in the case is whether Trump's anti-Muslim rhetoric and the way he and administration officials have referred to the executive order can be used against him, in order to prove whether it intended to discriminate against Muslims.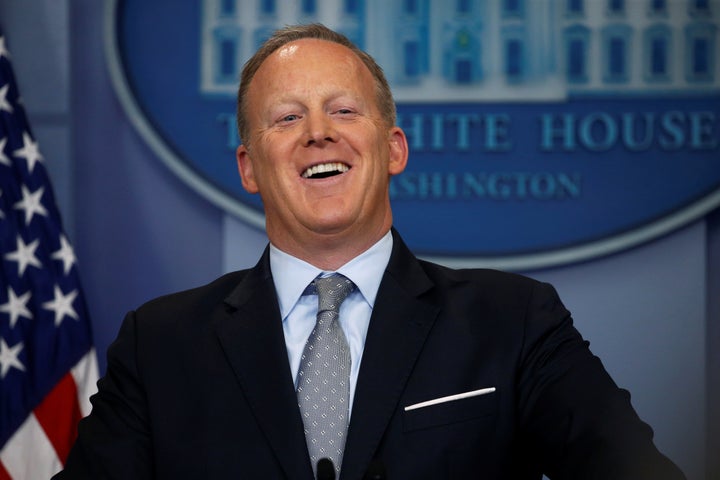 "He's using the words that the media is using," a frustrated Spicer said, in response to reporters' questions at the time.
Trump himself had referred to the order as a "ban" several times. 
"So is he confused, or you confused?" a reporter asked.
"I'm not confused," Spicer said. "The words being used to describe it derive from what the media is calling this."
He added that the executive order was not a ban ― "plain and simple."
"I think the president talked about extreme vetting and the need to keep America safe, and he made clear this is not a Muslim ban," Spicer said. "And it's not a travel ban. It's a vetting system to keep America safe."
"The travel ban is not a ban," McCarthy-as-Spicer said. "He's using your words. When you use the words, and he uses them back, it's circular using of the word, and that's from you."
Calling all HuffPost superfans!
Sign up for membership to become a founding member and help shape HuffPost's next chapter
BEFORE YOU GO
PHOTO GALLERY
White House Press Secretary Cinematically Roasted With #SeanSpicerAFilm