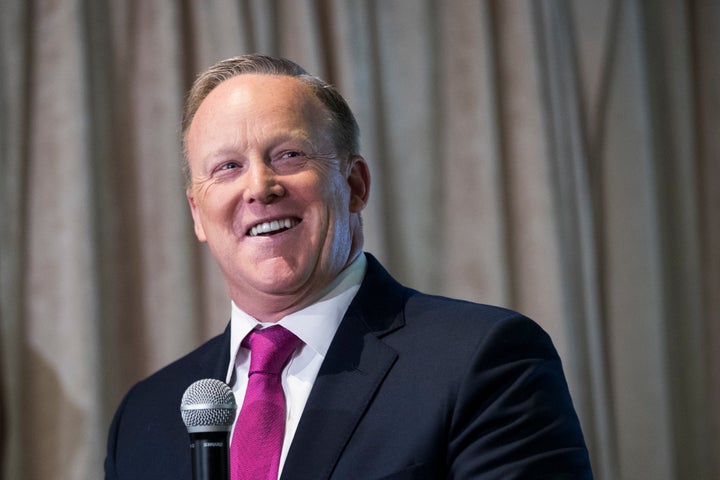 Sean Spicer wants to add TV talk show host to his résumé.
The New York Times reported Monday night that Spicer plans to film the pilot episode of a talk show titled "Sean Spicer's Common Ground" in July. The former White House press secretary, known for his frequent clashes with the media over his spreading of misinformation, told the paper of record that the show would be a platform for "civil, respectful and informative discussions."
The show does not yet have a network attached to it, but it is being developed by Debmar-Mercury and Pilgrim Media Group, The Hollywood Reporter confirmed.
Though Spicer has appeared on cable news shows since departing the Trump White House after six months on the job, his return to mainstream television did not go over well when he surprised audiences at the 2017 Emmy Awards. Spicer joked about lying to the American people, and viewers accused the broadcast's producers of trying to "normalize" him.
The concept of Spicer hosting a talk show focused on civility also brought out critics who were quick to pounce on the concept over Twitter.
The Times reported the show would feature the former press secretary interviewing notable people in informal settings, though it seems like some of those notable people have already declined invitations, according to Times reporter Maggie Haberman.
Popular in the Community