It won't surprise you that the man in this photo, holding a pit bull like a baby, has a sweet engagement story that involves his dog.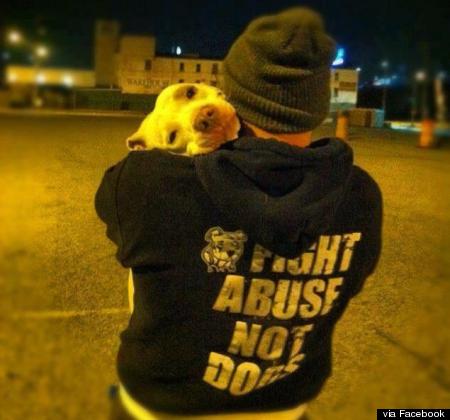 Sean Stinchcomb is a Baltimore musician and as of about two and a half years ago -- when he met Delilah, the dog in the photo -- enthusiastic pit bull advocate.
"This may sound weird but I grew up having cats," Stinchcomb recently told The Huffington Post. "I am 5'7" and own cats so I'm the furthest thing from being manly. I just wanted to help a dog that needed a home since all of the animals I've ever owned have been rescued in one way or another."
Stinchcomb met Delilah at an animal shelter in Baltimore when he accompanied his sister and her husband to pick up their own pit bull. He says he "immediately fell for" the former stray, and adopted her from the Baltimore Bully Crew rescue group just before Christmas in 2010 "as a present to myself."
Stinchcomb and his now-fiancée Jade Schraff -- they met through mutual friends -- got together around the same time as he brought home Delilah.
"And she is the best dog mom I could ever ask for," says Stinchcomb. "Delilah plays a huge part in our relationship. Our definition of fun doesn't really include going out anymore unless it's for one of my band's shows. We typically base our free time around volunteering with Baltimore Bully Crew or doing things that involve Delilah."
Last weekend, that involvement included helping Stinchcomb and Schraff get engaged.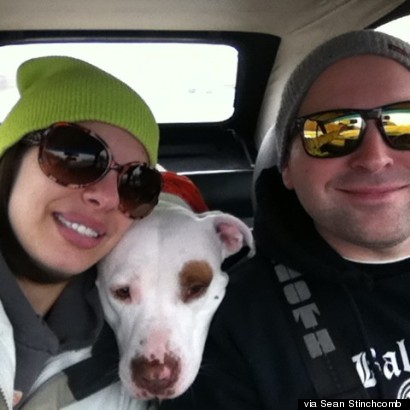 "We were going to see [Jade's] mom for Mother's Day Saturday and I told her we should leave early so we can make a stop at the beach on the way," says Stinchcomb. "We ended up going to Fenwick Island" -- in Delaware -- "and walked along the beach, letting Delilah run in and out of the water, doing zoomies."
Stinchcomb had written a letter on notebook paper, "so it looked like a middle school note. The note said 'Jade, will you marry my dad? Love, Delilah'."
The note -- which had "yes," "no" and "maybe" check boxes on it -- was in a jewelry box.
"The idea was to give it to Delilah without Jade seeing, and then having Delilah drop it on the ground next to her," says Stinchcomb. "It didn't go as planned because Delilah was too excited after running around so I ended up having to pick it up and hand it to Jade. At that point I got down on a knee and asked her to marry me. It was pretty funny."
Having only just gotten engaged, the couple isn't yet sure of their wedding plans -- so it's too soon to say what role, if any, Delilah will play in the nuptials.
"Delilah will definitely be a part of everything before and after the wedding though," says Stinchcomb. "If we get engagement pictures, I promise she will be in them."
And that's not all: Stinchcomb is also hoping to make Delilah official soon, as well. She's finished her canine good citizen training, and next he's planning to have her certified as a therapy dog.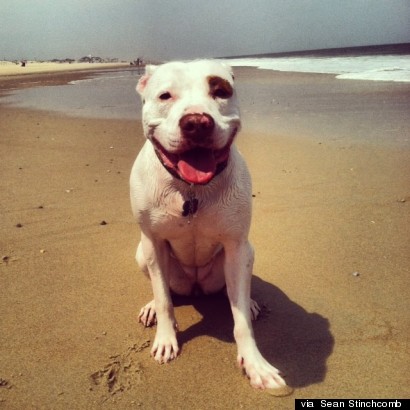 Click through the slideshow below to see our picks for the best proposals of all time.
PHOTO GALLERY
Best Marriage Proposals Of All Time
And looking for a new furry friend of your own?
Calling all HuffPost superfans!
Sign up for membership to become a founding member and help shape HuffPost's next chapter
BEFORE YOU GO