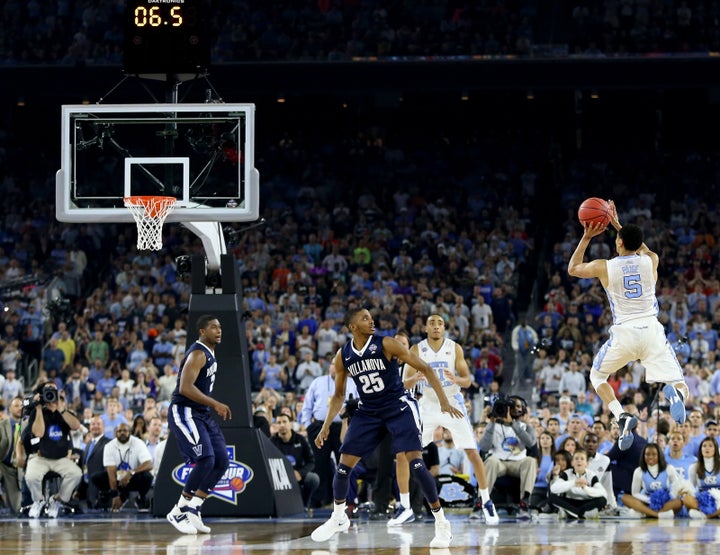 With 6.5 seconds left in Monday night's NCAA Tournament final, Marcus Paige dialed up the shot of his life -- a double-pump three-pointer from 5 feet behind the three-point line that, somehow, rattled in. The shot completed North Carolina's improbable comeback from 10 points down just minutes before, and left the Tar Heels and Villanova deadlocked at 74 apiece.
The jubilation was short-lived. 
Moments later, Villanova's Kris Jenkins nailed a buzzer-beating three-pointer that erased Paige's heroics -- and gave the Wildcats the national title. In a matter of seconds, Paige went from hero to afterthought, his shot reduced to a footnote in the annals of basketball history.
Sean Woods knows the feeling.
"Join the club, Marcus," Woods said Thursday. "Join the club."
Twenty-four years ago, Woods nearly enshrined himself as one of college basketball's all-time heroes. With his University of Kentucky Wildcats trailing Duke by a single point with less than six seconds left in the 1992 NCAA Tournament's East Regional final, the senior guard surged into the lane and lobbed a desperate floater over the outstretched arms of Christian Laettner. Woods just wanted to get the shot on the rim. If he missed, he still had two teammates in perfect position for a put-back. 
But the ball kissed off the glass "just perfectly," Woods said, and dropped through the net, giving the Wildcats a 103-102 lead with just 2.1 seconds on the clock. Paige's shot Monday would have pushed Villanova to overtime. Woods thought his had won Kentucky the game.
Instead, he had set up the most famous play in college basketball history: Laettner's turnaround jumper that sent the Blue Devils to the Final Four and, two games later, their second consecutive national championship.
Watch Woods' shot (at 1:46):
It is impossible now to watch a major college basketball game, much less the NCAA Tournament, without seeing Laettner's shot in pre-game highlight packages. Each time he sees it, and sometimes even when he doesn't, Woods relives the moment that is never a part of those montages and wonders what might have been had his bucket finished off what is widely considered the greatest college basketball game ever played.
"You're never going to be over it all the way. For your whole lifetime, it's, 'What if?' That was your last crack at it," Woods said. "It's a very tough pill to swallow."
"It's going to turn his stomach a time or two for years to come, I'll tell you that," he said.
Now the head coach at Morehead State in eastern Kentucky, Woods still hears about his shot-before-The Shot on recruiting visits, from fellow coaches and from Kentucky fans around town.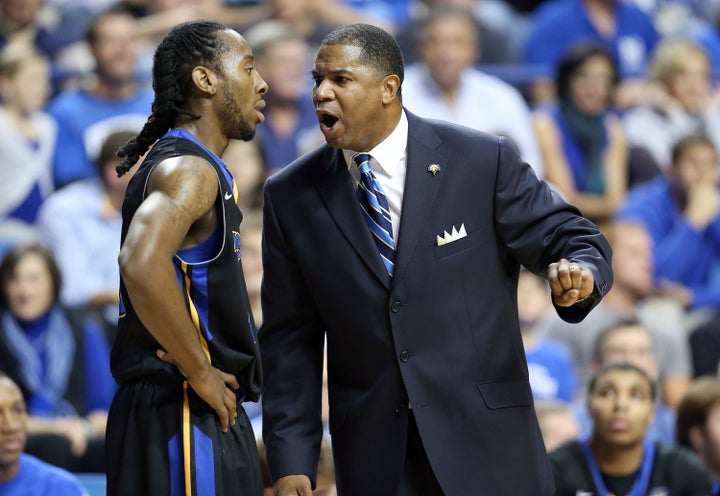 And as he watched the national title game Monday night, Woods couldn't help but notice the similarities between his shot and Paige's.
In 1992, Woods was part of a senior class that had helped rescue Kentucky's basketball program from NCAA sanctions that had left the Wildcats reeling as rivals like Indiana, Louisville, Kansas and Duke won national titles in the past decade.
Carolina is hardly as low now as Kentucky was when Woods first arrived in Lexington. But UNC made its tournament run under the cloud of potential NCAA penalties that has, many have speculated, pushed major recruits away from the program. And the Tar Heels' run to the title game followed a few lean years -- at least by Carolina's standards -- in which it sat by as its rivals in college basketball's pantheon racked up Final Four appearances and national titles.
"It's like a resurgence game," Woods said. "Winning a national championship can heal some of those wounds, and it was the same with us. It was a magical year, and we just wanted to cap it with a national championship. For it to end the way it ended, it was devastating."
The lack of a title hasn't reduced Woods and his teammates' place in Kentucky basketball history. Today, banners honoring Woods and his fellow seniors -- who were known collectively as "The Unforgettables" -- hangs in Kentucky's Rupp Arena, and they are remembered as players who set the stage for a run in which the Wildcats would reach four Final Fours and win two national championships over the next six seasons.
He'll live forever. When he's dead and gone, people will still remember that shot."
Perhaps, with a bit of distance, Paige's shot will fit into a similar place in North Carolina's history. 
"He gave his team a chance to win a national championship. Big-time college basketball programs don't forget history," Woods said. "He'll live forever. When he's dead and gone, people will still remember that shot in Houston in 2016."
Jenkins' three-pointer will take its place in the sport's history alongside Laettner's -- and Paige, like Woods, may replay it in his mind each time he sees it, gaming out the scenarios in which it all ends how he wanted it to.
Paige could also find sweetness in coming so close, and in the pain of knowing that without his own brief moment of perfection, one of the sport's greatest moments wouldn't have happened. 
"To be mentioned as being a major part of a game that is considered the greatest college basketball game ever isn't bad either," Woods said. 
"Not too many guys get to have a historical moment in a loss," he added. "You're one of the few they're going to remember."
Calling all HuffPost superfans!
Sign up for membership to become a founding member and help shape HuffPost's next chapter
BEFORE YOU GO
PHOTO GALLERY
The 2016 NCAA Championship Game