A central Florida neighborhood is on high alert after a man reported his two-foot suphan cobra missing on Monday night.
The highly venomous snake likely slithered out of its enclosure at a home in Oviedo around 9 p.m. It's not yet clear whether it escaped the residence, the Florida Wildlife Commission said.
The snake's owner, Brian Purdy, holds a venomous reptile permit. He reported his pet missing just after 11 p.m., wildlife officials said.
The other man, who was using a shield for protection, opened the enclosure because he couldn't see the animal inside, Purdy said. The cobra jumped at the man and then slid away. The man said he had made sure that the room was secured.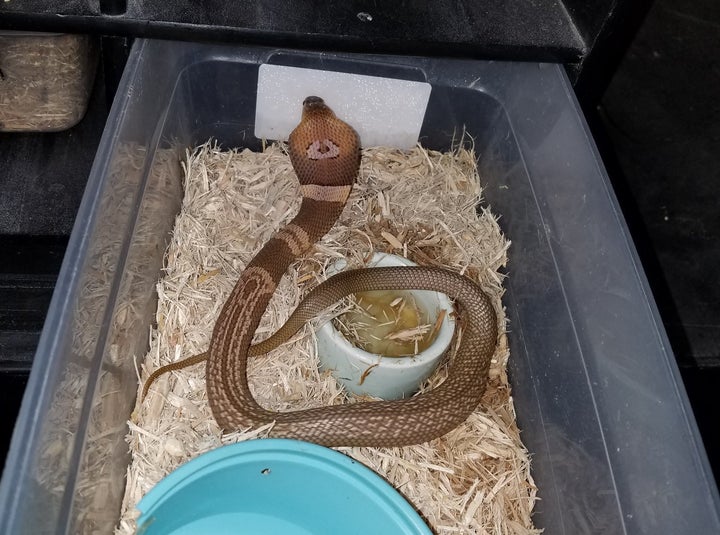 Permit holders are required to confine venomous animals to an escape-proof room, FWC spokesman Robert Klepper told CNN. He said Purdy owns two other snakes ― a Gaboon viper and an African bush viper. Wildlife authorities will investigate whether any violations took place.
"Public safety is the No. 1 concern," Klepper told the network. "We wanted to emphasize that this is a venomous snake and a dangerous animal and should not be approached."
Cobras are not native to the United States, but a number of other venomous snakes are. Those include rattlesnakes, copperheads, cottonmouths/water moccasins and coral snakes, according to the Center for Disease Control and Prevention's website.
"It has been estimated that 7,000–8,000 people per year receive venomous bites in the United States, and about 5 of those people die," the website states.
In 2015, a 10-foot king cobra went missing from an Orlando man's home for about a month before it was found beneath a neighbor's dryer. The snake's owner was cited for failing to immediately report its escape, MyNews13 reported.
Popular in the Community