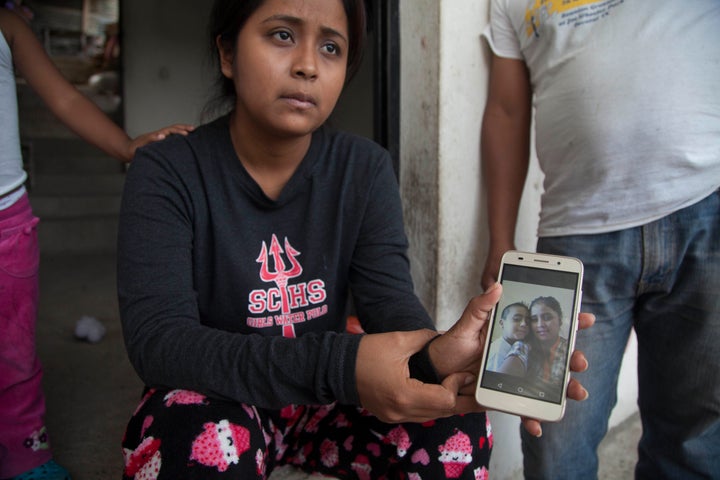 They have a government-provided list of 343 names. But for a group of lawyers and immigration advocates, tracking down the parents who were separated from their children at the border under the Trump administration's zero tolerance policy and deported to their home countries has proved a daunting task.
The advocates try the phone numbers listed, often calling up to six times before getting a response. If a number doesn't work or none is given, they try searching for the person's address in public registries or look for their children's contact information.
In some cases, advocates end up searching remote villages of Guatemala, El Salvador, Honduras and Mexico, trying to find parents, some of whom are hiding from life-threatening violence. Most haven't seen their children in months, forced to leave them behind in the United States as they were sent back to the countries they had fled.
More than a month after a court-ordered deadline for family reunification, almost 500 children are still separated, and in most cases, that's because the parents have been deported. The advocates, who are staff members with four immigration and legal groups that the American Civil Liberties Union has tapped to help with its ongoing lawsuit against the family separations, need to find the parents to ask whether they want their children sent home — possibly to dangerous situations — or left in the U.S. to pursue asylum on their own.
There is significant time pressure: Until deported mothers and fathers are contacted, their children's futures hang in limbo.
"It's a brutal decision. Do you bring your child to an environment that is innately dangerous, or do you let go of your connection to the child?"
Many experts blame the government for failing to properly record contact information and quickly deporting parents to places where their lives may be in danger. In many cases, the parents said border agents told them that going home was the only way to see their children again.
"It [can be] an enormously complicated, painstaking if not impossible task to find someone," said Brad Karp, the chairman of the firm Paul, Weiss, one of four organizations the ACLU has asked to help track down deported parents. "It's an enormous amount of work, and days go by, and we can't locate a particular parent."
He worries that some parents might never be found, which echoes a statement made in early August by U.S. District Judge Dana Sabraw, who is ruling on the ACLU's case, about how the government might have "permanently orphaned" children.
Justice in Motion, a New York–based immigrant rights organization that is part of the ACLU's search group, has been working with a network of lawyers and advocates in Central America to physically track down parents for whom the government does not have sufficient contact information. Roughly 20 percent of deported parents have inoperable phone numbers or no phone numbers listed, and in many cases, the search process amounts to detective work.
"You would have the expectation that our government would have done a better job at asking basic questions of the parents before they took their kids away," said Nan Schivone, Justice in Motion's legal manager. "It's really shocking and, frankly, unconscionable that we are even in this situation to begin with."
She said that they are often able to find a person's hometown by using public records and pulling up a birth certificate. If the government noted that a parent speaks an indigenous language, that information can help narrow which part of the country the person is from.
Then advocates and lawyers may have to trek to remote villages, hoping to find the parents or, at the very least, other family members ― which can sometimes take up to three days. Lesly Tayes, a Guatemala City–based lawyer working with Justice in Motion, said many villages are so remote that they might be reachable only by taking public buses or motorcycle taxis, followed by hiking to places without marked addresses.
And when defenders arrive at a house, there's no guarantee that the person they are looking for will be there. Sometimes they find a family member who can help with a current phone number or address, but they're not always so lucky.
In areas plagued by gang violence, the advocates find a community leader to work with, Schivone said. In particularly dangerous areas, they ask a local contact to send a message to the parents so they can arrange to meet in a safe location.
Where the parents are fleeing violence, they can be even harder to locate. "They are under an active threat of being killed," said Lisa Frydman, the director of regional policy and initiative at Kids in Need of Defense, an organization based in Washington, D.C., that is also working with the ACLU. "They are hiding internally in the country and in unsafe situations."
Karp worries that parents who have returned to life-threatening circumstances may not live long enough to get their phone calls. "I have no idea what percentage of the parents will ultimately be located under any reasonable time frame," he said. "Because of the danger factor, it's certainly not inconceivable that a certain number of these parents are going to disappear."
"It's really shocking and, frankly, unconscionable that we are even in this situation to begin with."
Within 14 days of connecting with parents, the ACLU is supposed to tell the U.S. government whether the mothers and fathers want to be reunited with their children in their home countries or they have opted to remain separated so their kids can pursue asylum cases in the U.S.
"It's a brutal decision," said Karp. "Do you bring your child to an environment that is innately dangerous, or do you let go of your connection to the child?"
Lee Gelernt, the lead counsel on the ACLU case against Immigration and Customs Enforcement, plans to argue in court that parents who were deported without due process should have the option of returning to the U.S. and seeking asylum.
But for now, the advocates are just focused on trying to locate these 343 parents and figure out their wishes. "The government has created an enormous mess from beginning to end," Gelernt said. "Being placed in the position of tracking down parents in remote and dangerous locations is yet another aspect to what has been a horrific situation."
Sarah Ruiz-Grossman contributed reporting to this article.
Popular in the Community