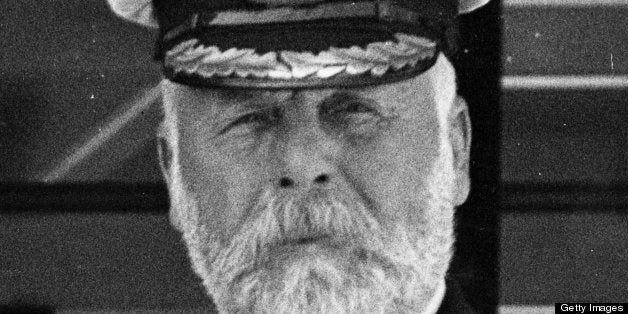 Do you feel that your current job lacks a certain star-crossed symbolism, a healthy heaping of human pride, or an overwhelming temptation of fate? We are happy to say that your dream position awaits you. According to news.com.au, Australian billionaire Clive Palmer is building the Titanic II, a modernized replica of the Titanic set to sail from Southampton to New York in 2016, and he is looking for a captain. Palmer says eight people have already applied for the position, including cruise ship captains and supertanker captains.
Palmer's investments in Australia's burgeoning mining industry earned him the title of 29th richest Australian in 2012, with a net worth of $795 million according to Forbes. Though Palmer says the wages on his ship "will be pretty similar to other cruise ships," he believes "there will be a certain elitism to say you've worked on Titanic II."
Though the captain of the original Titanic, Edward Smith, is famous for going down with his ship, Palmer hopes his new captain and crew will instead 'get down' on the ship. Palmer told news.com.au that staff accommodations "will be in better quality cabins than the passengers," and stated his belief that his crew will "fall in love and get married. It will be a ship full of love."
Would-be Titanic II captains worldwide will be happy to know that Palmer is accepting applications until the end of 2015. However, prospective employees would do well not to get ahead of themselves. Though Palmer has signed a memorandum of understanding with a Chinese shipyard to build the boat, the Sydney Morning Herald reported that he has yet to ink a construction contract or nail down a budget. The original Titanic took 26 months to build, according to The Manufacturer.
Palmer is not the first man to dream of resurrecting the Titanic. According to the New York Times, a Manhattan company attempted to raise an 11-ton portion of the Titanic's wrecked hull from the bottom of the North Atlantic Ocean in August 1996. It broke free and sank again, renewing suspicions that the ship is irrevocably doomed.
The irony of resurrecting one of history's greatest symbols of hubris is seemingly lost on Palmer, who called the original Titanic "a ship of dreams" in a February video address explaining his decision. In Palmer's view, the "Titanic represents the spirit of man. The spirit of love. The hope that all men have for peace on earth in our time and goodwill to all men."
Not content to resurrect the world's most infamous shipwreck, Palmer announced plans earlier this year to order 117 life-sized animatronic dinosaurs for a Jurassic Park-themed resort in Australia, and even reportedly discussed the possibility of cloning a dinosaur for the park, according to the Sunshine Coast Daily. We all know how well that went in the actual Jurassic Park.
Calling all HuffPost superfans!
Sign up for membership to become a founding member and help shape HuffPost's next chapter
BEFORE YOU GO